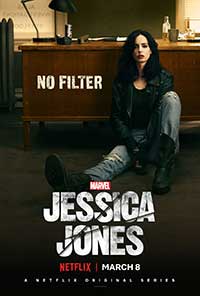 I have waited two years for the second season of Jessica Jones and had to settle for her abbreviated appearance last year in Netflix's forgettable Marvel's The Defenders. While Season 1 was a terrific watch, I still wanted our leather-jacketed superhero to go another round with another great villain.
Season 2 brings back a number of damaged goods characters. Alcoholic private investigator Jessica Jones (Krysten Ritter) has super strength and serious anger-management issues but has lingering questions about her recovery from a nearly fatal childhood auto accident. Her best friend TV talk show host Trish Walker (Rachael Taylor) is addicted to performance-enhancing drugs, contends with her control-freak mother Dorothy (Rebecca De Mornay), and eventually turns down a marriage proposal from hot television personality, Griffin Sinclair (Hal Oszan). Jess's assistant Malcolm Ducasse (Eka Darville) is a recovering drug addict. Powerhouse attorney Jeri Hogarth (Carrie-Anne Moss) gets a diagnosis of ALS that she must conceal from her crooked partners Linda Chao (Angel Desai) and Steven Benowitz (Maury Ginsberg) who are trying to buy her out.
Aided by Trish, Jess revisits her past thanks to some old Metro General Hospital records that identify other patients in the mysterious IGH (Industrial Garments & Handling) experimental trials that gave her super strength. She stumbles upon an abandoned construction company building that housed the IGH laboratory run by the late Dr. Kozlov and begins her investigation.
An unidentified woman with a wig is a suspect in a brutal murder, so Trish and Jess get on this case only to find former Metro General nurse Inez Green (Leah Gibson) who is now living in the streets. Nick Spanos (Maceo Oliver) who works for rival PI Pryce Cheng (Terry Chen) breaks into the Alias Investigations office and steals all of Jess's working case records. Jess's long-lost mother Alysa (Janet McTeer) who is the wig-lady suddenly appears, kills Spanos, and burns all the files.
Jess starts getting cozy with handsome apartment super, Oscar Arocho (J.R. Ramirez), after saving his son Vido's (Kevin Chachon) life, (just sample the brief sex scene on a tarp of wet paint). She finally tracks down scientist Dr. Karl Malus (Callum Keith Rennie) who brought her mother back from the dead with gene editing that came at a cost: Alysa has super strength but an uncontrollable violent streak. Jess frees Alysa from Malus's basement and cautiously tries to let her mother back into her life, likely to be a futile effort.
Inez has been cleaned up and is now staying at Jeri's apartment for protection. She spills the beans about former IGH patient Shane Riback (Eden Marryshow) who has amazing healing powers but is currently in prison. After Jeri gets Shane freed, she receives his "healing touch," but is it real or is it just a con? This neo-noir crime series has many more surprises in store, including the virtual "return" of one of Season 1's major protagonists before the final credits roll.
Season 2 gets off to a slowish start as it recalls some of the show's backstories. Once Jessica Jones  Season 2 gets its wheels in motion, the series goes full speed ahead. Veteran TV scriptwriter Melissa Rosenberg has created a doozy of a storyline that gets better with each episode. There are enough sex scenes to spice things up and, compared to Season 1, the titer of graphic violence has been toned down a tad. Fortunately, the quirky humor that buoyed up last season's darker moments weaves in and out of nearly every episode. Krysten Ritter absolutely nails her character's badass, hard-drinking, gritty persona, while she shares her pithy philosophical asides with the audience. As her seriously off-kilter mother, Janet McTeer gives Ritter a real blow-by-blow run for her money as this season's arch villain. From a visual standpoint, the Dolby Vision encodement noticeably improves the color palette of this 4K streamer during its many darkly lit scenes. This highly recommended successor to Season 1 whets my appetite for a third season but Netflix is keeping its cards close to its corporate vest about whether this series will be renewed.
Jessica Jones: Season 2 is streaming now in its entirety on Netflix
Melissa Rosenberg
Show Creator
8 Mar. 2018
Original Release Date
Netflix
Network/Streaming Service
ABC Studios | Marvel Studios | Tall Girls Production | Netflix
Studio/Distributor
TV-MA (VL)
Rating Certificate
Summary
A very successful sequel to one of Marvel's very best superhero series finds Marvel taking a deep dive further into the origins of Jessica Jones.
What people say... Login to rate
Be the first to leave a review.
Show more