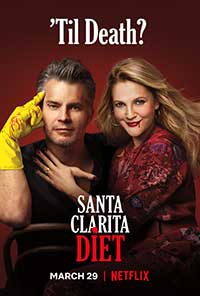 With Santa Clarita Diet Season Three, America's favorite living/undead couple returns in the sleepy California town, as Sheila Hammond (Drew Barrymore) continues to balance her everyday life with her husband Joel (Timothy Olyphant), and her newly acquired carnal urges: devouring human flesh and unbridled sex with her husband. She has also become a "messenger of God," according to the religious fanatic Deputy Anne Garcia (Natalie Morales).  As Season 2 concluded, her daughter Abby (Liv Hewson) was getting tight with next door neighbor Eric Bemis (Skyler Gisondo) and, attempting to make an environmental statement, the pair had set off a bomb at the local fracking site. Sheila had gotten on the radar of the Serbian intelligence community thanks to mental patient Ron (Jonathan Slavin) who informed Major Poplovic (Goran Visnjic) that there is an undead" living in Santa Clarita. Oh, and the Hammonds had also gotten embroiled with the Neo-Nazi community living in their close-knit community.  Oh, and former real estate agent Gary West (Alan Tudyk) has been reduced to a decomposing head living in the Hammonds' basement.
Joel is mulling over Sheila's generous offer to confer immortality upon him with a gentle bite.  The Hammonds hook up with Tommy (Ethan Suplee) who with, brother Paul (Zachary Knighton) are descendants of the Knights of Serbia and determined to end the local zombie outbreak with crossbow shots to the brain.
Joel decides to join the Knights of Serbia after Tommy leaves his weapons stash with him, and Eric explains the tasks found in an ancient training manual.   As part of her punishment for the fracking site caper, Abby must accompany Sheila to provide meals-on-wheels to an elderly lady Jean (Linda Lavin). When Jean sadly comments that she won't leave long enough to see her grandchild be born, you guessed it, Sheila turns her.
Meanwhile, crazy Ron breaks into the Hammonds house, gets Gary's head to bite him and an unbalanced "undead" man is born. This is just one of numerous obstacles looming ahead for this couple that is about to launch its own company, Hammond Realty: Gary wishes to play a larger role in their business; Ron searches for a few "bad men" to change; a reinvigorated Jean escapes from the confinement of her house; the Serbians, Poplovich and his bumbling henchmen Radul (Dominic Burgess) and Janko (Stephen Full) are in full pursuit mode. If this were not enough, Abby and Eric are being investigated by the FBI for the fracking site bombing.
For those undead fans that have enjoyed the first two seasons of Santa Clarita Diet, Season 3 will be a self-recommending laugh fest, filled with quirky moments and dark humor. As I noted last year, keeping the original cast together has enabled the scriptwriters to further "flesh out" (pun intended) these characters and the addition of hulking Ethan Suplee, vivacious octogenarian Linda Lavin, and slimy Goran Visnjic spices up what was already a pretty piquant series.  Creator Victor Fresco has reportedly made a pitch to Netflix for a Season 4 and hopes that the network will let him bring the Hammonds and company back. Highly recommended.
Santa Clarita Diet: Season Three is streaming now in its entirety on Netflix
---
Victor Fresco
Show Creator
29 Mar. 2019
Original Release Date
Netflix
Network/Streaming Service
Flower Films | Netflix
Studio/Distributor
TV-MA (Language, Sexual Situations, Violence)
Rating Certificate
Summary
A successful return of this surprise hit Netflix Original series that brings back a strong cast as the lead characters struggle to balance their "normal" domestic lives with the fact that one has become a zombie.
What people say... Login to rate
Be the first to leave a review.
Show more