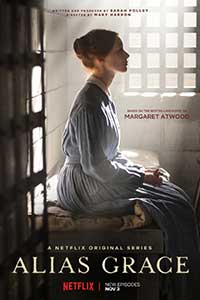 This six-episode miniseries, Alias Grace, is an adaptation of a novel by famed Canadian writer Margaret Atwood that was based on an actual criminal case. A disturbing story unfolds of a young woman, Grace Marks (Sarah Gadon), imprisoned for the past fifteen years, after being convicted of murdering her employer Thomas Kinnear (Paul Gross) and his housekeeper Nancy Montgomery (Anna Paquin). Grace's alleged accomplice James McDermott (Kerr Logan) was summarily hanged but not before incriminating her in his so-called confession.
Reverend Verringer (David Cronenberg) believes that Grace is innocent and sets out to get her freed. He engages Dr. Simon Jordan (Edward Holcroft), an American neuropsychiatrist to conduct a forensic evaluation that could attribute Grace's behavior to "hysteria" and, thereby, create grounds for her pardon. As a "celebrated murderess," Grace gets periodic reprieves from her prison surroundings to work in the Kingston Penitentiary Governor's home. She also makes parlor appearances in front of the Reverend's coterie, giving a sideshow atmosphere to the movement to free her.
Gradually, Dr. Jordan gets Grace to reveal her own story, beginning with her departure from Ireland to Canada on an arduous sea voyage that claims the life of Grace's mother (Kirstin Rae Hinton). Once in Toronto, the young woman receives daily abuse from her alcoholic father and finally leaves home to earn money for her family as a housemaid to the Parkinsons (Martha Burns and Robin Cleland). Free-spirited maid Mary Whitney (Rebecca Liddiard) befriends her and enlightens her on the facts of life. Later, Grace meets the charming traveling salesman Jeremiah Pontelli (Zachary Levi) who, in different guises, will episodically cross paths with her. Mary becomes pregnant and is abandoned by her unidentified lover, most likely the handsome young George Parkinson (Will Bowes). When Mary undergoes an abortion and bleeds to death, Grace discovers her dead body, loses her mind, and is temporarily committed to an asylum.
Eventually, Grace recovers and leaves the Parkinson household for a better paying position at the Kinnear farm in Richmond Hill under housekeeper Nancy Montgomery. As she observes, the relationship between Mr. Kinnear and Nancy appears to be much more intimate than that between master and servant. A now-pregnant Nancy, jealous of the attention that the younger woman is receiving, orders Grace and McDermott to leave before Mr. Kinnear returns home, an action that supposedly triggers the ensuing murders.
Alias Grace requires a deliberate build up as most of the storyline consists of Grace's recollections, real or imagined, as told to Dr. Jordan who becomes increasingly obsessed with his subject. Her gradually recovered memories of these heinous crimes form the dramatic crux of this show as Alias Grace assumes a "seeing through a glass darkly" trope. The growing uncertainty about the truthfulness of the tale that Grace Marks weaves is further underscored by her former lawyer's (Albert Schultz)  reference to the fictional storyteller Scheherazade who concocted stories to save her life. Given a slow-burning and often conflicted narrative, it is natural that viewers' opinions about the main character's guilt or innocence will vacillate until the end.
Talented actor Sarah Polley returns to the dark world that she had previously inhabited in the neo-noir thriller, The Weight of Water. This time, assuming the director's chair and writer's desk, Polley crafts a terrific show that is faithful to its source and to its bygone era. The synergy between Brendan Steacy's cameras, Simonetta Mariano's period wardrobes, and the genuine Ontario shooting locations, including the nearly two-century old Kingston Penitentiary, makes for an absorbing watch that effectively evokes the story's 19th century Canada. Added to its superb, mostly Canadian cast, headlined by Sarah Gadon's tour de force portrayal of the title character, this Netflix Original comes highly recommended for lovers of Gothic tales of death and deceit. Given the completeness of this season's story, it is unlikely that an encore will be forthcoming.
Alias Grace is streaming now in its entirely on

Netflix
Sarah Polley | Margaret Atwood
Show Creator
3 Nov. 2017
Original Release Date
Netflix
Network/Streaming Service
Halfire Entertainment | Tangled Productions | CBC Television
Studio/Distributor
TV-MA (Sex and nudity, violence and gore, alcohol,and smoking)
Rating Certificate
Summary
A 19th century Canadian housemaid (Sarah Gadon) with amnesia accused of murder is institutionalized and recounts the story of her tribulations to a psychiatrist trying to ascertain whether she is truly guilty in this superbly crafted Canadian miniseries that features a great story, cast, and production values.
What people say... Login to rate
Be the first to leave a review.
Show more