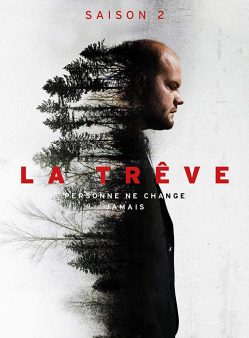 After a two-year hiatus, Netflix brings back its neo-noir crime thriller The Break featuring Belgian Police Inspector Yoann Peeters (Yoann Blanc). As the curtain rises on a sleepy Belgian town, Tino Rossi (Vincent Lecuyer) and his wife Claudine (Anne-Cécile Vandalem) discover the dead body of her sister, the wealthy Baroness Astrid du Tilleul (Valerie Bauchau) floating in the swimming pool. Dany Bastin (Aurelien Caeyman) who served time for the murder of young Clemence Lorent (Alizée Gaye) became Astrid's gardener and drug-supplier after his release from prison. In short order, Dany gets arrested by the Musso police and Chief Gobert coerces him to confess to the du Tilleul murder. Police psychiatrist Dr. Jasmina Orban (Jasmina Douleb) had treated Dany while he was in prison ands believes that young man was innocent of both murders. She asks Peeters whom she is helping to cope with  PTSD to do his own investigation. This will be a tricky assignment since Yoann is no longer on the police force, and will need a lot of help from his former police colleagues if he is to succeed
The list of murder suspects begins to expand when it is revealed that Claudine was Astrid's sole heir and due to come in to a sizable fortune. Peeters finds photos in Claudine's safe showing Astrid at "happenings" of nude female performers covered in blood supported by wealthy patrons of MAGMA, an "arts" group  and one of her artist lovers may have been her killer. Then are the forest squatters, led by the vicious Boris (Olivier Bony), who cultivate marijuana and are furious about a new highway, the Ranco Route, that will destroy much of their habitat. Two of Boris's minions Zoé Fischer (Sophie Maréchal) and Pierrot (Adrien Drummel) sneak out of the camp with three stone figures that were stolen from Astrid's home that they intend to sell to Tino!  Lurking in the background is Etienne Brunard (Luc Van Grunderbeeck) who hired Dany to take compromising photos of Astrid and who has a major financial interest in the new highway that the dead woman opposed.
As Yoann's "investigation" picks up, he starts "seeing" dead people: his former partner Sebastian Drummer (Guillaume Kerbusch) and Coralie Samyn (Talia Onraedt), Clemence's best friend. He visits his strange next-door neighbors the Liangs (Renato Brabants and Yves-Maria Gnahoua) who stage a séance, and when Coralie's spirit is summoned, she recalls the police, Marcel Legrand (Didier de Neck) and Gobert, who arrived at the murder scene wearing camouflage. Yoann confronts former police chief Rudy Geeraerts (Jean-Henri Compere) who admits to accidentally killing Clemence during the policemen's hunting trip. Dany gains his provisional freedom, and Inspector Peeters continues his dogged search for Astrid's real killer. Was it Dany's brother Christian (Julien Drion), Sophie (Noemie Schmidt), Christian's wife and Dany's lover, or someone yet to be identified?
As was the case in the first season, the second installment of The Break begins with an apparently open-and-shut murder case while its plot twists and turns its way to the finale in the best neo-noir fashion. For the most part, show creators Stéphane Bergmans, Benjamin d'Aoust, Matthieu Donck have created another mystery-thriller that will keep its audience continually guessing. The dramatic device that did not work for me was Inspector Peeters's recurring hallucinations involving his dead partner. I also wished that more screen time had been given to the sexy Sophie Breyer who portrays Yoann's daughter Camille. This vividly filmed 4K show gets sterling performances from its cast, particularly Yoann Blanc as the "broken" detective who struggles to maintain a grip on his life, and taut direction from Donck that builds the suspense throughout the ten episodes. Another winner from the Netflix network!
The Break Season 2 is streaming now in its entirety on Netflix
---
Stéphane Bergmans | Benjamin d'Aoust | Matthieu Donck
Show Creator
9 Feb. 2019
Original Release Date
Netflix
Network/Streaming Service
Helicotronc | RTBF
Studio/Distributor
Summary
Season 2 of this Belgian neo-noir thriller finds former police Inspector Yoann Peeters trying to track down the vicious killer of a rich woman whose lifeless body is found floating in her swimming pool.
What people say... Login to rate
Be the first to leave a review.
Show more