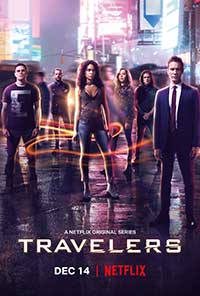 Travelers' first two seasons have been big hits for the Netflix streaming network. The five principal "Travelers" are FBI Agent Grant "Mac" MacLaren (Eric McCormack), medical expert Marcy Warton (MacKenzie Porter), tactician Carly Shannon (Nesta Cooper), informatics genius Philip Pearson (Reilly Dolman), and computer whiz Trevor Holden (Jared Abrahamson).  Each traveler must maintain the identity of one whose consciousness he/she has replaced while awaiting orders from the unseen Director, a powerful AI program, and avoiding the "Faction," a group of rogue time-travelers attempting to undermine their mission.
As Season 2 ended, Vincent Ingram "Traveler 001" (Enrico Colantoni) had gone off mission by surviving 9/11 and is holding the significant others of the Traveler team hostage.  Therapist Katrina Perrow (Amanda Tapping) has interrogated Katherine "Kat" MacClaren (Leah Cairns), David Mailer (Patrick Gilmore), Jeff Conniker (J. Alex Brinson), Ray Green (Ian Tracey), and Grace Day (Jennifer Spence) and has leaked to the media that the Travelers are terrorists. Season 3 opens with the five hostages freed while the team debates the best course going forward.  Dr. Perrow has become the new Traveler 001 but is fatally injured in a car crash caused by Faction members searching for the consciousness transfer device.
FBI Agent Joanne Yates (Kimberley Sustad) has become the liaison between the Bureau's central command and the five Travelers who are trying to patch things up with their respective companions. Yates and Mac are ordered to protect controversial television host Christopher Rockwell (Ben Scott). Rockwell become\s the newest Traveler when he is "shot" by Senate candidate Daniel Sosa (Zak Santiago) who blames the TV star for the murder of his wife Katie (Nicole Hombrebueno).  Later, the team assembles in the ILSA artificial intelligence laboratory where Grace downloads some crucial programming data for the team while its members distract computer scientist Dr. Ivon Teslia (Benjamin Ratner).
The Faction kidnaps Philip who is the Travelers' "historian" with total recall of all of the 21st century's events but he eventually gets rescued by his colleagues. Other challenges await the Travelers and their significant others including an incurable brain tumor for Trevor, the transformation of Jeff into a Faction member, Marcy's abduction, and David's life-threatening injury while defusing one of several nuclear devices that have already devastated London and Shanghai. As another season of Travelers nears its dramatic conclusion, the team is facing a possible Omega Protocol, meaning that each of them may now be on their own.
Season 3 maintains the high bar set by its two predecessors, as the tension escalates between the protagonists and their adversaries for reshaping the past and controlling the future. Viewers that have stayed with this show since its beginning will already have suspended their disbelief of time travel and consciousness transfer while newcomers are in for a real treat. Although the trope of time-date stamping the deaths and the "rebirths" of new Travelers does recur, it is used far less often than in previous episodes. The chemistry between the principals has matured and, in spite of their circumstances, they evince real emotions and develop meaningful relationships that will make us want to care about their fates, no matter how many lifetimes are represented in each consciousness transfer. This is the show's inherent magic and the reason why it has attracted such a loyal fandom. While I would hope that Travelers will have a fourth season, until Netflix confirms that this will happen, I am totally satisfied with what the first three seasons have already delivered. Highly recommended.
Travelers Season 3 is now streaming in its entirety on Netflix
---
14 Dec. 2018
Original Release Date
Netflix
Network/Streaming Service
Showcase
Studio/Distributor
Summary
Netflix returns its highly popular sci-fi series, Travelers, in another season of intrigue, time-travel, and a race to save Earth from its self-destruction.
What people say... Login to rate
Be the first to leave a review.
Show more