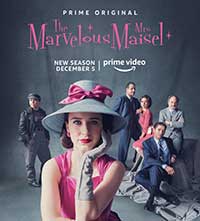 The first season of  Emmy award-winning Prime Original series The Marvelous Mrs. Maisel, set in the late '50s Manhattan, introduced viewers to Miriam "Midge" Maisel (Rachel Brosnahan), a young Jewish housewife and now separated from her skirt-chasing husband Joel (Michael Zegen).  Midge and her two children have moved back in with her parents, Abe Weissman (Tony Shaloub), a mathematics professor at Columbia University and his unhappy wife Rose (Marin Hinkle).  Midge's recently discovered gift for stand-up comedy, with support from a new manager, Susie Myerson (Alex Borstein), and legendary comic Lenny Bruce (Luke Kirby), has dramatically transformed the young woman's mundane life.
As Season 2 opens, Midge is a switchboard operator at B. Altman's department store. Rose abruptly moves to Paris to start la vie en rose in a quaint apartment only to have her dream die when Abe and Midge track her down and return her to New York.  Joel has quit his job and is also living with his parents, Moishe (Kevin Pollak) and Shirley (Caroline Aaron).  Midge asks Joel for another chance at their marriage but his insistence that she give up her comedy job becomes a show-stopper.  Joel discovers that his family's clothing factory is not only inefficient but also that his mother's bookkeeping is an outright disaster. At a bank where his best friend's brother works, he enables his parents to open an account and gets a loan to buy the factory outright.
The scene shifts to Steiner's Mountain Resort in the Catskills where Abe, Rose, Midge and her kids make their annual summer pilgrimage. When Joel, Moishe, Shirley, Susie, and Midge's brother Noah (Will Brill) and his wife Astrid (Justine Lupe) show up, awkward situations among these extended families abound. Midge meets Benjamin Ettenberg (Zachary Levi), a handsome young Jewish doctor searching for his "ideal" woman and something tells us that this could be the beginning of a "beautiful" relationship.  Susie negotiates a last-minute stand-up gig for Midge at The Concord resort where she performs in front of— gasp!—her father who does not appreciate being a butt of some of her off-color jokes.
Abe finds that Noah is doing government work for the CIA and has a higher security clearance than his and, ultimately both his Bell Laboratories job as well as his tenured position at Columbia hang in the balance. Meanwhile, Midge and Susie take off on a road trip that turns into a series of cheap dives and even cheaper motel rooms.  But all is not lost, as Susie scores a gig for Midge on a telethon that absolutely kills the audience and leads her to a possible career- and life-changing opportunity in her new profession.
The Marvelous Mrs. Maisel's series creator Amy Sherman-Palladino has crafted a period sit-com in every sense of the term with each episode propelled by its lead characters' various predicaments. The characters themselves become three-dimensional people who you not only get to know but about whom you actually care.  The show's broad, take-no-prisoners sense of humor is very much in the "Borscht Belt" vein that was all the rage in the '50s and '60s when there were very few female comedians, let alone those married with children. The strong cast carried over from Season 1 displays an unerring sense of comic timing and provides a seemingly endless stream of laugh-out-load lines, often punctuated with profanity, that will appeal mostly to aficionados of that golden age of television humor. There are more  dramatic moments that will evoke sympathy for young people like Midge and Joel who are struggling to find their way in the world. While today's younger audiences may well miss some of the references so aptly portrayed in this comedy time capsule, I had my formative years shaped by 1950s and 1960s television and absolutely got The Marvelous Mrs. Maisel. With Season 2 in the can, I am now eagerly anticipating the already announced Season 3 that will begin next year. Highly recommended.
The Marvelous Mrs. Maisel: Season 2 is now streaming in its entirety on Amazon Prime Video
---
Amy Sherman-Palladino
Show Creator
5 Dec. 2018
Original Release Date
Amazon Prime Video
Network/Streaming Service
Amazon Studios | Amazon Prime Video
Studio/Distributor
Summary
The second season of a well-received sit-com delivers the continuing adventures of a pioneering female stand-up comic who must contend with the 1950s male-dominate entertainment business while raising two young children without a husband.
What people say... Login to rate
Be the first to leave a review.
Show more