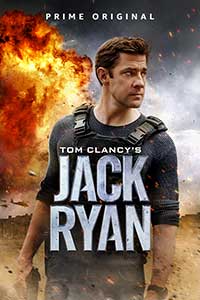 What do Harrison Ford, Alec Baldwin, Ben Affleck, and Chris Pine all have in common? Over the past quarter-century, each one has taken on the role of novelist Tom Clancy's iconic CIA analyst Jack Ryan. Now Amazon Prime Studios gets into the act with an eight-episode series created by television veterans Carlton Cuse and Graham Roland and starring red-hot actor John Krasinski in the title role. Tom Clancy's Jack Ryan turns out to be the prequel to the earlier feature-length films and shows the evolution of a brainy numbers guy with a doctorate in economics to an accomplished spy and anti-terrorism warrior.
At the CIA's T-FAD (Terror, Finance, Arms Division) headquarters, Jack Ryan presents his new division chief James Greer (Wendell Pierce) a sequence of suspicious Yemeni financial transactions that might be the work of the terrorist Mousa Bin Suleiman (Ali Suliman), a financial wizard who has perfected high-speed electronic funds transfers. By way of background, Mousa and his younger brother Ali (Hazz Sleiman) survived the bombing of their home in Lebanon thirty years earlier and later moved to France. Ryan and Greer have backstories as well.  Ryan was a Marine and the sole survivor of a helicopter crash that messed up his back while Greer was recalled from Pakistan after killing an "asset."
At a birthday party for Jack's former associate, financier Joe Mueller (Victor Slezak), he meets Mueller's daughter Cathy (Abbie Cornish), an infectious disease specialist, who will later become his romantic interest. Jack is dramatically whisked away from the gathering by helicopter and, accompanied by Greer, goes to a secret outpost in Yemen where one of Suleiman's couriers Omar Rahbini (Hemi Dridi) and his "bodyguard" who turns out to be Suleiman himself have been picked up for questioning. The outpost gets attacked and Ali arrives to free his brother.
Meanwhile, Jack has cracked Suleiman's cellphone and located an apartment in Paris where Ali is hiding out, after getting SIM cards loaded with euros for his brother. Greer and Ryan join French intelligence officer Sandrine Arnaud (Maria-Josee Croze) to capture the young man who sustained wounds during a police assault on his Parisian "headquarters." The mission goes wrong, leaving Arnaud and Ali dead.
Back at Suleiman's Syrian headquarter, his wife Hanin (Dina Shihabi) fears for her life and the lives of her children. She takes off with daughters Rama (Arpy Ayvazian) and Sara (Nadia Aftolter) to seek safe haven in Europe.  They will eventually get picked up by Greer and Ryan, then relocated to the DC area, as Hanin provides the location of Suleiman's Syrian headquarters.
Suleiman's strike against the West gets kicked off in Paris where Chechan terrorist Ansor Dudayev (Goran Kostic) releases canisters of sarin gas during a funeral mass at a large church that kills more than three hundred mourners. Mousa next goes on international television and issues a stern warning to the rest of the world.  Now having Mousa's location, the CIA begins preparations to invade the compound and take him out.  However, the wily Suleiman has more dirty tricks up his sleeve and manages to stay one step ahead of his pursuers. The series races toward a slam-bang conclusion as Jack Ryan and company try to protect the US from looming terror attacks.
Amazon Prime Studios has hit a massive home run with this binge-worthy series that keeps its thrills and spills mounting from one episode to the next. Krasinski delivers a lower key version of the late Tom Clancy's character that plays off quite well against Wendell Pierce's blunter T-FAD chief. Perhaps the unsung "hero" of the show is Ali Suliman whom we last saw in Hulu's The Looming Tower as Yemeni General Qamish. Suliman's role is the series' most complex as he is a family-loving man who harbors a life-long grudge against the West and has the smarts to pull off daring acts of terrorism. Video (4K UHD) and audio (Dolby Atmos) aspects are truly top-notch with highly detailed facial close-ups and sweeping desert panoramas bathed in atmospheric surround sound. I am eagerly awaiting the second season that has been promised for 2019. Highest recommendation.
Tom Clancy's Jack Ryan: Season One is available for viewing in its entirety on Amazon Prime Video
Carlton Cuse | Graham Roland
Show Creator
31 Aug. 2018
Original Release Date
Amazon Prime Video
Network/Streaming Service
Amazon Studios | Carlton Cuse Productions | Dune Films | Paramount Television | Skydance Television
Studio/Distributor
Summary
A stunning, pulse-pounding Amazon Prime series that introduces viewers to the original Jack Ryan persona before he became the CIA analyst on the big screen. Superbly cast, directed,and shot this show is a big winner for the streaming network and will return in 2019 for a second installment.
What people say... Login to rate
Be the first to leave a review.
Show more