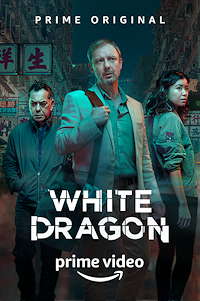 Set against the backdrop of Hong Kong, White Dragon opens with real estate agent Megan Harris (Dervia Kirwan) about to make a painful confession to her London-based husband Professor Jonah Mulray (John Simm) when her car is hit by a garbage truck. Jonah gets notified that Megan has been killed and he takes off for Hong Kong where he is met by Second Secretary at the British Consulate, Sally Porter (Emilia Fox) who takes him to identify his late wife's body. A distraught Jonah leaves the police station and encounters a man that he saw looking at Megan's photos. The man turns out to be former Detective David Chen (Anthony Chau-Sang Wong) who drops a bombshell on Jonah–he has been married to Megan for the past 20 years and they have a daughter Lau (Katie Leung)!  The two men form an unlikely alliance and begin to investigate Megan's death after the last voicemail she sent Jonah ended with the sound of a gunshot.
What began as an apparent traffic fatality spins into a tale of intrigue that draws a number of people into its skein. First is Lau who is arrested for protesting  billionaire Xiadong Xo (Kenneth Tsang) who is running for Hong Kong's Chief Executive. Lurking in the background is Australian journalist Michael Cohen (Anthony Hayes) who is working on a government exposé. Xo's assistant Rachel Hargreaves (Raquel Cassidy), Cohen's ex-wife, seems to be harboring numerous secrets involving her boss.  Sally is not above the fray either as her fiancé, hotel manager Ben Torres (Christian Contreras), has stolen information from the Consulate to extort Xo's rival Shibao (Stuart Ong). When Ben is found dead in their apartment, these two recent deaths appear to be more than mere coincidence.
Lau takes Jonah to Potu-O-Bay that houses a secret apartment used by Megan as her Hong Kong façade from which she would telephone Jonah. It is not only clear that Megan was leading a double life but her last transaction for five million Hong Kong dollars involved a shell company and a sale property that was an abandoned garden shed. As David and Jonah dodge efforts to get themselves jailed for a murder that neither committed, reporter Cohen continues to work on what could be the story of his career. Xo's corporate fixer Conrad Davis (Andrew Knott) continues his efforts to cover his boss's tracks and to avoid the surfacing of any damaging secrets during the ongoing political campaign. However, there remains one very big secret involving Megan that must be suppressed at any cost.
In Chinese mythology, the White Dragon symbolizes, among other things, the wind, purity, wisdom and mourning. Nearly all facets of this symbol can be found in this intricate neo-noir thriller with its large cast of characters. The eight episodes forge an intriguing story in which things are nearly never what they first seem to be. Lead actor John Simm (Dr. Who, Collateral) is simply brilliant as the enterprising widower who, despite being completely out of his element, connects with Hong Kong film star Wong as the archetypal little guys fighting against the big machine whether it be a crooked Consulate, a crooked business empire or a crooked local police force. Leveraging the cross-cultural differences between East and West, White Dragon takes its audience through the crowded streets of bustling Hong Kong and delivers enough suspense to keep binge-watchers glued to their respective seats for the next six hours.
White Dragon: Season 1 is now streaming in its entirety on Amazon Prime Video
---
Mark Denton | Jonny Stockwood
Show Creator
8 Feb. 2019
Original Release Date
Amazon Prime Video
Network/Streaming Service
Two Brothers Pictures | Amazon Studios
Studio/Distributor
Summary
Amazon Prime Studios delivers a neo-noir thriller set in the exotic city of Hong Kong as two unlikely strangers, a university professor and a former Hong Kong policeman, set out to solve the murder of the woman to whom both were married.
What people say... Login to rate
Be the first to leave a review.
Show more