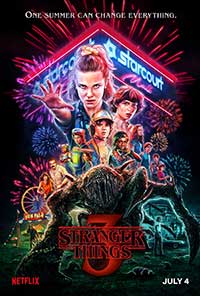 Stranger Things is baaack, as our four friends, Mike Wheeler (Finn Wolfhard), Will Byers (Noah Schnapp), Lucas Sinclair (Caleb McLaughlin), and Dustin Henderson (Gaten Matarazzo) are about to embark on the four-year thrill-packed adventure that is high school. This comes hard on the heels of the revelation that a secret DOE laboratory is harboring an Upside Down universe filled with dangerous vines and monsters that temporarily held Will hostage but gave him a mind-altering experience, and are now being kept temporarily at bay with a flamethrower.
This third season is packed with destruction and derring-do by its young protagonists that is made more complex by the nascent love stories between Mike and Eleven AKA "El" (Millie Bobby Brown), his sister Nancy (Natalia Dyer), a Hawkins newspaper intern, and her counterpart Jonathan Byers (Charlie Heaton), Lucas  and Maxine Mayfield (Sadie Sink), co-workers at "Scoops Ahoy" ice cream parlor Steve Harrington (Joe Keery) and Robin (Maya Hawke), Suzie "Poo" (Gabriella Pizzolo)and Dustin, and the late bloomers Joyce Byers (Winona Ryder) and Police Chief Jim Hopper (David Harbour), El's adoptive father.
The focal point of this new season is the Starcourt Mall that has killed the shops in town but harbors a secret Soviet laboratory that has a portal to the Upside Down universe. At the heart of this story is the monstrous Mind Flayer, a huge creature that enters the minds of unsuspecting prey like hunky Billy Hargrove (Dacre Montgomery) and turns its prey into mindless doppelgangers, the fate that is entrapping many of the Hawkins townspeople.
When Hopper uncovers a plot between the town's mayor Larry Kline (Carey Elwes) and the Russian contingent below the mall, it becomes clear that he must get help to prevent a massive takeover of their town by nefarious forces. He recruits old "buddy" Murray Bauman (Bret Gilman) who happens to speak Russian and when they capture one of the operative Dr. Alexei (Alec Utgoff) it appears that they may be able to foil the Soviet's plans to take over their town and eventually the world. Of course, there is still the menacing Mind Flayer to contend with.
Like its predecessors, Stranger Things: Season 3 builds its narrative to an all-or-none climax that will still leave some doors open for yet another installment. In all respects, this show, in spite of its hyperbolic sci-fi special effects, is a family drama that tugs at the heartstrings. Fans of the first two seasons have already adopted these kids and their dysfunctional parents and will root for them to succeed against all odds. The action is supported by '80s music and social icons, "New Coke" anybody?, taking its audience back to a distant place and time.  Erica Sinclair (Priah Ferguson) as Lucas's pesky little sister is another fine addition to a sterling cast of adolescent actors as the Duffer Brothers have knocked it out of the park once again. Highly recommended.
Stranger Things: Season 3 is streaming now in its entirety on Netflix  
---
Matt Duffer | Ross Duffer
Show Creator
4 Jul. 2019
Original Release Date
Netflix
Network/Streaming Service
21 Laps Entertainment | Netflix
Studio/Distributor
Summary
The magic continues in this third installment of one of the best shows that Netflix has ever given us. The young cast is stellar and the storyline will warm viewers' hearts and make us hope for a Season 4!
What people say... Login to rate
Be the first to leave a review.
Show more