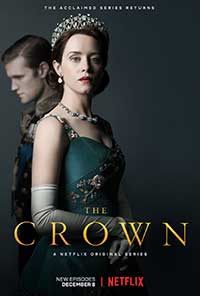 The first season of The Crown covered the early years during which the now-nonagenarian Queen Elizabeth II first assumed the British throne. At that season's finale, Elizabeth (Claire Foy) was attempting to find a suitable role to occupy her restless husband, the Duke of Edinburgh Philip (Matt Smith). Season 2 explores the next decade of QE II's life, as Peter Morgan's script continues to develop the principal characters of this historical drama in more detail and greater dimension. The ten hour-long episodes pick some key moments near the beginning of the young Monarch's reign and the roles played by its numerous participants.
New Prime Minister Sir Anthony Eden (Jeremy Northam) is confronted with an escalating international crisis caused by Egyptian President Gamal Abdel Nasser's (Amir Boutrous) seizure of the Suez Canal. As Britain, France, Israel, Egypt and Russia become involved, a third world war is averted but Britain suffers severe economic repercussions. The clouds of the cold war loom over post-WW II Europe and, as a consequence of the botched Suez affair, Queen Elizabeth gets a new PM, Harold McMillan (Anton Lesser).
The fault lines in the royal marriage repeatedly surface and when "bad boy" Philip embarks on a lengthy world tour, the nasty and highly publicized divorce of his private secretary and best friend, Mike Parker (Daniel Ings) threatens the monarchy itself. Royal advisor Michael Adeane (Will Keen) summons his predecessor Tommy Lascelles (Pip Torrens) out of retirement to do the necessary damage control and prevent Philip from receiving bad publicity.  Elizabeth begins to understand al too well the accommodations required to preserve an essentially arranged marriage and begins by making Philip a Prince.
Younger sister, the free-spirited Princess Margaret (Vanessa Kirby) meets the libertine photographer Anthony Armstrong-Jones (Matthew Goode). Margaret and Tony quickly heat things up in his studio and she hastily decides to marry him. Although Lascelles and Adeane have compiled a substantial seamy dossier on Armstrong-Jones's escapades, Margaret will not be denied her big Westminster Abbey wedding, delayed only by the birth of the Queen's third child, Prince Andrew.
Royal family skeletons emerge when the Duke of Windsor (Alex Jennings), now living in France, seeks to reinsert himself into British public life.  Elizabeth consigns him to the ash heap of history when suppressed German files reveal the Duke's uncomfortably close connections to Hitler and the Nazi regime. As a brief respite from the palace intrigue, Prince Charles's difficult youth, underscored by five years of "living hell" at Scotland's grueling Gordonstoun School, plays out in parallel with his father's own hard times at the same academy.
The second season propels its way through more political challenges beginning with Ghana's President Kwame Nkrumah (Danny Sapani) cozying up to the Russians and concluding with a huge scandal involving a prominent cabinet member, a call girl, and possibly Prince Philip himself that threatens to bring the palace roof crashing down. There is an interesting aside with an "unofficial" visit from American "royalty," President John Kennedy (Michael C. Hall) and wife Jackie (Jodi Balfour) that spawns an apocryphal private conversation between Elizabeth and Jackie during the latter's subsequent visit to her sister Lee Radziwill (Skye Hallam).
Elizabeth continues her "on-the-job" training and finds her still new role as monarch to be more difficult than she had ever expected. Trying to balance these constant public demands with her domestic life, viewers get to see the Queen gain greater strength and confidence. Prince Philip continues to struggle with his subordinate role while Margaret gets exposed as a willful and self-centered hedonist overshadowed by her older sister.
As was the case in Season 1, for The Crown: Season 2 the screen is again graced by fabulous location shots, this time by Stuart Howell's crew, throughout the UK that bring the interiors and exteriors of various palaces and castles directly into our homes. Even if the dialogue may be mostly writer Morgan's invention (there were relatively few records kept in those days), it is never less than skillfully done and comes across as quite credible. As history continues to unfold, the high production values do The Crown justice and whet our appetites once again for Season 3, rumored to be in the offing for late 2018.  Highest recommendation.
The Crown: Season 2 is now streaming in its entirety on

Netflix
8 Dec. 2017
Original Release Date
Netflix
Network/Streaming Service
Left Bank Pictures | Sony Pictures Television Production UK
Studio/Distributor
Summary
The story of Queen Elizabeth II early years continues in a most successful follow up to one of Netflix's best series that brings back a terrific cast, direction, and script.
What people say... Login to rate
Be the first to leave a review.
Show more