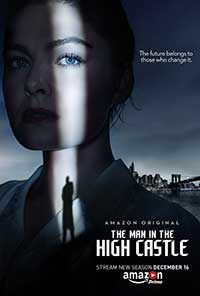 Season One of The Man in the High Castle ended with Japanese Trade Minister Nobusuke Tagomi (Cary-Hiroyuki Tagawa) waking up on a bench in San Francisco's Union Square in a 1962 America that looked nothing like the country that was defeated in World War II by Germany and Japan. This vision eventually spurs on the old man to seek evidence proving that his dream might be true.
As in Season One, this series is driven by its principal characters: Joe Blake (Luke Kleintank) a Nazi double agent, Juliana Crain (Alexa Davalos) the daughter of a WW II soldier killed by the Japanese and working for Tagomi, Juliana's boyfriend, Frank Frink (Rupert Evans) a cryptic Jew who makes fake American historical artifacts, and American Obergrüppenfuhrer John Smith (Rufus Sewell) who harbors a dangerous secret about his son Thomas (Quinn Lord).
The uneasy relationship between the Japanese who control the Pacific States and the Germans who rule the Greater Nazi Reich continues to deteriorate.  Japanese General Onada (Tzi Ma) assures his inner circle that they can develop a nuclear bomb powerful enough to win any impending conflict, starting with a plan to transport enriched uranium on buses carrying non-Japanese passengers as decoys.
Obergrüppenfuhrer Smith sends Joe to meet his long-absent father Reichminister Martin Heusmann (Sebastian Roché) in Berlin. This is not a feel-good reunion as Joe discovers that he was actually born in a Nazi breeding house, not in Brooklyn, New York, and that his mother fled Nazi Germany for a better life. Heusmann tries to convince his sole surviving son to embrace "Das Vaterland" and dangles the beautiful Nicole Becker (Bella Heathcote) as bait to tempt Joe to remain.
Juliana has run afoul of Resistance leaders, Gary Connell (Callum Keith Rennie) and Lemuel Washington (Rick Worthy) and briefly encounters the improbably named Hawthorne Abendsen (Stephen Root), the infamous "Man in the High Castle," who takes her to a huge warehouse crammed with films dating from WW II to the present times. Juliana sees one film that shows a destroyed San Francisco and rushes home to urge her family  to leave immediately. She also meets her half-sister Trudy's father, George Dixon (Tate Donovan), a Resistance operative who convinces her to enter the good graces of the Nazis and gather intelligence to help bring them down.
Frank Frink (Rupert Evans) frees his best friend Ed McCarthy (DJ Qualls), falsely arrested for attempting to kill the Japanese Crown Prince, with help from the Yakuza leader Taishi Okamura (Hiro Kanagawa) and Chief Inspector Kido (Joel de la Fuente) of the Kempeitai. Having seen one of the "High Castle" films showing his execution, Frank goes all in with the Resistance and links up with Sarah (Cara Mitsuko) as they attempt to carry out a major terrorist attack against the "Pons" AKA the Japanese in their San Francisco headquarters.
Minister Tagomi has entered a parallel universe that confirms his previous vision of the different outcome to World War II. He tries to reconnect with his estranged family, his deceased wife Michiko (Yukari Komatsu) and son Nori (Eddie Shin). The wildcard is Nori's wife Juliana Crain who has had Nori's son.
There are subplots aplenty in Season 2, but, in contrast to Season 1, the characters are better delineated and their motivations more clearly defined. The ten episodes are noticeably darker than their Season 1 predecessors in both scenic shading and in the dreadful deeds done. The pace also accelerates as the stakes are raised not only for World War III but also for worldwide destruction on an unprecedented scale. But who really is the title character and what are his intentions? Is this simply another example of the "butterfly effect" at work in another universe with the potential to change history? What is the meaning of "the grasshopper lies heavy" that is imprinted on the reels of the underground films? There is residual ambiguity and uncertainty that cannot be explained in the actual episodes of the series itself and this leads to my main criticism of Season 2. If the readings of I Ching or the book of Ecclesiastes are required to understand Philip K. Dick's futuristic novel and, by inference, this television series, then all is lost. But to completely understand the unanswered questions that often emerge, viewers absolutely must see director Percival's 3-minute explications following each episode. Before crying dirty pool, these extras are both welcome and support the final product, making this series more relevant and entertaining. After all, the original Dick novel left a lot to readers' imaginations and dangled many plot elements and character identities as well.
The Man in the High Castle continues its high level of scriptwriting, direction, and casting. Director Daniel Percival brilliantly realizes Frank Spotnitz's adaptation that substantially improves on the uneven Philip K. Dick sci-fi novel and the cast responds in kind with terrific performances from top to bottom. The significant challenge of frequent shifting of location and time is well-managed, keeping the drama cohesive and supporting the intrinsic suspense of a plot with many twists. Highly recommended.
The Man In The High Castle: Season Two (TheaterByte TV Series Review)
Frank Spotnitz
Show Creator
16 Dec. 2016
Original Release Date
Amazon Prime Video
Network/Streaming Service
Amazon Studios | Big Light Productions | Electric Shepherd Productions | Headline Pictures | Picrow | Reunion Pictures | Scott Free Productions | Amazon.com
Studio/Distributor
Summary
A boundary-pushing sci-fi series that reexamines American values in the face of an unthinkable situation in which the U.S. has been subjugated to Japan and Germany in its WW II defeat, the second season of the Award-winning series is every bit as binge-worthy as the first.
What people say... Login to rate
Be the first to leave a review.
Show more