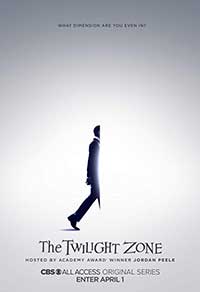 It has been sixty years since The Twilight Zone television series first aired and its trail-blazing efforts ran for five years on the CBS network.  Host/creator Rod Serling introduced viewers to scripts penned by some of Hollywood's best writers and populated them with some of the best young actors of the times, a list that included Robert Redford, William Shatner, Inger Stevens, and Anne Francis. Each 30-minute black-and-white show might take viewers to familiar places that suddenly became quite disturbing or to strange new locations that stretched their imaginations.  Stories often turned into morality plays as numerous characters received their just desserts. CBS returned this series to the small screen in 1985, again featuring some of Hollywood's best writing, directing, and acting talent but the results were uneven and this Twilight Zone reboot was canceled after only three seasons. The series was again rebooted in 2002 with Forest Whitaker and lasted only one season.
Will the fourth time be the charm for The Twilight Zone? Enter writer/director Jordan Peele whose horror films Get Out! and Us have afforded him even greater celebrity than that he achieved in the comedy duo with Keegan Michael Key. Peele assumes the Serling role as the narrator-guide who will take us through ten episodes intended to revive the spirit of the original series. The first two episodes were released on April 1, 2019 and provided the subject of this review.
The Comedian is an original script by Alex Rubens and features stand-up comedian Kumail Nanjiani (The Big Sick) as Samir Hassam, a struggling performer at Eddies ("no apostrophes allowed") comedy club, who is supported by live-in girlfriend Rena (Amara Karan). For the past five years, Samir has failed to make it big, as his routines are simply not that funny. After his latest routine gets dissed by fellow comedian DiDi Scott (Diana Kilpatrick), Samir meets reclusive comedy legend J.C. Witherspoon (Tracy Morgan) who makes a surprise appearance at the club's bar. J.C. appears to strike a Faustian deal with Samir that just might be a scam but his comedy act suddely takes off and becomes wildly successful. However, after each routine Samir discovers that some element in his personal life gets permanently changed and that fame and fortune are not all that they are cracked up to be in the Twilight Zone.
Nightmare at 30,000 Feet is the third remake of the Richard Mathieson sci-fi classic that finds highly successful  but anxiety-ridden investigative journalist Justin Sanderson (Adam Scott) on route to a new assignment in Tel Aviv. Justin meets "Joe" (Chris Diamantopoulos) who recognizes him in the airport before they board fateful Flight 1015.  Joe turns out to be a former pilot for the very airline that they are both flying, an important fact that will later impact the course of this aerial drama.  Justin discovers an mp3 player on his reassigned seat and, after connecting his headphones, he hears a podcast that describes the disappearance of his flight. Since the plane is still airborne, Justin may get one last chance to change its destiny but only if he can overcome his psychological distress to make the right choices.
The production values of this new Twilight Zone reflect the tremendous technological progress made in the television industry over the last half-century. The beckoning door and wandering eyeball, trademarks of the original show, are quite striking. The high-definition technicolor images are a substantial improvement over anything that 1960s television could offer and formally attired host Jordan Peele dishes out generous dollops of Serling-esque gravitas. This latest revival of TTZ seems to suffer in comparison with the original in its writing and the execution of its new or, in the case of Nightmare at 30,000 Feet, reworked scripts. The current material is not terrible but, just two episodes into this series, it is simply mediocre and lacking in the originality that was the hallmark of Rod Serling's creations. Serling and his writers were under pressure to deliver the essence of each story in only half an hour and they responded with deft economy of expression in the "less is more" style. The longer episodes of the new Twilight Zone contain a surfeit of "dead air" and provide endings that are neither very provocative nor leave much to our collective imaginations.
Looking ahead to further installments, Peele and company have stacked the deck with A-listers like Greg Kinnear, John Cho, John Larroquette, and Seth Rogen. Mixing old and redone The Twilight Zone storylines, I am willing to give Season One the benefit of the doubt, but this show's creative staff will definitely need to pick up the slack for the remaining eight episodes. The Twilight Zone is being streamed on the CBS All Access Network that requires viewers to purchase a monthly subscription.
The Twilight Zone Season One appears weekly on CBS All Access beginning April 1, 2019
---
Jordan Peele, Marco Ramirez
Show Creator
April 1, 2019
Original Release Date
CBS All Access
Network/Streaming Service
CBS Television Studios, Genre Films, Monkeypaw Productions
Studio/Distributor
Summary
Jordan Peele returns Rod Serling's classic sci-fi series to the small screen with its initial new and reworked scripts lacking the originals' economy of expression. Talented casts are featured in all of the remaining installments so viewers can still harbor some optimism that matters will improve. Peele channels the appropriate gravitas that made host Serling such a television icon and production values show how far the technology of television has advanced over the last six decades.
What people say... Login to rate
Be the first to leave a review.
Show more