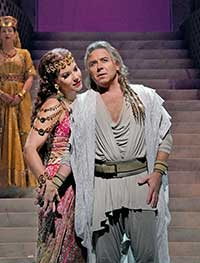 October 16, 2018. Camille St-Saens's 1877 version of the well-known biblical tale Samson et Dalila has opened at The Metropolitan Opera in a brand-new production. Darko Tresnjak, Alexander Dodge, and Linda Cho, respectively the director, set designer, and costumier of Tony-winning musical, A Gentleman's Guide to Love and Murder, have put this cast through their paces and given them period-specific wardrobes.
Samson et Dalila is primarily a tenor vehicle and veteran French singer Roberto Alagna assumes the mantle in this production, partnered with star mezzo-soprano Elīna Garanča. This pair had heated up the Met's stage in Richard Eyre's Carmen nearly a decade ago, and the audience had looked forward to their 2018 reunion. Sir Mark Elder was in the pit and Donald Palumbo directed the Met Opera chorus that assumed a major role in this opera.
The curtain rises on 12-century B.C.E. Gaza. The Israelites have been conquered by the Philistines and look to Samson (Alagna) for their deliverance. The hero enters, kills the Philistine General Abimélech (Elchin Azizov), and incites the Israelites to revolt and burn the crops. The High Priest (Laurent Naouri) chastises his troops for cowardice in the face of Samson's legendary strength but possesses a secret weapon in Dalila (Garanča), Samson's former lover, who will attempt to seduce the strongman. When Samson appears in her home, he yields to Dalila's wiles, and in so doing gives her the secret of his strength.  Later, blind and shorn, Samson prays for forgiveness from his people whom he had abandoned for Dalila. At the Temple of Dagon, Samson implores God to help him regain his strength and, when his petition is granted, he takes destroys the temple, killing all inside.
Tresnjak and Dodge employed large multi-element structures focusing on center stage and these devices culminated in the temple scene with its huge cleft figure of Dagon. However, this final act's stagecraft was a major dramatic miscalculation as there is no apparent effort by Samson to bring down the temple's walls; after he breaks his chains, only a flash of light and a column of smoke appear leaving the structure largely intact. To offset the often-static nature of Samson, Tresnjak inserted the sinuous background movements of Philistine soldiers which at times proved distracting. A high-water mark of the opera is Act III's famous bacchanale but, in this case, the corps de ballet was hampered by an overly crowded stage. Cho provided drab costumes for the Israelites and garish ones for the Philistines while the décolletage of Dalila's outfits emphasized her obvious physical assets.
It was the company's collective vocalism that carried the day. Alagna can be an inconsistent artist (his opening night effort was not well received). On this particular evening, Alagna pulled his act together and brought consummate artistry and, when called for, powerful singing to one of opera's true tenor-killing roles. Garanča waited until Act II to become a sensual seductress and the husky timbre of her lower tessitura would make melt even the strongest Samson. Yet, the chemistry between the two leads percolated at a much lower boil than in their Met Carmen. Baritone Naouri was a solid High Priest and a nice dramatic foil for the temptress Dalila. It was easy to see why singers love to work with maestro Elder who paced this large score to perfection and kept the orchestra from overpowering his cast. Donald Palumbo's chorus covered itself in glory, conveying the oratorio-like character of the choral writing.
This newly-minted Samson et Dalila must be regarded as a qualified success, scoring points on its vocal performances and visually arresting sets, while ceding points on its dramatic and staging concepts. The current cast concludes its run in a Live in HD broadcast on October 20, 2018, and a new group of artists, led by mezzo-soprano Anita Rachvelishvili and tenor Alexandrs Antonenko, resumes this production in March 2019.
Samson et Dalila will continue to be performed at the Metropolitan Opera with this cast until October 20, 2018
Roberto Alagna | Elīna Garanča | Laurent Naouri | Sir Mark Elder | Metropolitan Opera Orchestra and Chorus
Artist
Metropolitan Opera House
Venue
Summary
A strongly sung and conducted new production of Saint-Saens' operatic version of an Old Testament epic that gets weighed down by some dramatic concepts and wayward staging.
What people say... Login to rate
Be the first to leave a review.
Show more