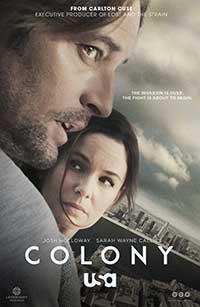 Colony thrusts its audience into a near-future dystopian and walled-off Los Angeles that has been occupied since the "Arrival" of the yet-to-be seen extraterrestrial "Hosts." LA is under martial law decreed by the Occupation, enforced by the "Red Hats" or "Raps" and monitored by fleets of dangerous-looking drones. Break the law and you will be sent to the distant "Factory."
This series focuses on the Bowman family: Will (Josh Holloway), Katie (Sarah Wayne Callies), their two children Bram (Alex Neustaeder) and Gracie (Isabella Crovetti), and Madeline "Maddie" Kenner (Amanda Righetti), Katie's sister and her son Hudson (Cooper J. Friedman). Will, a former Army Ranger and FBI special agent, is arrested while searching for his son Charlie, missing since the Arrival, and is taken to Proxy Alan Snyder (Peter Jacobson). The former Provost of Stanford University, Snyder now runs the LA "bloc" and lives in the "Green Zone," a lush community walled off from desolate downtown LA. He gives Will a security job in the Occupation but there is a huge problem: Katie is a secret member of the Insurgency and frequently meets with Quayle (Paul Guilfoyle), the local cell leader and his lieutenant, Eric Broussard (Tory Kittles). Katie also runs "The Yonk" or Yoknapatawpha a previously popular LA restaurant. She eventually raises Will's suspicions when he finds her secret cache in their basement.
Security team leader Phyllis (Kathy Baker) teams up Will and Beau (Carl Weathers). The pair captures insurgent leader "Geronimo," who turns out to be a film actor hired by the rebels to make daily propaganda broadcasts for their movement. Maddie has taken a position in Charlotte Burgess's (Kathryn Morris) art gallery so that Hudson can get medical care and she engages in an affair with Charlotte's husband Nolan (Adrian Pasdar) a deputy commissioner in the Occupation. Broussard assassinates Phyllis and her husband, resulting in Will's becoming head of the security unit with Jennifer McMahon (Kathleen Rose Perkins) joining him to help with intelligence.
After the fake "Geronimo" AKA actor Luis Ortega is tried, convicted and hung, Snyder and Bowman are ambushed by insurgents and barely escape with their lives. Halfway through the series, Will tells Katie the real "Geronimo" story, leaving her profoundly disillusioned and confused. The Insurgency is now in disarray and Broussard has been outed and is on the run. There is much more in store as some unexpected events trigger a slam-bang conclusion to Season 1.
The ten episodes of this initial season have enough backstories and subplots to fill several seasons and many questions remain unanswered like the following: Who are the Hosts, what are their intentions, and will we ever get to see them? What has happened to the rest of the United States and the world for that matter? What is the purpose of the "Factory?" The huge wall around the "Green Zone" seems to be pretty porous, so what is its point? What is the "New Day" religion all about and will it affect the future of the bloc's children?
Like the Divergent films that show a future world in conflict, Colony is a very ambitious series that presents a massive amount of information in its allotted six and a half hour running time. Fortunately, this show is blessed with a very strong line up of actors and its five directors manage to cope as best they can with a very complex script and huge cast. I would encourage those who have already become engrossed in this sci-fi series to wait patiently to see how Season 2, starting on January 12, 2107, tackles Season 1's unsolved puzzles.
Colony: Season 1 is available on home video on DVD and for streaming on Amazon Video and Netflix.
Colony: Season 1 (TheaterByte TV Series Review)
Carlton Cuse, Ryan J. Condal
Show Creator
January 4, 2016
Original Release Date
Netflix
Network/Streaming Service
Legendary Television/USA Network
Studio/Distributor
Summary
An ambitious sci-fi series that presents a 21st century dystopian Los Angeles that presents a massive amount of information and leaves many unanswered questions at the end of Season 1
What people say... Login to rate
Be the first to leave a review.
Show more