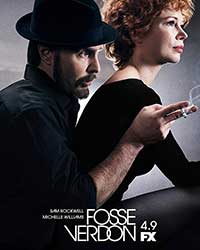 FX presents an eight-episode mini-series about one of show business's greatest partnerships that was the often stormy personal and professional relationship between dancer/director/choreographer Bob Fosse and his third wife (they never divorced) actress/dancer Gwen Verdon. This couple shared a passion for the stage and screen, garnering numerous awards throughout their individual and joint careers. The time-stamped title cards that introduce each scene chronicle the 19 years of their onstage/offstage lives and are referenced to so many years or minutes before Fosse's suddent death at age 60.
The series' opener, "Life is a Cabaret," begins five years earlier as Bob and Gwen are preparing the chorus line for the filming of Sweet Charity.  Although this show featured one of Gwen's iconic Broadway roles, Shirley McLaine was cast as the lead and the film bombed, nearly tanking the Universal Pictures studio. A persistent Fosse pesters producer Cy Feuer (Paul Reiser) to get him the director's job for the Cabaret film project and he succeeds. Once on location in Munich, Fosse decides to cast a group of prostitutes from a local brothel as extras. He receives considerable assistance from Munich native Hannah (Christiane Seidel) and "rewards" her with romps in the sack.
Trouble is brewing on the Cabaret set as Cy arrives and interferes with Bob's directorial concepts, staging, and choreography.  Desperate for support, Fosse gets his long-neglected wife Gwen to come to his aid and with Liza Minelli (Kelli Barrett) in tow, the filming starts in earnest. Episode One concludes with a foreshadowing of what will be the last eight minutes of the Fosse/Verdon duo.
Based on Sam Wasson's well-received biography Fosse, Episode One highlights what would be Bob Fosse's greatest success on the silver screen.  Sam Rockwell bears little physical resemblance to his title character, and unlike Roy Scheider's riveting portrayal of a fictional Fosse in All That Jazz, he appears let down by a script that allows little of Bob Fosse's dynamism or dark side as serial womanizer to emerge. Conversely, Michelle Williams looks a lot more like Gwen Verdon, and it is her performance as the famed dancer in the twilight of her career that really carries this show so far. Perhaps the title should have been changed to "Verdon/Fosse."
Chandler Head does a nice turn as Fosse's daughter Nicole who, incidentally, is billed as one of the show's producers. Still, the highlights come from the two song-and-dance numbers from Sweet Charity and Cabaret and hopefully more of such material will be in store for the audience. The occasional plot device of making Fosse a spectator of scenes from his youth only gets in the way of the storyline and has been greatly overused in previous biopics. Future episodes of Fosse/Verdon will feature portrayals of numerous entertainment luminaries of that era like playwright Neil Simon, producer Hal Prince, Broadway stars Joel Grey, Chita Rivera, and Ann Reinking. Unless Sam Rockwell gets better scriptwriting than Thomas Kail and Steven Levinson have given him so far, Fosse/Verdon will not prove to be a must-see series.
Fosse/Verdon is on the FX network beginning April 9, 2019
---
Thomas Kail | Steven Levenson
Show Creator
9 Apr. 2019 (USA)
Original Release Date
FX
Network/Streaming Service
Fox 21 Television Studios | Old 320 Sycamore | West Egg Studios | FX Network
Studio/Distributor
Summary
This biography/drama series gives an inside look the romantic and working relationaship between influential choreographer/director, Bob Fosse (Sam Rockwell), and Gwen Verdon (Michelle Williams), one of the most influential people ever to dance on Broadway. The series gets off to a bumpy start with clumsy flashbacks and poorly scripted characters.
What people say... Login to rate
Be the first to leave a review.
Show more