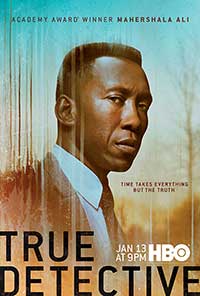 True Detective Season 1 sizzled, Season 2 fizzled, and now after a three-year hiatus, show creator Nic Pizzolatto returns with a two-episode premiere as the third installment of this neo-noir crime franchise hits the small screen.
West Finger, Arkansas, a small town in the Ozarks, was the scene of a brutal crime thirty years ago known as the Purcell case. This HBO series shuttles its action between three time periods: 1980, the date of the original murder; 1990, at the reopening of the murder investigation; and 2015 when former Detective Wayne "Purple" Hays (Mahershala Ali, Spider-Man: Into the Spiderverse, Moonlight) is interviewed for a television show.
As Episode One begins, the intact fingerprints of Julie Purcell (Lena McCarthy), missing and presumed dead for the past decade, have been found in a recently burglarized Oklahoma pharmacy, rekindling new interest in the homicide of her older brother William Purcell (Phoenix Elkin). Hays has been brought in for questioning by District Attorney Alan Jones (Jon Tenney) about the evidence that led to the conviction of a yet-to-be identified person for Will's murder.
The scene shifts back to 1980 and the Purcell siblings had gone on a late afternoon bike ride before they disappeared.  Their father, machinist Tom Purcell (Scott McNairy) vainly searches for his kids, while Hays and his partner Roland West (Stephen Dorff) respond to a missing persons bulletin.  The partners arrive at the Purcell home and meet the children's mother, the wandering barmaid Lucy (Mamie Gummer). During the initial criminal investigation, Hays meets and falls in love with Will's teacher Amelia Reardon (Carmen Ejogo) who will later become his wife, the mother of his two children, and successful author of the definitive account of the Purcell case, Life and Death and The Harvest Moon.
The story now briefly returns to 2015, as an elderly Hays, clearly afflicted with memory lapses, has his son Henry (Ray Fisher) help prepare him to be interviewed by investigative journalist Elisa Montgomery (Sarah Gadon). Elisa may have unearthed some shocking new evidence about the murder case and senses the possibility of a sensational "true detective" story.
Back again at the time of the murder, Hays uses his Army reconnaissance skills to find two crude home-made dolls, and Will Purcell's dead body posed in a position of prayer in a small tunnel of the appropriately named "Devil's Den."  This discovery triggers a visit from the Feds who assign their own agents to the case as then-schoolteacher Amelia gets Mike Ardoin (Corbin Pitts), Julie's friend, to identify pictures of the dolls as similar to one that Julie received while trick-and-treating the previous week.  However, the investigation soon becomes compromised when the DA blurts out clues about the case on local television, spooking the entire town.
The welcome return of True Detective also represents a return to the slow-burning pace and calculated time shifts that made Season 1 such a dramatic success. The odd-couple pairing of two detectives clicks again and there are already hints that a cult-like influence might also be involved. Given a cast as good as this one and a dark murder mystery with plenty of unanswered questions, True Detective Season 3 should keep viewers on edge for its remaining six episodes, as HBO appears headed for another successful crime series.
True Detective Season 3 is available for viewing on HBO, HBO Go, and HBO Now in weekly installments beginning January 13, 2019
---
Nic Pizzolatto
Show Creator
13 Jan. 2019
Original Release Date
HBO
Network/Streaming Service
Anonymous Content | HBO Entertainment | Passenger | HBO
Studio/Distributor
Summary
HBO's True Detective series returns with a completely new story and cast that finds a pair of oddly-matched policemen trying to solve a puzzling brutal crime with new twists that seem to pop up long after it is apparently wrapped up. Mahershala Ali leads a strong cast that successfully restores the neo-noir vibe of Season 1.
What people say... Login to rate
Be the first to leave a review.
Show more