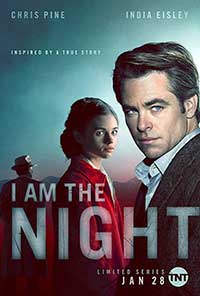 The brutal murder of young Elizabeth Short AKA the "Black Dahlia" in 1947 Los Angeles gained national attention and, as the case was never solved, it continues to fascinate film makers. This TNT Network six-episode mini-series, I Am the Night, is based on the memoir One Day She'll Darken: The Mysterious Beginnings of Fauna Hodel. Fauna, played by India Eisley, was adopted as a baby by a black family, and led a quiet life in her Sparks, Nevada home until she was contacted by her grandfather Dr. George Hodel (Jefferson Mays). Dr. Hodel was an LA-area gynecologist and wealthy socialite who became a suspect in the Black Dahlia murder case.
It is now the late 1960s and Jay Singletary (Chris Pine), a Korean War veteran suffering from PTSD, works as a stringer for an LA tabloid. Jay's low-level assignments resulted from a libel verdict against his paper after his printed exposé of Dr. Holden. Sixteen-year-old Fauna has been raised as a biracial girl by "Mama," the alcoholic Jimmie Lee Greenwade (Golden Brooks). After Fauna finds a birth certificate in Jimmie Lee's dresser showing her birth mother to be George's late daughter Tamar (Jamie Anne Altman), and her father, an "unknown Negro," she leaves for LA, hoping to find her true origins.
Fauna next meets her artist step-grandmother Corinna Huntington (Connie Nielsen), George's ex-wife, who lives in a lonely mansion laden with artwork. Meanwhile, Jay is working on a story about the "Romeo Killer" who is bumping off "working" girls in the poorer parts of town.  Singletary is routinely arrested and tortured by sadistic, scar-faced Detective Billis (Yul Vasquez) who is on Dr. Hodel's payroll. He only gets spared when former Marine buddy and confidential news source Detective Ohls (Jay Paulson) intervenes.
After Fauna discovers that Tamar is very much alive and in Hawaii, she and Jay fly to meet her mother who has a brood of her own. Later, Jay makes the Hodel-Black Dahlia connection at a party in Corinna's house when he sees paintings of dismembered women that are strikingly similar to the past and present victims. Before all is said and done, more deep, dark secrets are revealed while the entire city gets rocked by violent race riots.
Fauna Hodel (who died from breast cancer in 2017) may have been the touchstone for this neo-noir series but writer Sam Sheridan inserts a tantalizing list of what-ifs that make for a compelling watch. Chris Pine is the appropriately dissolute hack journalist driven by hints of incest, ritualistic murders, and dirty cops that could fuel a sensational story and revive his faltering career. The versatile Jefferson Mays takes on the role of the unctuous, evil pedophile but the real star of this show is India Eisley who portrays a young woman wise beyond her years. Equal billing should also go to the Snowden mansion, Hodel's actual residence, that adds the proper soupçon of creepiness to all of its location shots.  The glue holding this occasionally rambling storyline together is Patty Jenkins's direction as it skillfully sidesteps distractions like a totemic bull, Singletary's frequent and brutal incarcerations, and the brief insertion of Connie Nielsen's ice queen of a grandmother.
Where I Am The Night comes up short is in its dismissive treatment of the serious race issues of the era since racial identity is critical to the lead character's voyage of self-discovery. That said, when compared with the 2006 feature-length film The Black Dahlia, the embarrassing Hollywood treatment of the original story, this series does a much better job in all respects. An engrossing show that will keep viewers engaged for its five-hour running time.
I Am The Night is streaming now in its entirety on the TNT Network on Demand and is available on VOD and digital services.

Purchase on Vudu:
---
27 Jan. 2019
Original Release Date
TNT
Network/Streaming Service
Studio T | TNT Network
Studio/Distributor
Summary
A made-for-television TNT mini-series that is based on a memoir by the granddaughter of a prime suspect in the Black Dahlia murder and, in spite of a rambling script, is well served by a strong cast and direction.
What people say... Login to rate
Be the first to leave a review.
Show more