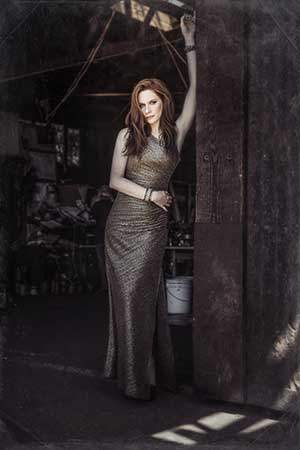 Los Angeles singer/songwriter Laura Michelle has reworked her 2013 debut pop anthem "Chuck Norris," and this time with some assistance from the man himself. This young songstress is already a true veteran of the music business and has been recording her own songs since she was in high school. She and her band mates have carved out a nice career touring up and down her native California.
In her own words, Laura recounts the inspiration for her songs. "Growing up, I personified music; it became like an actual friend, in fact, my best friend. It became a shoulder to cry on when things were tough. No matter what my mood was or what was going on in my life, music seemed to understand me completely. If my music can be that for someone else, can help someone to feel not so alone, whether they are sad, happy, angry, whatever…then I'm happy because I know it's made a difference." TheaterByte caught up with this performer just as the new "Chuck Norris" video is being released.
TheaterByte: I know that the original music video was released three years ago but without Chuck. So tell us what inspired the original and why you decided to remake it quite differently in 2016.
Laura Michelle: All I had recorded was one song "Chuck Norris," then I made an album with the song on it. The people that I work with thought that we should re-release the single and I was OK with that. But what if we could actually get Chuck Norris on the video then I am definitely in. I was very thankful that we could make that happen.
TB: When I saw the new video version, it seemed to have a very retro vibe, like late '80s or early '90s. Was that intended to pay period homage to Norris' Walker, Texas Ranger era?
LM: It was not necessarily intended to be in that era. I took ideas from different things, like the dinner scene that had hints of the dinner in "Beetlejuice." It took a lot of doing to get get trick angles right like the hanging window.
TB: I just have to find out who is that sexy blonde music rival in the video.
LM: It was an idea to make up a character that might have copied me in the past. So this was not a particular person in my life.
TB: Can you share some of your future plans such as recordings and performances?
LM: My record, "Novel with no End" comes out August 5, 2016 and I am excited about that. I am also doing some touring with a recent stop at Willow Grove that will shown on Comcast-On-Demand. I have been working with a group of musicians, some of whom were in Avril Lavigne's last band. I am working with the great Jim McGorman and writing songs for the next record.
Thank you Laura Michelle for spending some time with TheaterByte. I am certain that our readers will enjoy seeing and hearing "Chuck Norris" as much as I have when it is released on June 24, 2016.