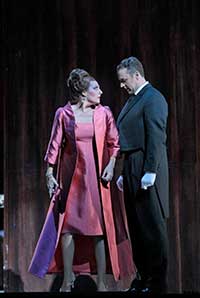 Toss a trained bear and a flock of sheep on the stage and you get composer/conductor Thomas Adès' The Exterminating Angel, an operatic adaptation of a surrealistic film by Spanish writer/director Luis Buñuel, El Ángel Exterminador. This new vocal vehicle marks Adès's first return to the Metropolitan Opera since his successful opera based on Shakespeare's The Tempest. These two seemingly disparate works are both acerbic commentaries on the politics of their respective historical eras as each finds members of the nobility threatened by dangerous situations and ultimately saved by deus ex machina plot devices. The social elite of Franco's fascist Spain were targets frequently skewered by Buñuel and these unvarnished cinematic assaults eventually got him on the government's enemies list, forcing his emigration to the United States and Mexico.
Appropriately enough, the curtain rises on a post-opera dinner party. A well-heeled couple, Señor Edmundo Nóbile and his wife, Lucia (Joseph Kaiser and Amanda Echalaz), have returned home with their swanky friends: Letiticia Maynar (Audrey Luna), Leonora Palma (Alice Coote), Blanca Delgado (Christine Rice), Francisco de Ávila (Iestyn Davies), Eduardo (David Portillo), Alberto Roc (Rod Gilfry), Señor Russell (Kevin Burdette), and Dr. Carlos Conde (Sir John Tomlinson). Other cast members making their Met company debuts are British sopranos Sally Matthews (Silvia de Ávila), and Sophie Bevan (Beatriz), Canadian tenor Frédéric Antoun (Raúl Yebenes), and American baritone David Adam Moore (Col. Álvaro Gómez).
The Nóbiles find that their household has been deserted by all of their servants except for the butler Julio (Christian van Horn). Guests must now fend for themselves and gradually begin to unwind in anticipation of a very long evening. Dark secrets and intimate relationships are revealed as the characters expose their intrinsic shallowness and specious morality. For no obvious reasons, the bedraggled guests are unable to leave the mansion. Whether the guests will escape from their formal confines or, as in the Eagles' Hotel California, are "all just prisoners of their own device" is this work's existential question. As food and drink begin to run out, the trappings of civilization disappear, and open hostilities break out among this elite gathering. The absurdity of the company's predicament is further underscored by the intermittent police barricades that prevent the common folk from "storming the castle." In the grand operatic tradition, there are several onstage fatalities, and we are left wondering if any of the events that we have just witnessed ever really happened.
While a literal "highlight" of The Exterminating Angel is soprano Luna's unleashing of the most stratospheric note ever launched at this venerable house (A above high C), the opera has a well-balanced and star-studded cast that successfully carries off this mostly comic ensemble piece in the spirit of Mozart's Cosi Fan Tutte. Because the cast is so large and the stage business is passed around so often, those intending to see the show should surely read its plot synopsis in advance.
The other members of the creative team–set and costume designer Hildegard Bechtler, lighting designer Jon Clark, projection designer Tal Yarden, and choreographer Amir Hosseinpour—add an element of cohesiveness that the film often deliberately seemed to skirt. A relatively bare and rotating stage receives occasional projections but this contemporary work pretty much carries its own weight on the strength of score and libretto. Some opera traditionalists may find that the vocal lines and orchestral passages frequently challenge their aural sensibilities. That said, The Exterminating Angel has enjoyed a largely enthusiastic audience reception.
The Exterminating Angel will have A Live in HD Encore broadcast on November 29, 2017.
Summary
This stunning new work by British operatic composer Thomas Adès brings Luis Buñuel's surrealistic film to the stage with a vengeance.
What people say... Login to rate
Be the first to leave a review.
Show more