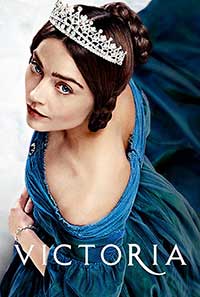 Season 3 of Victoria continues the history of Queen Victoria (Jenna Coleman) who was to become the longest-reigning monarch in her nation's history until recently surpassed by Queen Elizabeth II.  It is now 1848, Victoria is still in her 20s, has married her first cousin Prince Albert of Saxe-Coburg (John Hughes), has borne five children, and has been Queen for a decade.
French King Louis Phillipe (Vincent Regan) abdicates his throne as a firestorm of populist revolutions sweeps continental Europe.  Victoria's half-sister sister, Princess Feodora (Kate Fleetwood), has fled her native Germany in fear for her life, as armed conflict had taken over her principality, and she becomes a part of the royal household.
The Foreign Secretary Lord Palmerston (Laurence Fox) is a thorn in the side of Prime Minister Lord John Russell (John Sessions), Sir Robert Peele's successor, and  gets called on the carpet by Prince Albert for his unsolicited congratulations of King Louis's successor. Meanwhile, there is unrest among England's poor, fomented by the writings of the Communist Karl Marx who is now residing outside of London. A Chartist movement has emerged with the principal aims of getting every man the right to vote and allowing common people to hold Parliamentary office. The Chartists use the power of mass rallies to drive home their agenda.
The Prime Minister Russell and the Foreign Secretary visit Victoria and tell her that the Chartist movement could pose a real threat to her throne, a situation not helped by the recent arrival of the exiled Louis Philippe who seeks temporary asylum in England. When word of the unpopular French "visitor" in the royal household gets out on the street, there is a quick response. An unruly mob threatens Buckingham Palace and burns Queen Victoria in effigy as Her Royal Highness goes into labor and delivers her sixth child.
For Victoria Regina fans that have made it through the first two seasons, this new installment will come as a welcome return after their favorite monarch's life has been placed on a pause for nearly one year. What has not changed is the unerring sense of character portrayal, particularly with regards to the principals whom we get to see in their personal private moments, dealing with family, friends, and courtly attendants.
There is an "upstairs-downstairs" aspect as well allowing viewers to see the help, led by the proper major-domo Penge (Adrian Schiller), that populate behind-the-scenes management of the vast royal estate. In a number of respects, Victoria will bring to mind Netflix's The Crown that chronicles the long life and reign of Queen Elizabeth II and showcases some of the same kind of political intrigue that make shows about the royals so tasty and titillating. On-location shots that include Buckingham Palace and Windsor Castle and the flawless period costumes add the right amount of authenticity to make everything that we see entirely credible even if some of the events have been fictionalized by show creator Daisy Goodwin. All in all, a nice start to the third installment of the Victoria saga.
Victoria Season 3 is available for viewing on local PBS stations and streams on the PBS Masterpiece Amazon Prime Video channel and PBS Passport

---
Daisy Goodwin
Show Creator
13 Jan. 2019
Original Release Date
PBS
Network/Streaming Service
Mammoth Screen | Masterpiece | ITV Studios | PBS
Studio/Distributor
Summary
PBS' historical dramatic series Victoria picks up where it left off in Season 2. Season 3 features much of the same principal cast as show creator Daisy Goodwin has the Queen dive right into crisis mode while the stability of continental Europe is being threatened by a series of revolutions and England's constitutional monarchy may get undermined by the growing Chartist movement.
What people say... Login to rate
Be the first to leave a review.
Show more