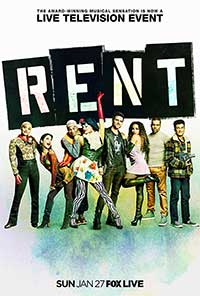 January 27, 2019.  When the musical Rent opened on Broadway in 1996, its creative genius composer/playwright Jonathan Larson had died only hours before the curtain rose. This show's debut was timed to coincide with the centennial of the opera that inspired it, Giacomo Puccini's belovedLa Bohème. Rent was a truly groundbreaking rock-musical in its portrayal of the HIV/AIDs epidemic and the variety of alternative lifestyles embraced by its characters. The leads' names resemble those in the opera and Rent:Live also opens during the Christmas season although in the East Village's Alphabet City rather than in a poor Parisian neighborhood.
The Fox Network went all out to present this revival on live television in front of a studio audience seated around the Fox Studios soundstage in Los Angeles.  With an entirely new casting featuring Tinashe (Mimi Marquez), Brennin Hunt (Roger Davis), Jordan Fisher (Mark Cohen), Vanessa Hudgens (Maureen Johnson), Kiersey Clemons (Joanne Jefferson), Brandon Victor Dixon (Tom Collins), and James Leyva AKA Valentina (Angel Dumott Schunard) performing a somewhat abridged version of the original, this was billed as one of the television events of 2019.
When Hunt broke his foot during the dress rehearsal, the planned "live" event was replaced with tapes from the very same dress rehearsal. At the show's conclusion, there were about fifteen minutes of live television that saw Hunt performing with a boot and cameo appearances by some original cast members including Jesse L. Martin, Idina Menzel, Anthony Rapp, and Adam Pascal who joined in the show's big anthem "Seasons of Love."
I have been to my share of dress rehearsals and they can be as good as the opening night, but the principals will often save a bit of themselves so that they can really shine for the paying customers. In this regard, Rent: Live was a pleasant surprise as there seemed to be no holding back the show's stars either in their singing or choreography. The cast's only vocal weak link was the somewhat strained-sounding Valentina while Hudgens literally killed her role as the bisexual Maureen, Mark's old girlfriend and Joanne's on-again-off-again lover. The energy displayed by Jordan Fisher who definitely has Broadway chops (coming off his appearance in Hamilton) made Mark a far more interesting character than was the case in the original staging. Tops among the show's other highlights was the impassioned lament sung by Brandon Victor Dixon at Angel's funeral.
Having seen Rent on a conventional stage, I found the televised version to be very problematic. The staging is a hot mess with corridors and ladders galore—more a rat maze than a musical theater setting. The camerawork was excessively frenetic with often dizzying perspectives of characters racing around the soundstage as if they were at a track meet. A major faux pas occurred during "Seasons of Love," as Keala Settle's powerhouse solo was undermined by cutaways to a distant chorus.  It appears that veteran television director Alex Rudzinski wanted Rent to be an "immersive" experience for the home audience. There were way too many audience shots, I guess intended to show that the dress-rehearsal attendees were having a great time.  What really got on my nerves were the frequent and often lengthy commercial breaks that destroyed any sense of continuity of a live performance.
I was glad I did not know that while this taped performance was taking place, a Fox studio audience was seeing a live performance with Brennin Hunt, medical boot and all, holding his own, as was apparent in the final "live" minutes of the televised performance. Why could not the Fox network have shown us the live version and possibly saved itself from catastrophic ratings? Hopefully, the major networks will not stop airing Broadway musicals in the future and, hint, hint, show the commercial blocks before the curtain goes up and at intermission.
 Rent:Live is now available for viewing on demand on the Fox Network
---
Jonathan Larson
Show Creator
27 Jan. 2019
Original Release Date
Fox Network
Network/Streaming Service
20th Century Fox Productions | Marc Platt Productions | Revolution Studios | Sony Pictures Television | Fox Television
Studio/Distributor
Summary
A live production of the classic rock musical Rent that turns out to be just the videotaped dress rehearsal performance. Vocal and dance numbers are decent but the camerawork and sets leave a lot to be desired.
What people say... Login to rate
Be the first to leave a review.
Show more