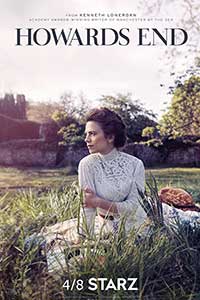 Based on what is considered E.M. Forster's finest novel, this limited series event of Howards End is set in Edwardian-era England where distinctions between the classes and the sexes are strictly defined. Its four episodes focus on three families of very different social status whose paths will cross, mostly by coincidence.
The intellectual Schlegel siblings (their father was German), Margaret (Hayley Atwell), Helen (Phillipa Coulthard) and Theobald "Tibby" (Alex Lawther) are living on a generous inheritance in a London flat with their elderly Aunt Juley (Tracey Ullman). Henry (Matthew Macfadyen) who made his  fortune in the West African rubber business heads up the Wilcox clan. His wife Ruth (Julia Ormond) (who actually inherited Howards End) is a typical product of her own unliberated generation. Their children are a mixed bag: fitness-freak Evie (Bessie Carter), business person Charles (Joe Bannister), and dreamer Paul (Jonah Hauer-King). The Basts are Leonard (Joseph Quinn),an insurance company clerk and his common-law wife Jacky (Rosalind Eleazar), members of the working-class.
The Schlegel sisters had met the Wilcoxes during a trip to Germany.  Helen is visiting their country home, Howards End, and impulsively falls in love with Paul but returns home when their "engagement" abruptly ends. She next meets music-lover Leonard at a concert and mistakenly takes his umbrella, prompting his first visit to the Schlegel home. On Len's second visit, Helen is very much taken by his love of classic literature and his good looks.
Coincidences continue to drive this romantic drama forward as the Wilcoxes rent a flat near the Schlegel's Wickham Place apartment building and Margaret strikes up an unlikely friendship with Ruth who is now in failing health. After Ruth dies, the Wilcox family receives a letter expressing her dying wish to leave Howards End to Margaret. The Wilcoxes decide to keep this unofficial "bequest" a family secret.
This slideshow requires JavaScript.
A chance meeting between the sisters and Henry results in a generous offer to let them rent his Ducey Street flat after their own lease expires. The widower starts spending more time with Margaret much to Helen's displeasure. Wilcox makes offhand remarks about the dim future of Leonard's employer that a concerned Helen relays to the young man, starting his downhill slide to abject poverty. Margaret accepts Henry's marriage proposal and, in spite of the considerable differences in their ages, personalities and social views, the couple are wed in a small church ceremony. Helen does not attend as she is living in Germany and her "secret," that is later revealed, catalyzes a series of events that significantly changes the lives of all three families.
The original Howards End film premiered a quarter of a century ago. Directed by James Ivory, it had a star-studded cast headed by Anthony Hopkins, Vanessa Redgrave, Helena Bonham Carter and Emma Thompson. The remake's cast may be younger and more telegenic, but, in comparison with the original cast,  their impersonations of these characters are rather bland and, in the cases of Tibby, Leonard, and Helen, downright wispy. This mini-series also runs nearly twice as long as the film but, in spite of the best efforts of director Hettie Macdonald and scriptwriter James Lonergan, its numerous longueurs add no consequential material. Times and tastes have changed since the Ivory-Merchant film's release, and, aside from Nico Muhly's evocative score and Wojceich Szepel's gorgeous cinematography, the dated nature of this study in Edwardian mores will not likely resonate as well with today's audiences. Hardcore E.M. Forster fans will be better served by revisiting the classic cinematic setting of A Room With A View, set in the same era and dealing with the many of the same societal issues.
Howards End has completed its original run on the Starz network and is streaming now in its entirety on STARZ On  Demand
E.M. Forster | Kenneth Lonergan
Show Creator
8 Apr. 2018
Original Release Date
Starz
Network/Streaming Service
Playground Entertainment | City Entertainment | KippSter Entertainment | Starz
Studio/Distributor
Summary
In E.M. Forster's classic story Britain's class divisions are exposed through the interactions between the Upper Class Wilcoxes, the artistically inclined Upper Middle Class Schlegels, and the working class Basts. Starz offers up a lengthy remake of an original Merchant-Ivory film that provides little extra substance and a younger cast that cannot really compare to its predecessor.
What people say... Login to rate
Be the first to leave a review.
Show more