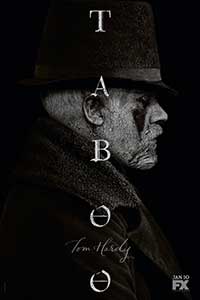 James Delaney (Tom Hardy), believed to have drowned ten years earlier in a shipwreck off the African coast, returns to London to bury his father Horace (Edward Fox), a victim of arsenic poisoning. Delaney is a physically and emotionally changed man who sports closely cropped hair, and numerous scars and tattoos. Subject to disturbing and recurring watery visions, he is also rumored to be a cannibal. James lusts after his half-sister Zilpha Geary (Oona Chaplin) who may or may not have borne him a son, Robert (Louis Serkis) before he left London for Africa. Zilpha and her nasty husband Thorne (Jefferson Hall) were excluded from Horace's will, making James sole heir to his father's valuable holding, Nootka Sound, the focal point of a potentially lucrative trade route off the northwest coast between America and Canada. East India Trading Company Chairman Sir Stuart Strange (Jonathan Pryce) makes an offer for Nootka Sound that James rejects, as he wants to deal only with the American intermediaries, Dr. Dumbarton (Michael Kelly) and Countess Musgrove (Marina Hands). This sets off a bitter battle between these two men who share a significant backstory and fuels the copious quantities of deceit, death, and destruction that drive the remainder of this 8-episode series.
Young actress Lorna Bow (Jessie Buckley) claims to have been Horace's new wife but gets compelled to sign over her Nootka Sound "rights" to the Prince Regent's (Mark Gattis) sleazy solicitor Solomon Coop (Jason Watkins). Lorna then moves into Delaney's house, complete with its crotchety manservant Brace (David Hayman) who relates the story of how Delaney's mother Anna, an unhinged Native American, tried to drown him at birth, and was committed to the Bethlem asylum where she eventually died. The former Delaney shipping company headquarters is now a brothel run by Madam Helga (Franka Potente) who had introduced a very young James to the world of sexual pleasures.
James survives two nearly fatal attacks and an aborted duel with Thorne. He needs gunpowder to trade for exclusive rights to the Cantonese tea-shipping route when he reaches Nootka Sound, and contacts chemist Cholmondeley (Tom Hollander) who uses pilfered saltpeter and sodium chlorate to manufacture these explosives that are then stored in the abandoned Bethlem asylum.
George Chichester (Lucian Msamati), a black man and former slave, has initiated a royal investigation of the sinking of East India's Influence (formerly The Cornwallis). The Influence was en route to a plantation in Antigua owned by Strange's brother when it sank with Delaney and hundreds of slaves trapped on board. The cat-and-mouse game between Delaney and Strange now becomes a full-blown war, beginning with the destruction of James's ship. Following a twisted path of betrayal, imprisonment, and torture, the already high level of violence and brutality escalates while the complexion of the show becomes even darker as it approaches a literal slam-bang finale.
This well-executed series maintains the BBC's time-honored tradition of getting the historical period absolutely right down to the painstaking details of wardrobe, locations, and customs. With Mark Patten's great camera work and terrific directorial turns by Anders Engstrom and Kristoffer Nyholm, Taboo's splendid cast gets to really show off its stuff. As is his wont, Tom Hardy, one of the stars ascendant in today's British cinema, creates a riveting screen persona. Perhaps taking some inspiration from Joseph Conrad's Heart of Darkness, Taboo offers an in-depth character study of a young man who has a transformative experience in Africa (one that is only briefly hinted at with darting images), abandons his imperialist education, and adopts a harsh survivalist lifestyle. Season 1 leaves a list of lingering questions and there is now word that a Season 2 in the works for next year. Absolutely cannot wait!
Steven Knight | Tom Hardy | Chips Hardy
Show Creator
10 Jan. 2017
Original Release Date
FX
Network/Streaming Service
Hardy, Son & Baker | Scott Free Productions | Sonar Entertainment
Studio/Distributor
TV-MA (Language, Sexual Situations, Violence)
Rating Certificate
Summary
A masterful series that weaves a dark tale of deception, death, destruction as portrayed by a superb cast working with top-flight scripts, direction, and attention to historical details.
What people say... Login to rate
Be the first to leave a review.
Show more