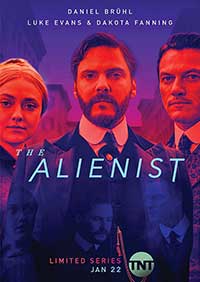 The Alienist begins with the prologue: "Prior to the twentieth century, persons suffering from mental illness were thought to be 'alienated,' not only from the rest of society but from their own true natures. Experts who studied them were known as 'alienists.' " And so begins each of the ten episodes of TNT's limited series, based on Caleb Carr's best-selling novel.
Set in an 1896 New York City, Dr. Laszlo Kreizler (Daniel Brühl), an alienist or pioneering psychiatrist, and his former college classmate and best friend, newspaper illustrator John Moore (Luke Evans) arrive at the scene of a brutally murdered boy prostitute Giorgio Santorelli (Nicolo Borgatti). At the New York Police Department they meet Commissioner Theodore Roosevelt's (Brian Geraghty) attractive assistant Sara Howard (Dakota Fanning). She is a frustrated detective wannabe in a "men only" police force but scores points when she finds confidential police files connecting this new murder to similar unsolved cases. Young police detectives, the Isaacson twins Lucius (Matthew Shear) and Marcus (Douglas Smith) form an ad hoc task force with Kreizler, Moore, and Howard to accomplish what the NYPD could not do: solve the murders of the boy whores and apprehend their perpetrator.
These serial killings expose the rampant corruption within the police department involving Captain Connor (David Wilmot) who is later fired by Roosevelt and slimy former Police Chief Thomas Byrnes (Ted Levine). Mayor Lafayette Strong (Peter McRobbie) warns Roosevelt to steer his intensive investigation away from Willem Van Burgen (Josef Altin), the son of a "top 400" New York family, and a high-ranking minister, Bishop Potter (Sean McGinley).
Laszlo and company discover that certain Christian holidays form a timetable for the murders; however, another boy victim turns up at the Statue of Liberty during Pentecost. The pattern of mutilations suggests a connection to Native American ritualistic practices but visits by Kreizler and Moore to the Museum of Natural History and St. Elizabeth's asylum in Washington, D.C. result in another literal and figurative dead-end.
The two men turn up another lead: former Indian Wars solider George Beecham who may have massacred an upstate New York family, a crime previously attributed to marauding Indians. After the pair barely avoids being killed by a mysterious stranger, they return home. Back in New York, Laszlo and John make a series of surprising discoveries that might draw them closer to the killer and make turn-of-the-century New York City a safer place, at least for young boys on the street.
As described in the brief "extras" that accompany this series, the production team went to great lengths to recreate the period of this story. The details of the sets (constructed and located in Budapest), the costumes, and the interior and exterior shots transport viewers back to a 1890s New York. The addition of historical figures like Teddy Roosevelt, J.P. Morgan, Lincoln Steffens, and Bishop Henry C. Potter are mostly window-dressing as they are effectively shoved to the background.
The script  for The Alienist is faithful to the novel but, when transferred to the medium of the small screen, it is a plodding affair. The insertion of numerous backstories sidetrack the storyline's progress, making each episode seem to run longer than its allotted hour. What could have been a high-intensity crime thriller like The Silence of the Lambs or, from a similar era, The Knick, runs out of steam well before its conclusion. While posing questions about the very nature of serial killers that it has no intentions of answering, the anticlimactic ending will be disappointing to viewers that have invested ten precious hours watching TNT.   If this series had been developed and screened twenty years ago when the book was new, it might have generated more interest. In today's entertainment world where there are more streaming crime-thrillers than the eye can accommodate, it is simply a dated curiosity.
The Alienist has completed its run on TNT is now available it its entirety in its entirety on TNT On Demand, Hulu, and iTunes.

Caleb Carr | Hossein Amini | E. Max Frye | Gina Gionfriddo | Cary Joji Fukunaga
Show Creator
21 Jan. 2018
Original Release Date
TNT
Network/Streaming Service
Paramount Television | Studio T | Anonymous Content | Warner Brothers Television Distribution
Studio/Distributor
Summary
At the end of the 19th century in the rapidly growing New York City, alcoholic crime reporter John Moore (Luke Evans) and his close family friend Sara Howard (Dakota Fanning) -- the first woman to work for a major metropolitan police department -- join forces with psychologist (then known as "alienists") Dr. Laszlo Kreizler (Daniel Brühl) to catch a serial killer that has been killing young male prostitutes throughout the city. The Alienist is a ponderous historical crime series that brings back to life 1890s New York City, but very little else.
What people say... Login to rate
Be the first to leave a review.
Show more