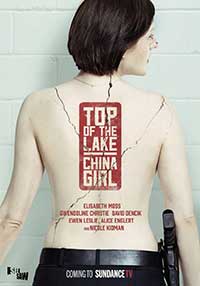 In Top of the Lake: China Girl, four years have passed since Detective Robin Griffin's (Elizabeth Moss) investigation of the disappearance of a 12-year old pregnant girl in Paradise, New Zealand blew the lid off the town's many secrets. Australian writer/director Jane Campion returns this damaged detective to Sydney still suffering from PTSD after shooting police superintendent Al Parker (David Wenham) who had drugged and raped her. A few weeks before this season's storyline begins, Griffin was betrayed by her drug-dealing fiancé Johnno (Mark Leonard Winter) who, with his German paramour (Marny Kennedy), was arrested for transporting weed on the very day that he and Robin were to be wed. The image of Griffin burning her wedding dress on a funereal pyre speaks volumes about her true grit.
Could matters get any worse? Seventeen years earlier Robin became pregnant after being gang raped and bore a daughter. A childless couple Pyke (Ewen Leslie) and Julia (Nicole Kidman) Edwards adopted the two-day old baby who is now their rebellious teenager Mary (Alice Englert, Campion's real-life daughter). Julia and Pyke are divorcing (she has recently come out as a lesbian with a new partner) and Mary is having an intense relationship with the older East German "revolutionary" Alexander "Puss" Braun (David Dencik). Puss has an apartment in Sydney's Silk 41 brothel and "helps out" the young Asian hookers who pass themselves off as "students" to remain in Australia and earn money for their families back home.
Police Inspector Adrian Butler (Clayton Jacobson) assigns Amazonian policewoman Miranda Hilmarson (Gwendoline Christie, Game of Thrones) (with whom he is having a torrid affair and a surrogate pregnancy) to be Robin's hardly inconspicuous "shadow."  The police open a suitcase that has washed up on Bondi Beach and find a dead Asian woman given the working name of "China Girl." When it is discovered that China Girl was the Silk 41 sex worker "Cinnamon" (Thien Huong Thi Nguyen) and a pregnancy surrogate, the plot thickens. A combination of maternal instinct and good detective work leads Griffin to the infertile couple Felicity (Helen Thomson) and Mike (Julian Garner), that paid Cinnamon for her surrogacy, an activity that is illegal in Australia.
Things become even more complicated, if that were possible, when Puss confronts the Edwards and, later, Detective Griffin herself, further alienating Mary from her adoptive and biological parents. As Griffin continues to investigate the China Girl murder, a ring of illegal surrogacy is eventually exposed. The stakes are raised even higher when the unbalanced adolescent Brett (Lincoln Vickery) who was madly in love with Cinnamon opens fire at Silk 41 and then kidnaps Mary, putting the entire police force on high alert.
A cautionary tale that leaves no character untouched, Top of the Lake: China Girl  is a quintessential example of contemporary Australian network television, particularly the dark dramas that are so popular Down Under. There was controversy about casting an American, Elizabeth Moss, in the lead role, since hiring an Australian would have helped to underwrite this series. However, from the get go, any concerns are readily dismissed by Moss's powerful portrayal of a conflicted character. Besides nailing the Aussie accent, her reunion scene with a daughter that she has not seen since birth is a dramatic triumph: emotionally wrenching on the inside, while emotionally contained on the outside.
The supporting cast is superb and writer/director Campion gives viewers a tense and gripping drama with Top of the Lake: China Girl that, at times, is uncomfortable yet compelling to watch. In an art imitating life aside, a makeup-free, grey-haired Nicole Kidman appears as the alter ego of Campion herself. While omitting the humorous interludes of Season 1 as well its lineup of truly quirky characters, this new season is edgier and definitely darker in its exposure of the underworlds of the sex trade and paid surrogacy. Will there be a Season 3 and, if so, when? At this time, there are only rumors, but, hopefully, there will not be another four-year hiatus for die-hard fans like myself. Highly recommended.
Top of the Lake: China Girl is now available for viewing on Hulu and the Sundance Channel.
Jane Campion | Gerard Lee
Show Creator
27 Jul. 2017
Original Release Date
Hulu
Network/Streaming Service
Seesaw Films | BBC Two | Sundance Channel
Studio/Distributor
TV-MA (Sex and nudity, profanity, alcohol, drugs, and smoking)
Rating Certificate
Summary
This Australian neo-noir thriller about a troubled female detective returns after a four year hiatus with a new story about Asian sex trafficking. It is superbly crafted and delivered by actress Elizabeth Moss and writer/director/producer Jane Campion.
What people say... Login to rate
Be the first to leave a review.
Show more