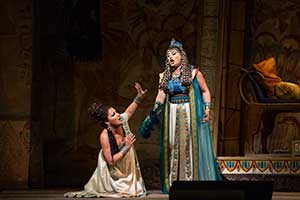 September 29, 2018. The Metropolitan Opera Company returns Aida, the grandest of grand operas, to its stage. This season's poduction had generated its greatest buzz about the much-anticipated role debut by leading soprano Anna Netrebko who shares the stage with Latvian tenor Alexandrs Antonenko as Radames and Georgian mezzo-soprano Anita Rachvelishvili as Amneris.
As the curtain rose on the now quite familiar Sonja Frisell production with its imposing sets by Gianni Quaranta and Dada Saligeri's stunning period costumes, this classic love triangle unfolds, involving the captive Ethiopian Princess Aida,  the reigning Egyptian Princess Amneris, and Radames, the Commander of the Egyptian Army. The Egyptian Army routs the Ethiopian forces and brings the captured Ethiopian King Amonasro (Quinn Kelsey) to the Egyptian palace. Amonasro reunites with his daughter and convinces her to get Radames to reveal the Egyptian Army's secret route. By doing so, Radames gets apprehended for treason by the high priest Ramfis (Dmitry Belosselskiy) and condemned to death. After Radames declines Amneris's efforts to spare him, and, with Aida by his side, he accepts their inevitable death in a sealed tomb.
Aside from the expected panoply on stage with its huge cast scenes and a triumphal parade featuring live horses and exotic dancers, Aida's ultimate success or failure rests on the vocal cords of its three leads. Netrebko's Egyptian Princess is the real deal, scaling the demands of this role with aplomb and appropriately shading her huge voice as needed, particularly in Act III's "O Patria Mia" aria, the emotional apex of this opera. The soprano thoroughly inhabits her character and conveys with conviction her fundamental conflict–caught between being the committed lover and being the dutiful daughter. Mezzo Rachvelishvili was a regal powerhouse of passion who poured out a wealth of rich tones with seemingly little effort. The real disappointment here was Antonenko's Radames. I have heard him in other large-scale Verdi roles, most recently as Otello, and expected a strong performance, particularly during the moments that require stentorian vocalism. What I heard instead was a shaky start with "Celeste Aida," his big moment in Act I. Pitch problems and lack of vocal shading did not end there, as Antonenko seemed to tire with each act, although his character is really only extended during the two long duets by the Nile River and in the tomb. Baritone Quinn Kelsey was a marvelous Amonasro, offsetting a less than stellar turn by bass Belosselskiy whose voice seemed to vanish at the low end of the staff.  Maestro Luisotti provided good pacing and mostly good control of the score's dynamics save for the few occasions where his players overpowered the voices on the stage. Donald Palumbo's chorus was, as expected, entirely magnificent in the Act II Triumphal Scene.
If not an Aida for the ages, this current production is still well worth seeing for its inspired performances by Netrebko and Rachvelishvili well supported by the powerful staging, sets, and costumes, undiminished by their more than three decades of use. The current cast rerprises its roles for a "Live in HD broadcast" on October 6, 2018.
Aida will continue to be performed at the Metropolitan Opera with this cast until October 18, 2018
Anna Netrebko | Anita Rachvelishvili | Alexandrs Antonenko | Nicola Luisotti | Metropolitan Opera Orchestra and Chorus
Artist
Metropolitan Opera House
Venue
Summary
A return of the Met Opera's magnificently staged grand opera which is worth experiencing for its two female leads Anna Netrebko and Anita Rachvelishvili.
What people say... Login to rate
Be the first to leave a review.
Show more