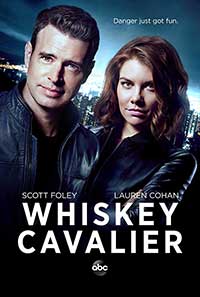 As Season 1 of Whiskey Cavalier kicks off, FBI Agent Will Chase (Scott Foley), Code Name "Whiskey Cavalier," is sitting alone in a darkened Paris apartment lamenting the end of his romance with gorgeous girlfriend Gigi (Valerie Huber). Fellow agent Ray Prince (Josh Hopkins) calls to tell him that CDC scientist Dr. Stephen Conrad has gone rogue and is planning to sell a vial containing Ebola virus  to the highest bidder. In short order, "Whiskey" meets Conrad in a cemetery only to watch him get murdered by his bodyguard (Josef Jelinek) who snatches the vial and takes off running. Following a high-speed James-Bond style pursuit, Chase recovers the deadly container and saves the world, at least for the moment.
When Chase returns to the US Embassy in Paris, he locks horns with his boss Alex Ollerman (Dylan Walsh) who (like most in the agency) has already seen surveillance videos of his agent's breakup with his girlfriend. Ollerman gives Will another assignment: bring back Edgar Standish (Tyler James Williams), an NSA analyst, who has fled to Moscow with classified information that he obtained through a hack of the FBI server.  In a local Moscow bar, Chase meets CIA agent Francesca "Frankie" Trowbridge (Lauren Cohan), Code Name "Fiery Tribune," who turns out to be every bit his match. Frankie takes out two Russian operatives holding Standish, nabs him, and outfoxes Chase in the process.  This is just the beginning of the pair's adventures, as they vigorously compete for the honor of being the one to deliver Standish to his or her respective government agencies.
Whiskey Cavalier recalls the vibe of 1960s hit series I Spy and Man From U.N.C.L.E featuring two distinctly different agents who form an odd-couple partnership that managed to click in every episode.  Adding to the two very strong leads is a good supporting cast led by Williams's nerdy analyst, Prince as Chase's best-buddy, Ana Ortiz as Dr. Susan Samson, FBI psychologist and Chase's support system, and slick CIA operative Jai Datta (Vir Das) who has the hots for Frankie.
Acting as the master chef for this steamy stew of high-wire espionage and close calls by the minute, veteran TV scriptwriter David Hemingson also serves up dialogue with rapid-fire repartee, replete with snarky humor and double-entendres. Plot twists abound in the best spy-versus-spy tradition and director Peter Atencio keeps everything moving at a pulse-pounding pace. If that were not enough, there are enough scenic location shots (mostly in the Czech Republic) in Whiskey Cavalier to make me want to get out my passport for another trip to Europe.
Whiskey Cavalier is one of the most fun watches that I have had in the past year, and I am already fastening my seat belt for the next thrill ride. Highly recommended.
Whiskey Cavalier Season 1 airs weekly on the ABC Network beginning February 27, 2019
---
David Hemingson
Show Creator
27 Feb. 2019
Original Release Date
ABC
Network/Streaming Service
Doozer | Warner Bros. Television | ABC
Studio/Distributor
Summary
A thrill-a-minute spy-versus-spy series that kicks off with just the right blend of excitement, danger, and dark humor to appeal to audiences that have long enjoyed clever espionage series like I Spy and Man From U.N.C.L.E. A strong cast from top to bottom, a great script, and well-paced direction make this one of the must-see shows of 2019.
What people say... Login to rate
Be the first to leave a review.
Show more