Imagine an object with the diameter of a cocktail coaster and the thickness of a hockey puck and when you call its name, it responds with an appealing female voice that "echoes" your commands, be they to play music, turn on living room lights, make phone calls, well you get the idea. Ours is truly a golden age of technology, and the Amazon Echo Dot Second Generation is the answer to many prayers for a wireless deus ex machina.
What Can it Not Do?
This hands-free, voice-controlled device uses "Alexa" to play music, control smart home devices, provide information like the weather, read the news, set alarms, and there is much, much more. You can hook up the Echo Dot to speakers or headphones either through Bluetooth wireless connections or the supplied 3.5 mm mini-plug cable. Currently available music services include Amazon music (duh!), Spotify, Pandora, iHeartRadio, and TuneIn. Of course, if you want the total control of your household's fans, switches, thermostats, garage doors, etc., this can be done for compatible connected devices from WeMo, Philips Hue, Samsung SmartThings, Nest, and ecobee.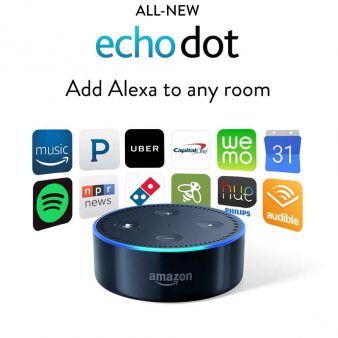 The secret sauce is the result of some smart programming and a far-field nest of seven microphones that can filter out background noise. The Echo Dot Gen 2 does have a built-in speaker to make it even more portable. For the tech-challenged, hook up requirements are extremely basic: a micro-USB port on the Echo Dot circle will connect the supplied power cable to a wall plug. Download the Alexa App to your smart phone and all you have to do is follow the "dots" on the app. Beginning with an orange standby light on the Echo Dot's circumference, once connected to a network via Wi-Fi, a soothing blue light appears and off you go. The top of the Echo Dot has four control buttons: volume up or down, microphone on/off, and restart. There is a recommended set-up routine for voice recognition that consists of 25 short statements in the Alexa App that, once read to the Echo Dot, will ensure perfect execution of your own voice commands.
Test Drive

The printed documentation for the Echo Dot 2 is rather sparse, but once the Alexa App is activated a more extensive help manual becomes available, and the connection with whatever you want is flawless. It took me a few minutes to make the future become the present, and once linked to the Echo Dot 2 there was no going back. It was simply that good. I checked out the Echo Dot's performance with Bluetooth-enabled speakers, the UE Megaboom (reviewed separately) and the Bowers & Wilkins T7 and there were absolutely no connectivity issues. The stability of the connection appeared to be eternal as I left the Echo Dot connected to each speaker overnight and when I returned the following morning the music was still playing!
The Final Assessment
I can envision a scenario where I go from room to room in my house, each room containing an Echo Dot Gen 2, and make my wishes its commands. In fact, Amazon sells Echo Dots in 6- and 12-packs with 1 freebee in the 6-pack, 2 freebees in the 12-pack to fulfill this very need. While there are two costlier Echo devices that include tall omnidirectional speakers, the nice thing about the Echo Dot 2 is that you can select wireless speakers of your own choosing, making this configuration more flexible, particularly if like me, you already own such devices. At its bargain price of $49.99, (an optional charging battery base will be available December 31, 2106), the Echo Dot Generation 2 will be the perfect stocking stuffer for this year's holiday season.
Specifications:
Wi-Fi Connectivity

802.11 a/b/g/n (2.4 and 5 GHz) networks

Bluetooth Connectivity

Advanced Audio Distribution Profile (A2DP)

Audio

Built in speaker for voice feedback

Alexa App

Compatible with Fire OS, Android and iOS devices

Power

USB charging cable/ 9W power adapter

Weight
Dimensions (W x H x D)

1.3″ x 3.3″ x 3.3″ (32 mm x 84 mm x 84 mm)
Amazon Echo Dot [2nd Generation] (TheaterByte Gear Review)
Pros
Flawless operation
Lifestyle appeal is terrific
Cons
Must be in the same room as the connected devices
Summary
A voice-operated electronics controller that can just about run any device in the home, is easy to install and works flawlessly.
What people say... Login to rate
Be the first to leave a review.
Show more