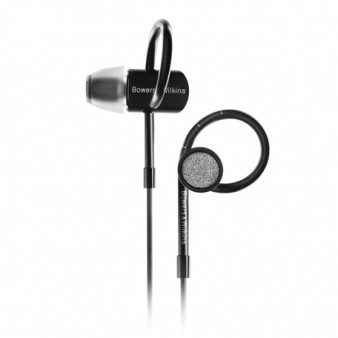 Portable listening has become a ubiquitous pastime, if I was to judge by the number of people that I see daily walking with some kind of earbud or earphone and lost in their private world of music. Unfortunately, at least from what I have observed, these good music-on-the-move folks are getting their tunes through the same crappy plastic earbuds that came with their iPods or iPhones.  I am fortunate that I get to hear some really good ear gear and this time it was the venerable Bowers & Wilkins Company that dropped off their latest high-end earphones, the C5 Series 2.
Small packages bring big sounds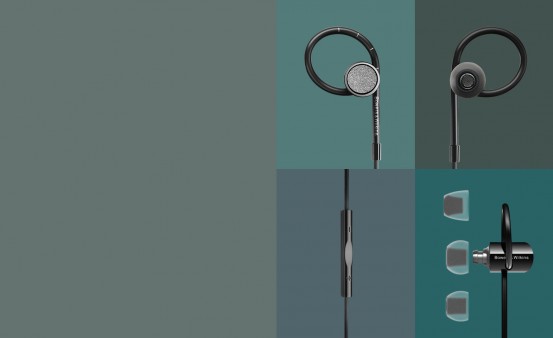 Most earphones are plug and play but with the C5s not so fast. Besides having the options to switch out ear pads for a better fit (three additional sizes are included), the brief picture diagram also demonstrates a unique feature of these earphones, the so-called "Secure Loop" that anchors the earpieces in the ear's inner ridge. A word is in order about this feature as getting the loop to fit will vary according the dimensions of each listener's tragus and concha (the parts of the ear involved). I had no problems with fit but those with smaller ears might find the going a bit tough.  For listeners with i-devices there is a remote control on the cable that switches between phone and player, adjusts volume and plays or pauses the music.
As this is a Series 2, B&W made an all out effort to improve what was already a well regarded set of earphones. This began with a redesigned 9.2 mm full range drive unit, tungsten weights to balance the earphone toward the ear, and at the back, a micro-porous filter filled with microscopic steel balls that act to diffuse sound, making everything sound more spacious. The nominal impedance of 32 ohms will make the C5/2s compatible with most portable audio devices, and in this review I used them with my iPhone5, iPod Classic, iPod Nano, and, la crème de la crème, the Astell &Kern AK240.
My ears are smiling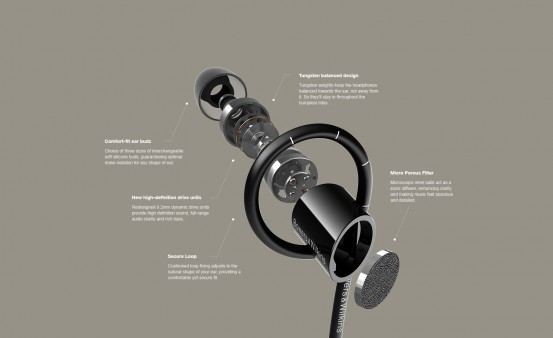 As the drive units are dynamic, I expected them to require some break-in time, and after giving them a 100 hour work out, the sound continued to improve, becoming less peaky, and with a more ample bottom end. First impressions of great detail recovery and lots of air remained after the C5/2s were fully broken in.
A liability of any good audio transducer is that it will reveal the shortcomings of the source material and this was certainly the case with the C5/S2 earphones. Plugging them into my iPhone and sampling some of its 1500 song library, I heard all of the things that I don't like about MP3 files, including the deleterious effects of compression at 128 kbps. A track like the Jackson 5's "ABC" was listenable, but just barely so, while Ann Savoy & Her Sleepless Knights' rendition of "If Dreams Come True," an ALAC file was more like it, with great body, space and sonic balance.
Things improved when I went to my iPod Classic (no doubt due to its better DAC). A 320 kbps version of Respighi's Pines of Rome (Lorin Maazel/Cleveland Orchestra) was quite respectable, and, if not the massive wall of sound that I would have received from headphones, the C5/S2 did give me the sense of space that this piece can convey.
The coup de grace came when I switched the AK240 digital player. I treated my ears to a CD-resolution FLAC file of Yo-Yo Ma's playing of "Gabriel's Oboe" from The Mission. The bloom and rich sonorities of the cello and the background strings were simply glorious and belied the small size of these in-ear transducers. Jacintha's sultry performance of the timeless "Danny Boy" (a DSD download) demonstrated quite quickly that the C5/2s could deliver the superb sound of the highest resolution files that are currently available.
The Good
Comfortable
Excellent coverage of frequency spectrum
Wide dynamic range at normal listening levels
Superior build quality
The Bad
Secure Loops might cause fit problems for small ears
The Scorecard:
Design/Ergonomics:
[Rating:4/5]
Performance:
[Rating:4/5]
Value:
[Rating:3.5/5]
Overall:
[Rating:4/5]
The Definitive Word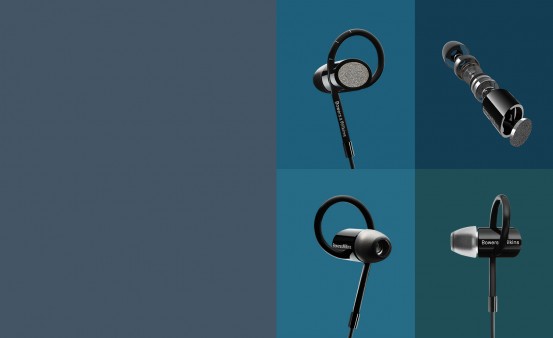 Going for earphones rather than headphones will depend on how you usually listen. For listeners who put a premium on portability, particularly walkers, runners, and commuters, earphones will certainly be the choice for their iPods or other digital players. With this in mind, the C5 Series 2 phones offer far superior sound to the plastic earbuds that usually come with the players and sound better than any earphones that I have heard up to their price point. The only caveat that I would mention is to be sure that your ears can accommodate the Secure Loops if you intend to use this feature (it is not absolutely necessary if most of your listening is stationary). All in all, the C5/2s will keep you great company on the road, providing lots of audio pleasure along the way.
Specifications
Distortion (THD)                                           <0.2% for 1 kHz/1mW
Maximum input power                                   3 mW
Sensitivity                                                       115dB/V @ 1 kHz
Inputs                                                             3.5 mm Stereo mini-jack (on cable)
Drive Units                                                     2 x 9.2 mm full range
Impedance                                                       32 ohms
Frequency range                                              10 Hz to 20k Hz
Cable length                                                    1.2 m
Weight                                                             20 g
More Information:
Bowers & Wilkins P3 Headphones (SRP $179)
[amazon-product]B00NOOX36M[/amazon-product]