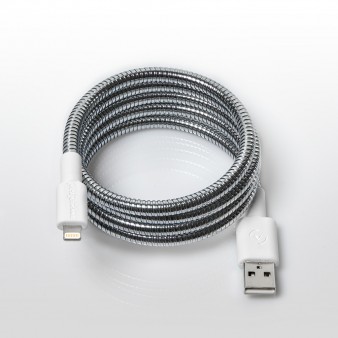 Fuse Chicken Titan Lightning Charge Cable
Fuse Chicken is an avant-garde company that specializes in cable solutions for Apple products, specifically iPhones (models 5, 5s, 5c, 6, and 6 Plus) and the new Apple watch. This Ohio-based company began operations in 2012 and has developed its product line through crowd-funding campaigns like Kickstarter and Indiegogo.  Starting with the Bobine, billed as the "world's most flexible iPhone dock," Fuse Chicken's charge cables feature an outer skin consisting of two layers of flexible high-strength steel. If you are wondering about the company's name, founder Jon Fawcett shared with me his search for a unique domain name and, after typing numerous entries into the Go Daddy website, his random efforts yielded "fuse" and "chicken." Regarding the company's funky logo (see it at www.fusechicken.com), the circle and "v" are a tech-style chicken's head and beak while the brackets represent small electrical cylinder fuses
In the case of the product under review, the Titan Lightning Charge Cable, Fuse Chicken is aiming at iPhone users whose precious little communication devices seem to need constant refueling to prevent their "dying" at most inopportune times. Do I really need another cable for my iPhone? Well, folks, as the Mercedes Benz S-series is not just another car, the Titan is not just another cable.
Let's look at the problem with the standard charge cables that Apple so generously supplies with their several-hundred dollar cell phones.  Like the cheapo earbuds that are also included, these plastic cables are flimsy and the USB and Lightning terminations are just asking to be gnawed off by the family dog or eventually get broken with the repeated stress of plugging and unplugging.  So why not just replace them with generic iPhone charge cables that can be had for a few bucks?  Consider this. You are having that "million dollar" conversation during a business trip and, suddenly, your iPhone's  little red screen icon warns you that there is less than ten minutes' power remaining. You reach for the charging cable, and…the USB termination literally breaks off when you plug it into the power port.
While this sounds like an unlikely doomsday scenario, I have had standard charge cables fail at the very worst of times and with no backup available. Clearly Fuse Chicken's Jon Fawcett has taken it upon himself to "watch your six" when it comes to protecting your iPhone's functionality.
Enter the Titan
I was immediately struck with the heft of this one-meter long cable. In contrast to the nearly weightless plastic iPhone charge cables, the Titan cable was one solid piece of work with heavily reinforced housings for both of its connectors.  As strong is it appears, the Titan is quite flexible and can be coiled up for storage during travel.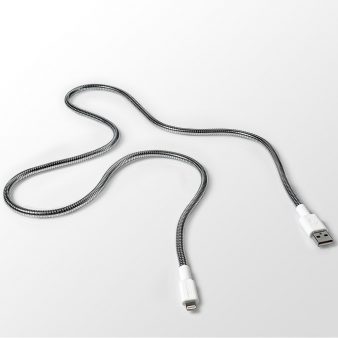 Billed as the "toughest cable on Earth," and "the last charge cable you will ever need," the Fuse Chicken website features a video (www.fusechicken.com/products/titan) that shows the cable being used for pull-ups on a tree branch, run over by a car, exposed to a power saw, twisted in knots, and tossed off a roof. Even in an extreme fit of pique, you probably would not abuse your charge cable to such extents but, in each instance, the Titan came away unscathed.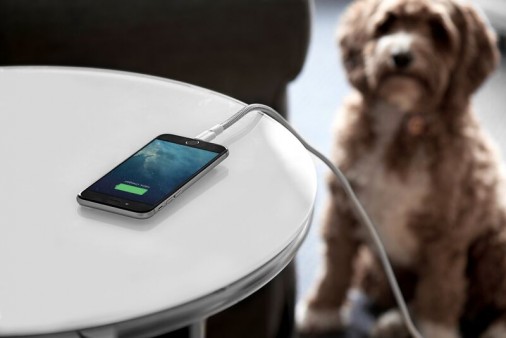 I gave this cable a personal torture test that is closer to what would occur with every day use. After a couple of hundred "plug and unplug" sessions, equivalent to about a year's worth of my typical charging pattern, I could detect no wear, fraying or excessive bending in the USB or Lightning terminations.  I also performed about one hundred "coil and uncoil" exercises, and the Titan cable appeared as pristine as when it was first unpacked. All of this activity assured me that the Titan, like the Timex watch of yesteryear, can "take a licking and keep on ticking."
Does the Titan provide faster charging times than Apple's standard charge cable? Hard to say during the relatively brief time in which I evaluated this cable. However, I would suspect that, over time, its extreme protection would result in more reliable charging, and that is really the name of this particular game.
The Good
Excellent build quality
Virtually indestructible
The Bad
The Scorecard:
Design/Ergonomics:
[Rating:4.5/5]
Performance:
[Rating:4.5/5]
Value:
[Rating:3.5/5]
Overall:
[Rating:4.5/5]
The Definitive Word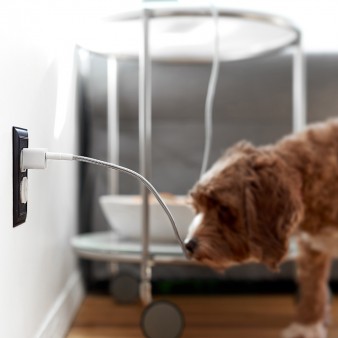 For the legions of people who constantly depend on their iPhones, travel a good bit, and have zero tolerance for charge cable failure, the Titan will certainly fill an important niche. When you consider that you are purchasing an essential accessory with "eternal" life, the $35.00 sticker price does not seem all that high. This charge cable is definitely designed for forever, and, hopefully, the Fuse Chicken folks will design a sturdy charge cable for my beloved MacBook Air as well.
Specifications:
Length: 1 meter (39 inches)
MFI iPhone Lightning
USB connector
More Information:
Fuse Chicken Titan Charge Cable (SRP $35 USD)