LG BP730 Network 3D Blu-ray Disc/DVD Player
Less than one year ago, I was extolling the virtues of the LG BP620, a svelte, smart and reasonably priced Blu-ray player that seemed to do everything right and left little to be desired. But time moves on, and LG does not intend to be left in the dust by its competitors. Now we have the LG BP730, a network 3D Blu-ray Disc/DVD Player, with a few new wrinkles. Since a smart Blu-ray player comes along nearly every nanosecond how are we to choose?  Hopefully, my voyage on the "HMS LG BP30" will last a good bit longer and leave me a reason to take the trip again.
Slim is In
If you want to keep a low profile, look at this current Blu-ray disc player under review. Honestly, when I pried open the box and got a slender 2-inch high unit, my initial reaction was, how low a profile can you get? Memory serving me correctly, the BP730 has the same dimensions as its predecessor the BP620 and, like its predecessor, it will play all disc formats except SACD and DVD-A.
A screen set up menu allows the adjustment of display type, audio and video mode, and, with more advanced options, fine-tuning of picture and sound.  From an audio standpoint, all current sampling frequency and word lengths are possible. The versatility of this unit enables much, much more. It will convert 2D to 3D and for those lucky few with so-called Ultra HD (4K) displays, it will upscale native 1080p source material. With Smart Share you can stream audio or video to linked devices like smart phones or computers. Conversely, you can send audio and video files from a computer, thanks to Nero Media 4 software, to your display. Finally, you can surf the Internet to get late-breaking news, watch YouTube, or Google to your heart's content.
There are a couple of other cool functions that the LG BP730 offers. The first is Wi-Fi Direct allowing current content on another device (as long as it is Wi-Fi Direct-certified) to the player without needing a network connection. [I was not able to check out this feature since I do not currently have such devices]. Likewise, if you have a Miracast device, it can communicate with the LG BP730 through NFC connectivity. [Again, this action was stymied by lack of a Miracast-certified device] Of course there are the smart apps, too numerous to list here, that include the usual subscription sites, Netflix, VUDU, Hulu, Pandora, and so on.
The front panel has s a slot for loading silver discs, a brightly illuminated display window, remote sensor, touch buttons for open/close, play/pause, stop, power and, in the far right corner, a 2.0 USB port. The rear panel content has been reduced to the bare minimum: AC power cord, optical digital output, LAN port, and HDMI output. Although you can use the LG BP730 in the wireless mode, I would strongly recommend hooking up via Ethernet if possible to ensure the most stable connection.
Do You Believe in Magic?
On-screen set up was as simple as one, two, three.  But there was much more to come. After loading the Nero Media 4 program (included on an owner's manual CD-ROM) and a few false starts, I got everything going perfectly.
Okay, now for the "Magic Remote". For non-Wii users, this motion-controlled device takes a little getting used to, but after the learning curve has been surmounted, making the pointer move across the screen became second nature.   For older users like myself, both the size of the pointer and its speed can be adjusted. Thanks to the motion control functions on the screen, the number of buttons on this unit is a bare minimum: power, home, back, playback controls (the chapter skip forward/back also provide fast forward/back when held down), a central control wheel with "up, down, forward, back" areas, info/menu, and the ubiquitous red, green, yellow and blue (for some BD-ROM menus).  If you don't want to fool with the "Magic Remote," there is an app for i-Phones, iPads, and Android devices that duplicates the handheld remote. While not nearly as smooth as the real remote, it also has a neat feature for dorm room or apartment dwellers, the "Private Sound Mode," that directs the sound to a smart phone for headphone or ear-bud listening only.
3D Performance or Not
I am still a 3D holdout as are many other viewers. As most buyers will still use the LG BP730 primarily as a 2D player, I ran my initial test disc, the HQV 2.0 BD test disc. The LG player had no difficulty handling any of the basic test videos. It also loaded Blu-ray discs noticeably faster than my Oppo BDP-95. Having survived the ultimate "Planet Earth Day" viewing marathon this past April, I had plenty of great looking Earth discs on hand to put the LG BP730 through its paces. Cutting to the chase, the best and brightest of this series, as can be seen from the screen captures below, looked fabulous.  I also ran a few of my favorite DVDs through the BP730, including Alison Krauss + Union Station Live, Finding Nemo, and Winged Migration.  While, the detail and visual depth of these pretty decent discs cannot compare with the best of the Blu-rays, they still looked darn good for standard definition releases. After investigating a few of the "premium" online sites including Netflix, VUDU, and Hulu, I really could not reliably distinguish the images and sounds coming from the LG from those displayed by my reference Oppo player or my Boxee Box.
LG BP730 Screen Captures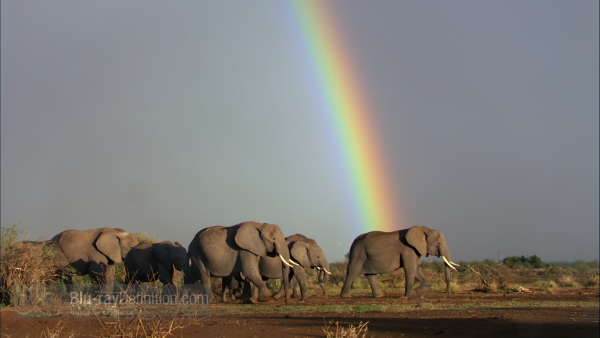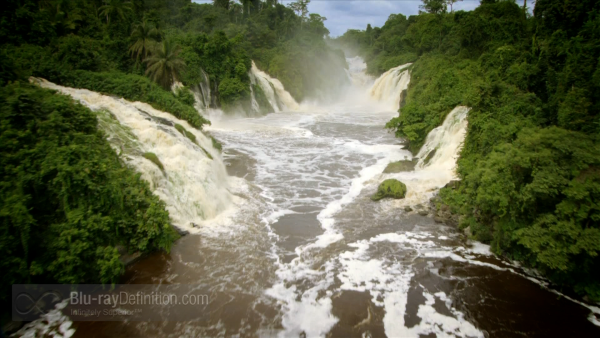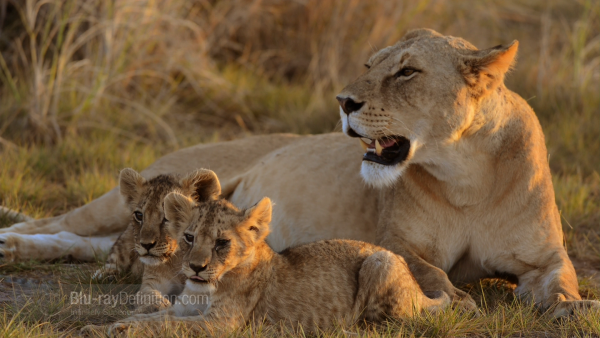 …. But it won't play every music source on the planet
Folks who are starting out their home theater systems are also likely to have music collections in a variety of formats.  The onboard DAC has 192KHz/24-bit capability, but and I had no trouble playing my 96kHz/24-bit files through the USB drive. As previously mentioned SACDs and DVD-As are no-gos. Performance can be improved with an outboard DAC, but note that digital output port is the "dreaded" Toslink that limits sampling frequency to 96kHz. I listened to some of my favorite CDs, including Esperanza Spalding's "Chamber Music Society" and Susan Nigro playing her contrabassoon on "New Tunes for the Big Bassoon." Both were competently reproduced, but clearly no match for the superb 32-bit Sabre DAC on my Oppo.
The Good
Easy set up
Smooth operation
Fast loading time
Good video performance
Access to streaming video
Good smartphone app
Wired and wireless options
Special streaming apps (Miracast, Wi-Fi Direct, Private Sound Mode)
Display is legible from typical viewing distances
The Bad
Does not support some of the higher resolution audio disc formats
Panel controls difficult to access
Magic Remote can be a bit quirky for beginners
GUI is occasionally slow
The Scorecard:
Design/Ergonomics:
[Rating:4/5]
Performance:
[Rating:4/5]
Value:
[Rating:3.5/5]
Overall:
[Rating:4/5]
The Definitive Word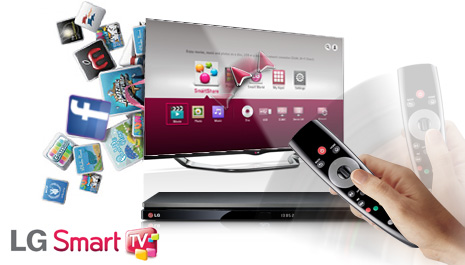 How much should you spend on your first or maybe your second Blu-ray player? Given the speed with which new generation units are released, it is almost guaranteed that the player that you bought a year or two ago has been superseded in nearly all of its performance parameters and probably offered at a lower price. In this case, LG has a middle of the series model, the BP530 with many of the features of the BP730, but without the "Magic Remote," Miracast, and Smart Share, selling for $70.00 less. In the final analysis, prospective purchasers will need to decide how much the cool remote and additional features are worth. For my part, the LG BP730 represents a big step over the previous year's well-received LG BP620, albeit at a somewhat greater cost for its coolness factors.
Specifications :
DISC PLAYBACK CAPABILITY
BD-ROM,BD-R,BD-RE,DVD (NTSC),DVD (PAL),DVD-R,DVD-RW, DVD+R, VD+RW, Audio CD, DTS-CD, CD-R/CD-RW
VIDEO FORMAT
MPEG2, MPEG4 AVC (H.264), MKV, AVC Rec, AVCHD, M4V, WMV, 3GP, MPH, FLC,VOB, TS/DAT
VIDEO FEATURES
Deep Color (HDMI 1.4)
NvYCC
Video Enhancement
1080p Upscaling
Ultra HD (2160p) Upscaling
2D to 3D Conversion
Noise Reduction           
AUDIO FORMAT
LPCM, Dolby Digital, Dolby Digital Plus, Dolby True HD, DTS, DTS-HD MA,
MPEG 1/2, MP3, WMA,AAC
AUDIO FEATURES
Audio DAC (192 kHz/24-bit)
DD 2ch Down Mix
Digital Audio Output
Re-Encoder (DTS Only)
LPCM Conversion (DTS HD/Dolby TrueHD)
Dynamic Range Control On/Off
Down Sampling: 48kHz/16bit
SMART TV FEATURES
Premium Content Providers
LG App Store
Home Menu
Full Web Browser
CONNECTIVITY
Wi-Fi®
Wi-Fi® Direct
Wired Ethernet
Smart Share
DMP (DLNA)
SIMPLINK
DMR (DLNA Mobile to TV Streaming)
APPLICATION
BD Profile
USB Direct Recording
External HDD Playback via USB
Smart Phone Remote App
AV INPUTS/OUTPUTS
HDMI™ Out
Digital Audio Out (Optical)
USB 2.0
LAN
SUPPLIED ACCESSORIES
Remote Control
Remote Control Batteries
AV Cable (RCA Type)
Operating Manual Disc
POWER
Power Supply (Voltage, Hz)
Power Consumption
Power Off Consumption
AC 120V/60Hz
17W
Under 0.5W
DIMENSIONS / WEIGHT
Unit Dimensions (W x H x D) : 16.9″ x 1.6″ x 7.8″
Packaged Dimensions with Battery (W x H x D): 20.7″ x 4.0″ x 10.3″
Unit Weight : 3.0 lbs
Shipping Weight: 3.5 lb
More Information:
LG BP730 Network Blu-ray/DVD Player (SRP $199)