From Red to "Blu"
It would be impossible for anyone steeped in the home theatre enthusiast arena to have forgotten the recent, bitter format war between the Toshiba-backed and developed HD DVD and the more robustly backed Blu-ray, developed by Sony, Philips, and further companies in the BDA (Blu-ray Disc Association), but generally heralded as the "Sony format," the result of which was Toshiba's eventual admittance of defeat and seeming determination to gut it out in the market with DVD-only, with upscsaling players players through the grit of sour grapes.

Flash-forward a couple of years and Toshiba now has a full array of Blu-ray players to be had — they are not as foolish as some thought they were, apparently. They know there is money to be had in the market, and they aren't about to leave it on the table. Leading their present four-player lineup of Blu-ray players is the BDX3000 3D Wi-Fi Blu-ray Player, their top-of-the-range model.
The BDX3000 joins a growing number of players from manufacturers that not only offer built-in wi-fi support for BD-Live and internet streaming media services, but adds on the latest and greatest in Blu-ray playback — stereoscopic 3D.
Enter the Third Dimension, Tosh-style
The BDX3000 leads Toshiba's current crop of Blu-ray players at the top of their range, coming in at a suggested retail price of $279.99. It is the first and only of the company's players to support the Blu-ray 3D format, the stereoscopic 3D home video format that is beginning to create a buzz. The format requires not only the use of a 3D Blu-ray player, like this Toshiba, but a 3D-capable display and the appropriate eyewear for your particular brand of display, usually a pair or two (or more, depending on the size of your family) of active shutter liquid crystal glasses sold separately or in a "3D Starter Kit" bundle of some sort.
Toshiba doesn't stop at just 3D capability in beefing up the features on this unit, however. The BDX3000 supports a full array of features one would expect from a contemporary Blu-ray player, including the streaming media services Pandora, Blockbuster, Netflix, and what is quickly becoming one of the most popular ways to obtain streaming HD videos via "the cloud," VUDU. Although, unlike other more robust players from Panasonic and Samsung the BDX3000 doesn't directly support internet apps such as Facebook and Twitter, it does still gain access to these through the VUDU service, which also allows access to Flickr, The New York Times, Weather, and a host of other streaming media services and connected applications.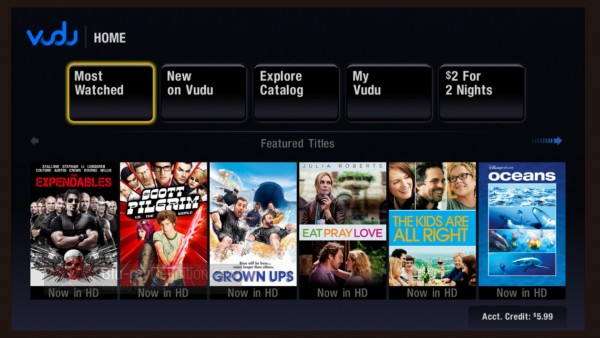 Other features include built-in support for DTS-HD (Master Audio and High Resolution), Dolby TrueHD, Dolby Digital +, DTS, and Dolby Digital decoding up to 7.1 channels either via HDMI or its built-in analogue multichannel outputs on the rear of the unit.
There is also built-in wi-fi support as well as an Ethernet LAN port for BD-Live and internet services, and playback support for AVCHD (from DVD-RW/-R) and MP3, JPEG, and Windows Media Audio files from SD card, USB, and all other supported optical formats.
It should go without saying at this point that the player also supports BD-Live (Profile 2.0) and BonusView (Profile 1.1) picture-in-picture content given the additional storage required, such as a USB drive or SD card and Internet connection for BD-Live.
How's it Lookin'?
The BDX3000 is a sleek looking unit with a low profile and small footprint. It has a glossy black finish, flush front panel with touch sensitive controls, and a recessed SD card slot on the lower front right corner. Like most, relatively inexpensive disc players today, the Toshiba is also fairly lightweight, but it doesn't inspire much confidence in the feel of its frame, unlike some other players, in that it is light and flimsy in feel. Some Blu-ray players, such as my Panasonic DMP-BDT350 may be light, but when held has sturdiness.  The Toshiba's disc tray slides in and out from the front left side of the unit, and rests flush with the body. There is no flip-down tray in front like some other brands. The front display, still too tiny to read from any normal distance, can be dimmed down one level or turned off completely, via a "Dimmer" button on the remote — perfect for folks who don't have their players tucked away in a cabinet unseen.
The rear of the unit houses its connectivity options, which include a full set of 7.1mutlichannel analogue RCA outputs, an HDMI 1.4 output, a USB port, and an Ethernet port. Additionally, there is one (1) set of component outs, one (1) set of composite video outs, and one (1) optical digital audio out jack. The power cord is permanently attached from the rear left of the unit.
Let's Get Started!
I hooked the unit up to my system, initially for strictly 2D playback testing, through my Onkyo TX-SR805 A/V receiver and passed through to my Samsung UN55C8000 LED TV via HDMI. For 3D testing, I would go directly to the Samsung with an HDMI 1.4 cable since my Onkyo is not 1.4 compliant, an issue easily avoided with my Panasonic player's dual HDMI outputs, but not with this Toshiba, which has one HDMI 1.4 output.
Powering the unit up from cold, I noticed at first that it was a little sluggish to respond to its power command from the remote control. Eventually, it turned on and reached the Home menu and I ran through the Quick Setup. I then proceeded to do a more thorough setting of the unit.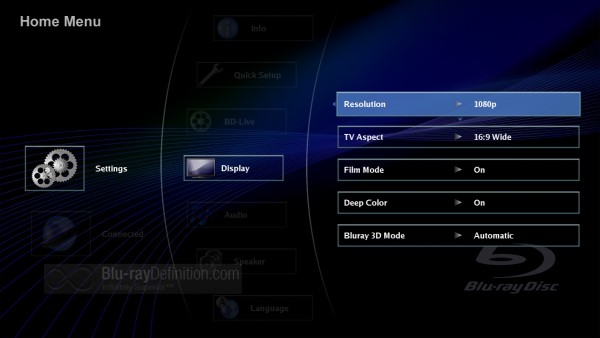 There are settings for output resolution (480 through 1080p) Film Mode (which toggles 24p support on and off), TV Aspect (16:9 Wide, 16:9 Pillar Box, 4:3 Pan and Scan, 4:3 Letterbox), Deep Color and  Blu-ray 3D Mode (Automatic, Forced 2D).
I set Display settings to Resolution:1080p, TV Aspect: 16:9 Wide, Film Mode: On, Deep Color: On, Blu-ray 3D Mode: Automatic.
In the Audio settings menu, there are options for PCM Downsampling, Digtal Output, Dynamic Range Control, and Stereo Downmix. I set these to PCM Downsampling: Off, Digital Output: Bitream HD, Dynamic Range Control: Off, Stereo Downmix: Auto.
One way to avoid issues with the HD audio pass through and 3D content on legacy equipment is to use the Toshiba's built-in 7.1 analogue multichannel outputs, thus avoiding HDMI for the audio altogether, and just go directly to the display with HDMI 1.4. The menu offers speaker settings to adjust speaker sizes, including the subwoofer crossover, but unfortunately, if you intend on using this on a high-end AVR with a "pure audio" analogue mode or equivalent, you may be out of luck beyond this simple bass management built into the Toshiba, because there is no time alignment (the ability to set speaker distances) option provided on the multichannel outs, which is a glaring oversight. This means, if you really need critical listening in multichannel and your speakers are not equidistant, the analogue outputs will not work best for you.
Joining the Network
With the built-in wii-fi getting online was fairly easy — the first time. My wi-fi is behind a hidden and protected network, so I had to enter everything manually. The first time I did this, it took without issue and connected to the network, but the next day, it seemed, the simple act of powering down the unit caused the BDX3000 to lose all the information it needed to logon to my wi-fi network and I was forced to enter all of it manually again. This second time, it would not logon no matter how many times I tried it, so I had to resort to a hardwire Ethernet connection, which immediately worked without a hitch. A few days later, I tried the wi-fi again and it worked without issue ever since.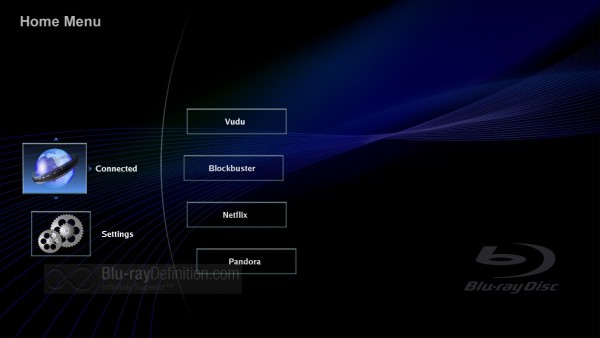 Another note: I ran into another minor glitch with the BDX3000 involving powering the unit on and off. The second day of testing, the unit refused to turn on at all. It would not respond to commands from the remote or the unit itself, forcing me to unplug it and do a hard reboot. Since then, it has worked without issue, but I have seen other users complain of the same problem occurring, leading me to believe it is a bug and not just a defective review unit.
Other settings include Parental Controls, Time Zone settings, CEC (Consumer Electronics Controls) support, Optical Disc AutoPlay, and Screen Saver Duration that can be set all the way from "Off" to "30 minutes."
Working through the Home menu, the first thing one notices is the sluggishness of the system. It takes a second or two for the unit to respond to a command when selecting a menu or setting, often resulting in passing the intended target, or closing out a screen when that wasn't the intended action.
A note on the playback menu:
The BDX3000 has a very simple, rudimentary, display menu during playback that gives only basic elapsed time and disc format information. For more hardcore enthusiasts who are looking for a bitrate meter and actual video codec information, forget about it. You won't find any of that information doled out on the Toshiba.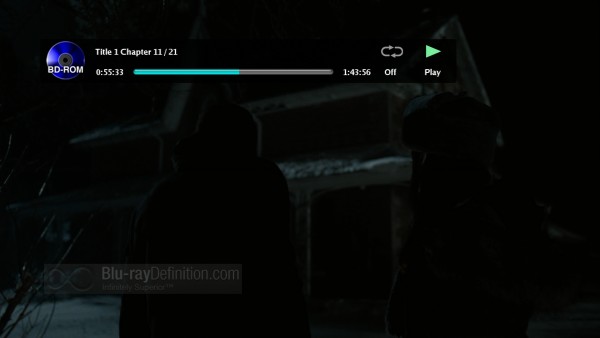 The Remote
The Toshiba's remote is a typical wand-type drawer brick that most enthusiasts will probably want to replace ASAP with a universal remote of their choosing (Insert Brand Name Here). It has no backlighting at all and no luminescent buttons, making it unintuitive to use in a darkened HT environment. On the plus side, it does offer access to some additional player features in the BDX3000 that I definitely appreciate, like Slow Motion, Frame Forward, and Go To, which lets you jump to specific time code on a Blu-ray disc. There's still no "slow reverse" feature here, however. The remote also grants access to the Pic menu — accessible only during playback — that allows tweaking of some rudimentary sharpness controls.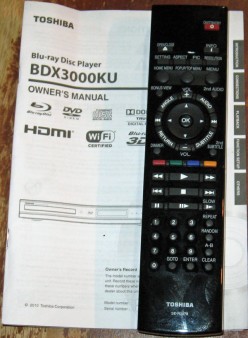 Testing it Out
After getting the unit setup the way I wanted it, I ran the BDX3000 through a series of the latest HQV 2.0 test suites.
Blu-ray:
Video Conversion Tests:
The BDX3000 passed the Video Resolution test, which tests how well the unit processes 1080i content into 1080p, or "de-interlaces,"  with flying colors, passing all 1080 lines of resolution. The Rotating Dial test showed no jaggies/stairstepping and the Grey Bar sequence, which adds a static grey pattern behind the rotating bar, the Toshiba also passed, displaying the rotating bar with no aliasing. In a video sequence of a girl playing a violin, the image displayed as expected based on the Video Conversion tests, with clean detail and no aliasing in the strings.
Film Resolution Tests:
The film resolution tests check how well the unit's video processor handles conversion of various cadences (frame or scan rates). Here, the Toshiba fell down a bit, having some definite issues switching between 2:2/30Hz and 3:2/60Hz material. In the Text Overlays on Film test showing horizontal and vertical scrolling text overlaid on film, the Toshiba performed solidly without flicker or shredding in the text.
The Response Time test showed a graphic with a ball moving between 2:2 and 3:2 cadences. Here the Toshiba didn't do well, with slow response time when transitioning between 2:2 and 3:2, displaying lots of flicker.  In the Multi-cadence (used  in broadcast or animation/anime), however, the Toshiba seemed surprisingly strong and quick to lock in.

DVD is Still Around
I also ran the HQV 2.0 DVD test suites on the BDX3000 to test its DVD playback capabilities. It did less well than in the HD suites, but was certainly acceptable for most. Here are the results of those tests:
Video Resolution — Clean on the initial rotating dial, but with static pattern and grey bar sequence shows stairstepping. Sequence with flag is clean, but bricks on building in background lack a bit of detail.
Film Resolution —
3:2 24Fps film — Locks in quickly, no moiré pattern in a grandstand as a race car drove by.
2:2 30fps video — A little longer to lock in, after initially displaying some moiré, settles into a stable image.
Text Overlays on Film —
With horizontally scrolling text on 3:2 film content, text looks clean but bass strings being played in background show some slight aliasing. Vertically scrolling text has slight flicker with aliasing also in the bass strings.
Response Time — 3:2/2:2 response time — poor.
Multi-cadence — Excellent performance.
Speed is the Key!
With the sluggish response time for the unit to turn on from standby mode, the sluggishness of its response to the remote, and the sluggishness of its menu system, I was not optimistic about how quick the BDX3000 would be on disc loading times. So, with the stopwatch app at the ready on my iPad, I tested the load times of a few recent Blu-ray Discs on the BDX3000 from an open tray until reaching the disc menu, without skipping through any government warnings or trailers. Here are the results of those tests and the comparison to my Panasonic DMP-BDT350:
Toshiba:
Avatar Extended Collector's Edition — 2:06
Sorcerer's Apprentice — 7:54
Inception — 3:02
Panasonic:
Avatar Extended Collector's Edition — 2:28
Sorcerer's Apprentice — 8:11
Inception — 3:11
As one can easily see, the Toshiba handily trumps the Panasonic on load times and is actually quite swift in reading the discs. A slightly quicker disc tray than the Panasonic may help it out, but it is also generally quicker at working its way through the BD-J and accessing the disc when making its way through the trailers.
Making it in the Real World
Numbers and test suites are one thing and given the Toshiba's results, it probably falls somewhere in the middle of most players on the market based on the test results alone. Most of the issues seen in the tests will probably not yield anything hugely noticeable in real world playback, especially not on the HD end. So, how does the Toshiba stack up playing back actual content? I pulled out some 2D Blu-ray discs to take a look at just that, again comparing it to my Panasonic as a reference.  On Avatar Extended Collector's Edition Chapter 17 "First Flight" the Toshiba had very good results with nice colors and depth and a clean image, but the Panasonic was a bit richer in tones and more natural looking. I'd probably put this down to the Panasonic's color upconversion to 4:4:4 and the Toshiba's lack thereof. In The Sorcerer's Apprentice Chapter 19, "Dave Joins the Fight, " the results were again similar, the Toshiba had very strong performance with deep black levels and textured detail, but the Panasonic had a bit deeper blacks, richer midtones, and cleaner looking image overall. Lastly, I tried Inception,"Chapter 1″ in the Japanese Castle. Here, the Toshiba was nearly equal with the Panasonic, but a little softer and redder looking on the flesh tones, and the black suits the men wore were more washed out than on the Panasonic. Still, these differences were very slight and most people, particularly with smaller displays, would probably not notice them at all.
But, what about DVD playback, you ask? Well, with the much weaker performance of the Toshiba in the DVD test suites I was not expecting much from the player on DVD playback, but I pulled out my copy of Episode III: Revenge of the Sith and jumped to Chapter 42, where Anikan and Obi-wan have their big showdown. Surprisingly, the Toshiba looked very good, with little artifacts and pretty solid background detail. Color reproduction was a bit closer between the Toshiba and the Panasonic here as well, but things widened when I engaged the Panasonic's 24p mode for DVD playback, which the Toshiba does not support, and then the Panasonic took on a much more natural and filmic appearance. In the end, neither the  Panasonic nor the Toshiba, however, could rescue Revenge of the Sith from being a terrible film altogether.
Entering the 3rd Dimension
For all the hullabaloo over Blu-ray 3D, there's not much added to the player that actually lets you know you have a 3D player outside of the option to have the player automatically detect a 3D disc or to force 2D playback instead. Playing back 3D content offers no additional settings or tweaks, so the picture lives and dies by the content and/or display and the quality of the player itself.
I switched the player to a direct HDMI 1.4 connection to my display and quickly checked out some Blu-ray 3D discs such as Disney's A Christmas Carol 3D, IMAX: Under the Sea 3D and Ice Age 3: Dawn of the Dinosaurs 3D. In each case, the Toshiba handled the 3D content exactly the same as the Panasonic, with maybe only a slight difference in color saturation, looking a bit more vibrant than the Panasonic. Does the slightly oversaturated look actually help the Toshiba in the case of 3D content? It's possible.
In Ice Age 3: Dawn of the Dinosaurs' scene where Scrat and his lady companion are caught in their bubbles, the 3D effect was just as in your face, reach out and grab it, as with the Panasonic. A Christmas Carol showed the same three-dimensionality during Scrooge's wild ride through the air, and IMAX: Under the Sea had the same effect of flotsam floating down in front of your face.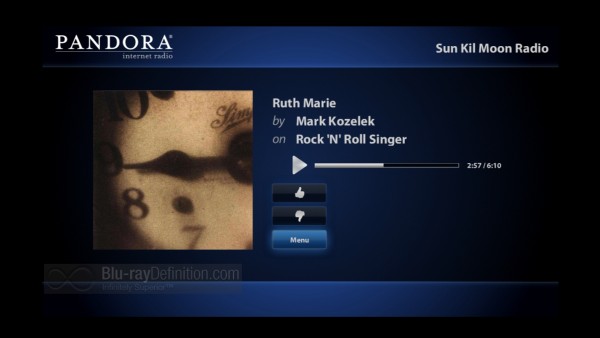 Out of the Cloud
It would be remiss of me to review this player without mentioning use of its streaming media capabilities. I've been a fan of Pandora since I downloaded it for my iPad, so every component I have with Pandora on it (and it's an increasingly growing list) gets heavy Pandora use. For those who don't know, Pandora is a personalized streaming radio service that allows you to build your own radio stations based on artists or songs. It will then play music from that artist based on that style or content and how you rate specific tracks.  So, while reviewing the Toshiba, I frequently logged into my Pandora account. It seems to work jut like all the basic Pandora apps, having Thumbs Up and Down, Bookmark This Artist, Bookmark This Song, I'm Tired of This Song, and the ability to create, delete, and rename stations. What the Toshiba Pandora app crucially lacks, however, is a screensaver feature, which will be a big deal to plasma screen owners looking to avoid burn-in.
I also tested out a VUDU HDx video purchase, Scott Pilgrim vs. The World. HDx is VUDU's 1080p streaming video service, and it loads instantaneously. Of course, whether you can stream 1080p (or 720p (HD) or SD for that matter) is dependent on the quality of your broadband connection. In this instance, the film played through without any problems from start to finish. Previous efforts using my Samsung's VUDU app to watch The Runaways in HDx resulted in the connection dropping ¾ of the way through the film and not even being able to stream the SD (480p) feed. So my suggestion is, buyer beware when it comes to VUDU.
The Good:
Solid HD Performance
Quick Disc Loading Times
Built-In Wi-Fi
Streaming Media Services (Pandora, Blockbuster, Netflix, Vudu; etc.)
The Bad:
Sluggish Menu System
Sluggish Response Times
Some Quirky Behaviors
No Screensaver for Pandora
Lack of legacy HDMI support
The Definitive Word
The Toshiba BDX3000 3D Wi-Fi Blu-ray Player offers a solidly performing entry-level 3D Blu-ray player that does all the features a modern player should at a relatively affordable price. It would make a good first player, especially for those just stepping into HD and 3D at the same time, although for enthusiasts with slightly higher demands, it may not fit the bill.
The Scorecard:
The Design
[Rating:4/5]
Performance:
[Rating:3.5/5]
Value:
[Rating:4/5]
Overall:
[Rating:4/5]
Specifications:
Summary
Video Resolution: 1080p
Video
Full HD 1080p/24fps
Playable Disk Types: DVD-R, DVD-RW, DVD-Video, BD-ROM, CD-DA, CD-RW, CD-R, CD, Blu-ray Disc, BD-RE, BD-R
Progressive Scan 3:2 Pulldown
Progressive
Video Upconversion: 1080p, 1080i, 720p
Multi-Camera Angle Select: Yes
Multi-Subtitle Select: Yes
Audio
Surround Sound
DTS® HD Master Audio Essential™, DTS®
WMA & MP3 Playback: Yes
Analog 2ch Audio: 1
Analog 7.1ch Audio: 1
Inputs/Outputs
Digital Audio Out: 1 Optical
S-Video: No
RCA Video (Composite): 1 Output
RCA Audio (L/R Analog): No
SD Card (with SDHC): 1
Ethernet Port: 1
USB Port: 1
Features
3D Capability: Yes
Streaming Services: Pandora®, VUDU®, BLOCKBUSTER on Demand®, Netflix®
Wi-Fi (Wireless LAN): Yes
BD-Live: Yes
Remote Control: Included
Built-in VCR: No
Physical Description
Width: 16.93″
Height: 2.52″
Depth: 8.27″
Width (Shipping): 19.49″
Height (Shipping): 4.53″
Depth (Shipping): 11.73″
Weight: 3.89 lbs
Weight (Shipping): 5.72 lbs
More information:
Where to Buy: