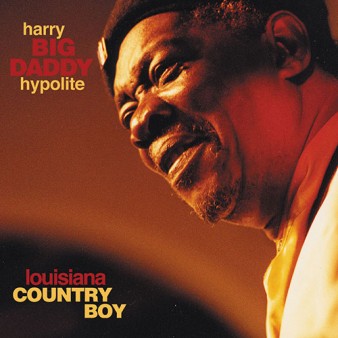 – –
The Album
[Rating:5/5]
By the time, he recorded Louisiana Country Boy, an unabashed homage to the zydeco tradition, Harry "Big Daddy" Hypolite had moved from the background to the foreground of this genre. "Big Daddy" supplies the vocals and lead guitar, surrounded by some talented musicians: Loui Villeri (bass), Jimmy D. Lane (electric guitar and dobro), Bruce Cahoon (drums) and Big John Amaro (Hammond B3 Organ).
Encouraged by zydeco great, Clifton Chenier, Hypolite presents a generous sampling of his own compositions along with those of his mentor and others, serving up some blues, some country and a side helping of zydeco:
The Sun Is Shining (3:34)
Milk Cow Blues (5:10)
Colinda (5:21)
Someday (6:36)
Wine Spodee-O-Dee (3:41)
For Better Or For Worse (6:21)
Just A Little Bit (4:47)
You Used to Call Me (2:35)
Hog For You Baby (4:41)
Louisiana Country Boy (6:50)
Big Bad Girl (3:42)
I'm Coming Home (5:48)
For those less familiar with this type of music, singer Hypolite is in the best tradition of the stand-and-deliver blues wailer. Tracks like "Colinda" and "Just A Little Bit" have an infectious zydeco beat that is hard to ignore (I defy you not to tap your feet along) while "Someday" is in the very best blues tradition of the man-who-loves-a-woman-who-does-not-love-him. Fortunately, there is occasional comic relief from Sonnie McGhee and Brownie Williams "Wine Spodee-O-Dee." Finally, we got some "rock-a-billy" in "Big Bad Girl."
Audio Quality
[Rating:4.5/5]
This is yet another well recorded program from APO Records' Blue Heaven studio. There is a more aggressive presence to the vocals than I have heard in some of the other entries in this series. The Hammond B-3. bass, and drum kit get a smaller share of the soundstage although they are clearly reproduced.
Here the differences between formats were not as evident as it has been in the other paired hi-res download comparisons. The DSD version seemed a tad more forward than its FLAC counterpart so this makes choosing between them more a matter of taste than anything else. A good point of comparison was the track, "Someday" in which Big Daddy's voice and guitar took more of center stage on the DSD 64 and seemed more in the same plane with the other musicians on the 176.4kHz FLAC alternative.
Supplemental Materials
[Rating:2.5/5]
Cover art and recording credits are provided. Scott Jordan, a local New Orleanian chips in some informative liner notes.
The Definitive Word
Overall:
[Rating:4.5/5]
Without doubt, this is a fine and varied program with plenty of flesh on its bones. Harry Hypolite is a first-rate bluesman and is captured in fine form with nice support from his colleagues.  The format decision for potential purchasers is more one of soundstage presentation. Please note that these differences are far from night and day and buying decisions may be weighted more heavily by the ability to play either format on one's home rig than by overall musical values. Louisiana Country Boy is a great opportunity to hear one of the blues greats caught at the top of his game.