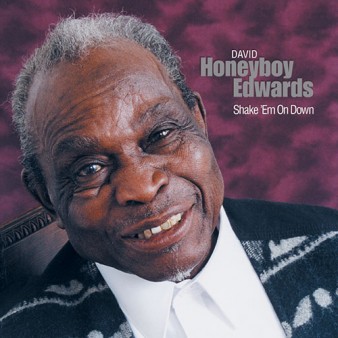 – –

The Album
[Rating:5/5]
Blues legend David "Honeyboy" Edwards, like many of his counterparts, left the Mississippi delta in the 1950s for Chicago, a hotbed for this musical genre. Honeyboy performed nearly until the day he died at 96 years of age. Shake 'Em On Down, was laid down at the APO Records' Blue Heaven Studio in Salinas, Kansas when Edwards was only (!) 84 years old.  His gravely voice and basic guitar slides simply ooze the authentic blues vibe and although, a bit hard to understand at the beginning, the lyrics come across with increasing clarity as the program moves on. As an interesting side note, Edwards may have been the only artist to record in every 20th century medium: 78s, 45s, 33s, CDs, SACD,  DVD, and now in the new millennium high resolution remasters (176.4 kHz/24-bit FLAC and DSD 64).
In the artist's own words, "Blues is a feeling. Man had hard times and a hard day, lost his woman, all them kind of things passes through you when you play the blues." This playlist below, including some Edwards' originals, gets this point across quite perfectly
The playlist includes:
High Water Everywhere (3:26)
Drop Down Mama (4:08)
Monkey Face Woman (3:14)
Shake 'Em On Down (2:46)
Louise Louise Blues (4:22)
Pony Blues (2:50)
Anna Lee (3:48)
Standing On The Corner (2:47)
West Memphis Blues (3:31)
Bald Headed Woman (3:05)
Bullfrog Blues (2:23)
Gambling Man (4:36)
Take Me In Your Arms (4:06)
Interview   (13:26)
Lord I Got To Go (3:15)
This is your very basic blues set up with Edwards on guitar and vocals, backed by Madison Slim (harmonica) and Jimmy D. Lane (second guitar) on about half of the selections.  There is a comforting similarity in the chords and basic lyrics of each number.  All in all, you are given the distinct impression that Honeyboy and friends are performing just for you in your private lounge.
Audio Quality
[Rating:5/5]
Take a terrific sound studio, top-notch engineers, mix liberally and, voila, you are served up with one of the most realistic holographic blues recordings that I have ever heard.  From Madison Slim's lips moving across the harmonica, Honeboy's subtle picking on his acoustic guitar  (and frequent foot stomps) and Jimmy Lane's spot-on accompaniment, there is no detail missed here.  The sound stage is wide and deep with precise placement of instruments. The slight movement of each musician toward and away from the mikes adds to the verisimilitude of the performances.  Start with "West Memphis Blues" which has the entire trio jammin' and, boy, do they ever.
I had not only the FLAC and DSD formats to take on, but also APO Records' SACD and LP! Talk about an embarrassment of riches as there was not a dog to be found in all of these versions. As might be expected, the SACD and DSD download were  identical and doing multiple A-B comparisons, I could not consistently tell them apart. The 176.kHz/24-bit FLAC download was a very close second to the SACD/DSD, a bit less warm and a tad less spacious. However, the LP (which has incredibly quiet surfaces) bested all the digital versions, sounding even warmer and closer to the "live" picture that was painted in the Blue Heaven studio.
Supplemental Materials
[Rating:3/5]
Cover art and recording credits are provided along with some great liner notes by Art Tipaldi. However, if you want the interview with Honeyboy, it is only available in the digital downloads or SACD.
The Definitive Word
Overall:
[Rating:5/5]
I can't think of many octogenarians performing in any musical genre that would give us more pleasure and convey a better sense of personality than this concert by Honeyboy Edwards and his sidemen. The real "find" is the interview, really more of a conversation, between Jimmie D. Lane and Honeyboy that takes the old bluesman down memory lane. Of course, the reason to get these downloads is getting this vintage performer captured in the best sound recording of his career.  Choosing between the two hi-res downloads may come down to matter of personal taste (they are both excellent) and the ability to playback DSD files on your system. If I had to pick one format, I would opt for the DSD version as it comes closer to my treasured LP that I still regard as the best way to hear the late great Honeyboy. However, the LP lacks the colorful "interview," so you really need to go for either of the two downloads to get the unrivaled opportunity to "meet" one of the true standard bearers of delta blues.