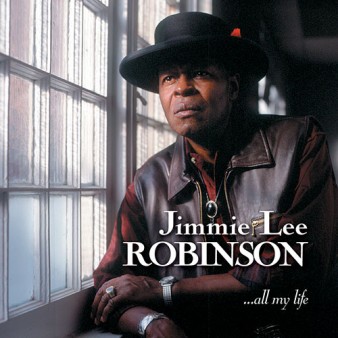 – –

The Album
[Rating:5/5]
In the blues world, most of the mainstream artists were originally from the South and, at some point in life, migrated North to Chicago, a blues mecca if there ever was one. Jimmie Lee Robinson was a distinct exception to this trend, having been born and lived all of his life in the Windy City. In 1999, APO Records caught him near the end of his career with this authentic blues program.
Backed by Madison Slim's harmonica and Jimmy D. Lane (blues legend Jimmy Rogers's sone) on guitar and Dobro, we get a playlist of primetime blues numbers:
40 Days And 40 Nights (4:22)
I'll Be Around (2:32)
Love My Baby (2:49)
Driftin' Blues (5:05)
The Girl I Love (4:39)
All My Life (4:25)
I'm Ready (4:26)
Too Late (5:08)
The Sun Is Shining (3:06)
Easy Baby (4:30)
If I Get Lucky (4:00)
Ludella (3:12)
What A Wonderful World (3:11)
Most of these songs address the typical blues themes of love and loss, women gone wrong, and the other usual suspects, delivered by Robinson and friends. The "odd man out" is Robinson's pure and simple rendition (complete with whistling) of "What A Wonderful World," previously the personal property of Louis "Satchmo" Armstrong. Just shows you how a great artist can put you an entirely fresh face on one that you thought you knew.
Audio Quality
[Rating:4.5/5]
A very well balanced sonic presentation from the Blue Heaven Studios, we get a picture of musical coequals much as we would get in a live performance.  The incessant stamp of Robinson's foot, and some really nice finger work on the guitar strings receive very natural treatment. Check out "I'm Ready," a blues anthem to the anticipation of a sexually satisfying encounter with whoever the woman of the hour may be. "Too Late" is another example of what a sonic hologram sounds like. The wail of Slim's harmonica sounds just about perfect in every track, particularly "Ludella." As far as the dueling downloads go, the differences between versions were, at best, minute. In fact, on this occasion, I actually preferred the sonic presentation of the hi-res FLAC to that of the DSD. It seemed more vivid and better balanced. As a case in point, the spurs that Robinson plays in Track 6 "All My Life" were noticeably more palpable in the FLAC version.
Supplemental Materials
[Rating:2/5]
APO Records gives us its usual fine covert art, recording credits and  Scott Jordan, a local New Orleanian chips in some informative liner notes by Chicago's own Niles Frantz.
The Definitive Word
Overall:
[Rating:4.5/5]
As a former Chicagoan, I had the opportunity see Jimmie Lee several times and always admired his very personal approach to every song that he performed. It is to APO Records' credit that they were able to give this bluesman the kind of recording that he always deserved before his light was extinguished. I cannot think of a much better introduction to the world of Chicago blues than …All My Life. Regardless of which hi res format that you choose, you cannot go wrong.