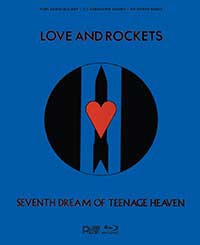 The British early alternative band Love and Rockets formed out of the remnants of late '70s goth band Bauhaus with former Bauhaus members Daniel Ash (vocals, guitar and saxophone), David J (bass guitar and vocals) and Kevin Haskins (drums and synthesizers) in 1983. Although their previous band was decidedly dark and Gothic, Love and Rockets were determined to move in a more pop-friendly direction as evidenced by their debut single, a hard-edged remake of The Temptations' classic "Ball of Confusion" (available on this release as a bonus track) with a pop dance beat and raw guitar licks, and what was probably their most commercial success, 1989's single "I'm Alive" from their self-titled album.
That said, their debut album, Seventh Dream of a Teenage Heaven, didn't totally shake their previous influences and what we get with this collection of 7 tracks is a mixture of songs that run the spectrum from dreamy, shoegazer, acoustically driven, numbers like the longing vaguely religious opening track "If There's a Heaven Above" (Throw the World off your shoulders tonight, Mr. Smith… If there's a heaven above then let it be near) that evoke Bowie in his younger days, or the arpeggiation and minor keys like the opening to "A Private Future" that eventually melds into the droning strum of electric guitars and pulsing drums, which sounds like an early Pink Floyd track. This leads into the lazy mid-tempo electric guitar drone of "The Dog-End of a Day Gone By" a musical homage to The Velvet Underground. Then we get tracks like the title track, with its steady electronic hand claps with heavy gated reverb, thumbing kickdrum and bass and heavy synths, custom-made for a dark, Ecstasy-laden dance floor. Of course Love and Rockets never shed entirely their darker instincts on SDoaTH, and on "The Game", a slow horror rock number that chills the spine, Bauhaus is never far off in the rear view mirror.
The genius of this mid-80s debut that landed squarely in 1985 is that it cannot be pigeonholed into the 1980s era at all. Sure, there are a few production choices that date it to its era, like some gated reverb on the electronic handclaps on the title track, and the "New Romantics" sound of some the synth pads, but because of the mixture of the influences the band laid down and the solid musicianship, it's like these tunes don't really belong to an era. The album doesn't sound very dated at all, most of the songs have aged extremely well. It's like listening to a Stray Cats album; apart from knowing that it doesn't quite sound like it was recorded in the 1950s, you wouldn't really be able to place its era. Love and Rockets both look backwards and forwards by using their influences and incorporating the sounds of the era on this album, so that's how this album sounds.
This Pure Audio Blu-ray of Seventh Dream of a Teenage Heaven comes with three bonus tracks, "Ball of Confusion", the cover of the early Pink Floyd number "Lucifer Sam" and "Inside the Outside".
Pure Audio allows the disc to be played just like a CD without using your TV display, utilizing the Yellow, Red, and Green buttons on your remote control to switch between the various audio programs and the back and advance buttons to skip through tracks.
Track listing: (All tracks remixed in 96/24 for 5.1 and 2.0)
If There's a Heaven Above
A Private Future
The Dog-End of a Day Gone By
The Game
Seventh Dream of a Teenage Heaven
Saudade
Ball of Confusion (Bonus Track)
Lucifer Sam (Bonus Track)
Inside the Outside (Bonus Track)
The Audio
Love and Rockets – Seventh Dream of a Teenage Heaven has two high-resolution 96kHz/24-bit audio mixes, both newly done from the original analogue multichannel recordings. The new mixes done by Neil Wilkes and B.J. Cole are included in DTS-HD Master Audio 5.1, LPCM 5.1, and LPCM 2.0 stereo (Wilkes only). There was no analogue stereo mix available for the album since it was originally mixed from its analogue multichannel tape down to stereo digital F1 tape at 44.1/16 resolution. The new 5.1 is hardly one of the more aggressive pop/rock mixes in 5.1 I have ever heard on various hi-res formats (SACD/DVD-A/Blu-ray Audio), but it spreads the sounds n a strong stereo field with superb ambience and slight discrete usage of the surround channels to give more an impression of sounds very far off to the sides, rather than directly behind you. The sounds in the center are nicely weighted, such as the solos in "If There's a Heaven Above" and "The Dog-End of a Day Gone By" and low-end is solid, but hardly booming, it is appropriate to the album. The new stereo mix is in line with what is going on in the 5.1 mix, but will probably be a bit different, obviously, from the original. Since this doesn't sound too drastically different in tonality from a true '80s recording – and it shouldn't – I'm sure most will be happy with the new hi-res results, remix or not, and I don't particularly care for stereo remixes just for remixing's sake.
The Supplements
There is a booklet with album artwork and very brief liner notes explaining the provenance of the new high-resolution remixes.
The Final Assessment
A milestone in 1980s modern rock/alternative music, Love and Rockets – Seventh Dream of a Teenage Heaven gets finds new life in this high-resolution Pure Audio Blu-ray release from Beggars Banquet. The 5.1 mix is a modest, yet enjoyable one that stays faithful to the '80s original. Fans should love it. The 2.0 remix brings the stereo mix into a new era without making it seem like a re-recording or a terrible mastering.
Love and Rockets: Seventh Dream of a Teenage Heaven (TheaterByte Blu-ray Audio Review)
Beggars Banquet
Label/Distributor
John A. Rivers and Love and Rockets | 5.1 remixes by Neil Wilkes and B.J. Cole | Stereo remixes by Neil Wilkes
Producer
$24.98
MSRP
DTS-HD MA 5.1 (96kHz/24bit) | LPCM 5.1 (96kHz/24bit) | LPCM 2.0 Stereo (96kHz/24bit)
Audio
Summary
A timeless '80s pop/rock alternative album that has some dated moments, but overcomes its shortfalls by being anchored in the rock of giants like Bowie, The Velvet Underground, The Beatles, and Pink Floyd, while nodding at the current trends of synth-pop, New Romantics, and dance. It gets a refreshing hi-res update, newly remixed in 2.0 and 5.1, on Pure Audio Blu-ray by Beggars Banquet.
What people say... Login to rate
Be the first to leave a review.
Show more