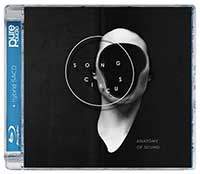 21st century Norway appears to have no shortage of avant-garde musical groups and Song Circus is a prime example of what is currently happening in the Oslo music scene. In addition to the accompanying musicians or sound effect specialists, the Song Circus singers are Liv Runesdatter, Eva Bjergen Haugen, Anita Kaasboll, Maria Norseth Garli, Stine Janvin Matland, and Ronnaug Bakke, . Their début album for 2L Records is Anatomy of Sound and features two pieces composed specifically with this group in mind.
Ruben Svere Gjertsen, an acclaimed Norwegian modernist, contributes the opening title, Landscape with Figures, a 45-minute composition in twelve "scenes" with singers and accompanying electronics. The soloists are placed around the listeners and there is a loudspeaker set up that emits the synthesized effects in a holographic, three-dimensional space. The voices are used in a variety of ways to convey sound rather than words while the electronic effects include the both mechanical and natural sounds. Persefone is a 12-minute composition by fellow prize-winning Norwegian Ole-Henrik Moe and presents a microtonal score to the singers who are accompanied by wineglasses. Persephone, Goddess of the Underworld and Vegetation, receives an ethereal vocal sendoff that envelops her audience
While both works present very modernistic material to the ensemble, they share a common feature in how sound space is created and how voices are molded to generate a wide spectrum of effects. In either case, the vocalise provided by Song Circus is never less than stimulating and demonstrates the obvious results of close collaboration with the composers. The verisimilitude of spontaneity and improvisation in each composition belies the careful notation and coordination of voice and sound effects whether electronic (Landscapes) or physical (Persefone).
The Audio
The DXD audio (352.8kHz/24-bit) master was mixed down to the eventual 5.0 DTS- HD Master Audio or 2.0 LPCM (both 192kHz/24-bit); there is a separate Auro-3D 9.0 (96kHz/24-bit) version. There are no recording session diagrams but it is obvious that the same central array of microphones used in other 2L recordings captured the voices and their accompaniment to surround listeners in an otherworldly wash of sound. In all fairness, as I do not have Auro-3D capability (my processor converts this format to 5.1 DTS-HD Master Audio 96kHz/24-bit), I can only imagine how the height channels would contribute to the listening experience.
The Supplements
2L gives us both an outstanding hybrid multi-channel SACD and MP3 and FLAC downloads via mShuttle. Unlike most of this label's bonuses, the program booklet is rather Spartan and tells us relatively little about the pieces or the performers.
The Final Assessment
This Pure Audio Blu-ray Disc will prove tough sledding for many listeners, even the hardcore avant-gardists. Excellent production values aside, the episodic cacophony of Landscapes and the vocal recycling of Persefone may engender substantial aural fatigue. While I understood the concepts of this program, it simply did not generate the usual enthusiasm that I experience from 2L's modern music releases.
Song Circus: Anatomy of Sound (TheaterByte Blu-ray Audio Review)
November 13, 2015
Release Date
PCM 2.0 Stereo (192k/24b); DTS-HD-MasterAudio 5.0 (192k/24b); Auro-3D 9.0 (96k/24b); DSD; mShuttle (mp3/FLAC)
Audio
Summary
This choral recital of avant-garde Norwegian music may prove quite challenging to even the most adventurous fans of new millennium modernism.
What people say... Login to rate
Be the first to leave a review.
Show more