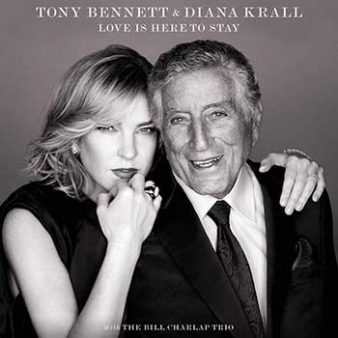 What happens when you order a glass of vintage chardonnay and then follow it with a snifter of rare cognac? Well, you get the pairing of jazz pianist/vocalist Diana Krall and legendary crooner Tony Bennett. To cover all their bets, these two artists take on some of the best-loved selections from the Great American Songbook written by George and Ira Gershwin, possibly the all-time greatest brother act in our popular music pantheon.
Diana Krall is certainly no newcomer to classic American tunes and, in her concerts that we have attended, her playlist always manages to include at least one Gershwin number. Nonagenarian Tony Bennett needs no introduction and has been in front of the music-loving public for nearly seven decades.  In a recent NPR interview, Bennett and Krall describe the process of recording this new album live in the studio, and the takeaway is that both are instinctual musicians that simply "feel" each other's improvisatory vibes during a performance. The result, listed below, is a recital of a dozen Gershwin songs that have become standards in the popular music repertory.
'S Wonderful  (2:50)
My One And Only  (2:48)
But Not For Me (3:05)
Nice Work If You Can Get It (2:45)
Love Is Here To Stay (4:26)
I Got Rhythm (1:57)
Somebody Loves Me (3:40)
Do It Again  (2:53)
I've Got A Crush On You (3:58)
Fascinating Rhythm (2:41)
They Can't Take That Away From Me (3:23)
Who Cares? (1:56)
Ten of the selections mix peppy duets and romantic ballads, leaving a soulful solo "But Not For Me" for Diana Krall and a wistful reminiscence, "Who Cares," for Tony Bennett that closes the program. The award-winning Bill Charlap Trio  provides the musical accompaniment with Charlap at the piano, partnered by bassist Peter Washington and drummer Kenny Washington (no relation).
Love Is Here To Stay is a virtual masterclass in musical collaboration that is both seamless and absolutely spontaneous, giving the impression that each number was recorded in a single take. I continually marveled at the Bennett voice that is continues to be produced with his trademark smooth delivery. Krall is a consummate artist who knows exactly when to let the music go and when to rein it in.
The Audio
The studio acoustic is very intimate yet very open with Bennett and Krall placed near the center and slightly in front of the trio. Vocals are warm and vibrant while the individual instruments, particularly the piano and its complex harmonics, sound quite realistic, overtones, pedals and all.
The Supplements
A photo of Krall and Bennett grace the "cover" as a .pdf file.
The Final Assessment
This is a self-recommending release that might be Tony Bennett's recorded swan song  but with this seemingly ageless singer you just never know. I only wish that we had received more playing time but, at this point in the Bennett career, we should be happy with what we do get in yet another program proving that age is nothing but a number. Highly recommended.
Tony Bennett & Diana Krall: Love Is Here To Stay is available for download from HDTracks
[amazon_link asins='B07FJ9ZMMW' template='ProductAd' store='theaterbyte-20′ marketplace='US' link_id='f743b153-c279-11e8-aa38-235864d8784f']
Verve | Columbia
Label/Distributor
Tony Bennett | Diana Krall
Artist
14 Sept. 2018
Release Date
PCM 2.0 (96kHz/24-bit)
Audio
Summary
An all-Gershwin playlist by legendary singer Tony Bennett and star jazz pianist/vocalist Diana Krall that is treasurable and an absolute must for those who understand the value of collegiality and super musical talent that know neither the boundaries of time nor age.
What people say... Login to rate
Be the first to leave a review.
Show more