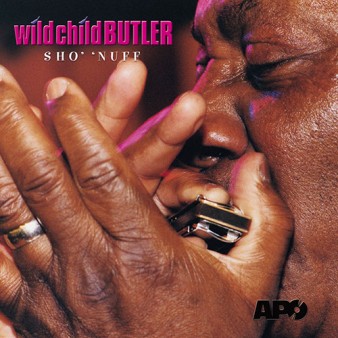 – –
The Album
[Rating:4.5/5]
The list of the original Delta blues and soul artists continues to shrink and, unfortunately, George "Wild Child" Butler was scratched off this list by his untimely death in 2005.  Like many of his musical colleagues with equally colorful monikers, Muddy Waters, "Sonny Boy" Williamson, and Howlin' Wolf (to name but a few), Butler launched his career after moving to Chicago in the 1960s.  The "Wild Child" made a limited number of commercial recordings, and, this 2001 Sho' 'Nuff was his final studio effort. Great blues performers have distinctive styles and Butler certainly qualifies on this count.  Butler's unique vocals and harmonica receive great back up from guitarists Jimmy D. Lane and Jimmie Lee Robinson (on "You Had Quit Me), bassist Bob Stroger, and drummer Sam Lay.
The playlist includes:
Open Up Baby (3:13)
You Had Quit Me (5:29)
I Got To Go (Sweet Daddy-O) (5:07)
Can You Use A Man Like Me (4:26)
Moaning Moaning (5:55)
Slippin' In (2:15)
Funky Things (3:28)
Maryanne (4:10)
It's All Over (3:42)
Loving (4:52)
Achin' All Over (4:18)
I Changed (6:49)
Baby I Can't Exist (5:50)
APO Records has become a leading label for mining the rich archives of old and new blues artists and is a division of Chad Kassem's Acoustic Sounds (www.acousticsounds.com). Sho''Nuff has also been released as a Red Book CD, 45-RPM vinyl record, hybrid stereo SACD, and FLAC files with 88.2kHz/24-bit or 44.1kHz/24-bit resolution. The present recording, and subject of this review, is now available on high-resolution FLAC (176.4kHz/24-bit) and DSD 64 (DSF 1-bit/2.8mHz) files each of which will require about 2.5 gigabytes of storage space.
Audio Quality
[Rating:5/5]
Blue Heaven Studios in Salina, Kansas, is a no-holds-barred recording venue, housed in a renovated Gothic church. Recordings from this site are characterized by their good sound balance and naturalness. This album, laid down shortly after the studio was opened, has all of these audio virtues.  You can practically feel the spit on Butler's harmonica, hear his foot tap on the wooden floor, and sense his breathing between notes. The sideman are also well defined and appropriately distributed around the soloist.  The big soundstage comes across in track 6, "Slippin'" where Wild Child and his band mates really just wail and jam.
Since I received both the highest resolution FLAC format and the DSD version I was able to compare them on a track-by-track basis. There has been considerable chatter on whether a compressed format like FLAC is sonically inferior to the uncompressed WAV format.  Relatively little has been aired about the comparison of high-resolution FLAC to DSD 64 (1-bit Sigma-Delta conversion) files so this evaluation turned into an interesting experiment.
Cutting to the chase, both versions sounded mighty good and had I not heard the DSD program, I would have been quite content with the hi-res FLAC files.  Going back and forth on my trusty Oppo BDP-105 (SACD setting on the player's menu set to DSD), the differences between the two versions were not earthshaking. Butler's voice had a smidge more presence on the DSD and the overall body given to the instruments was more palpable with a greater sense of air. The DSD presented a bass line in track 4, "Can You Use A Man Like Me," that was fatter without bloat or loss of definition. The DSD also gave Butler's harmonica a better presentation of its overtones.
Supplemental Materials
[Rating:2.5/5]
Cover art and recording credits are provided. There are extensive liner notes by Marc Sheforgen that give us personal insights into Wild Child's life and career.
The Definitive Word
Overall:
[Rating:4.5/5]
We should be grateful to APO Records for capturing this blues legend in his prime with a soulful program that simply commands your attention. I preferred the DSD recording as it presented a more realistic sound perspective with noticeably greater impact, but potential buyers of this format need to check their digital players for DSD file compatibility. Sonore has a database of players that can play these files .You will note that a number of the devices are quite pricey. Regardless of the version chosen, all blues enthusiasts need to put this one in their library. To quote the Wild Child himself, "If you can't dig these blues, then you got a hole in your soul." Sho"Nuff!