Owners of 3D televisions and Blu-ray players that aren't branded "Panasonic" have had to either suffer the inability to watch a Blu-ray 3D release of the biggest 3D movie to hit theatres in recent years or navigate the secondary market to secure themselves a copy at a premium. Now the wait and all the difficulties are over. First through an exclusive announcement to Facebook fans and now to the general press, Fox has announced the forthcoming October 15, 2012 (Globally) and October 16, 2012 (North American) release of James Cameron's science fiction blockbuster Avatar on Blu-ray 3D with the the two-disc AVATAR 3D Blu-ray Collector's Edition. Of course, readers of TheaterByte have been able to check out our review of the Panasonic exclusive 3D release for quite some time already. See the press release below for cover art and further details.
##
PANDORA COMES TO LIFE LIKE NEVER BEFORE WITH
THE ULTIMATE HOME VIEWING EXPERIENCE
AVATAR
ON BLU-RAY 3D
Over 33 Million Facebook Fans Receive Exclusive
Global Announcement as the Film That Became a Worldwide
Phenomenon Arrives on Blu-ray 3D in October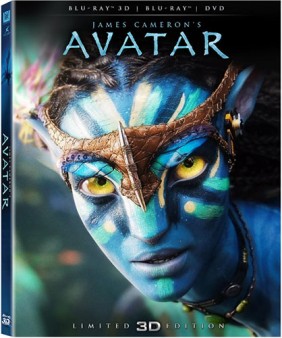 LOS ANGELES, CA. (August 14, 2012) – The world of Pandora has never looked better as over 33 million AVATAR Facebook fans were the first to learn of the upcoming release of the AVATAR Blu-ray 3D Collector's Edition, debuting globally beginning October 15, releasing in North America October 16, from Twentieth Century Fox Home Entertainment. A home entertainment experience like no other, for the first time ever, fans will be able to welcome James Cameron's global box office sensation into their homes in stunning 3D high-definition.
"3D television is the future of home entertainment," said James Cameron, the Oscar® winning Director. "I'm a huge proponent of the technology and very pleased that AVATAR can be viewed in the living room the way it is meant to be seen."
"As the number of homes with 3D televisions continues to grow, we thought it was important to bring the biggest 3D film ever right into your living room," continued Jon Landau, Academy Award® winning Producer of Avatar. "This is the only way fans should experience the world of Pandora and this release offers the highest picture quality possible. "Previously only available to consumers through an exclusive deal with Panasonic, the two-disc AVATAR 3D Blu-ray Collector's Edition will feature the original theatrical release and be available in all-new collectible packaging. Seen by more than 310 million people worldwide, the Oscar and Golden Globe winning epic is the highest grossing film of all time, taking in more than $2.7 billion in worldwide box office. It is also top-selling Blu-ray disc of all time.
##
[amazon-product]B008XBCJ34[/amazon-product]