Perhaps because they are such an enjoyable way to watch movies and more, Blu-rays also make the perfect gift. There's something for every taste, for every budget, and hey: They're a snap to wrap!
With the high-def disc format more popular than ever as we head into the 2010 gift-giving season, we've rounded up what we consider to be the absolute best of the best, even if the recipient is you.
LOST The Complete Collection (Walt Disney)
Dude: LOST was a trip. So who's ready to take it again? All six seasons (some shorter than others, owing to a writer's strike) of the audacious fantasy/drama series beg to be reexamined, for clues to a series of intertwined mysteries that still has me scratching my head, in a (mostly) good way. The show boasted excellent production values and so it looks/sounds terrific on Blu-ray, and the vast array of companion featurettes and occasional commentaries serve to expand an already epic experience.
In keeping with the conundrums of The Island, the enormous box begs to be explored, with a home version of the board game played by Jacob and the Man in Black, secret notes, and a 36th disc hidden somewhere inside. To find it, well, let's just say that the Dharma Initiative blacklight flashlight isn't just an idle trinket. In more ways than one, this is a gift that LOST fans will appreciate throughout the coming year, and beyond.
(Read our review of LOST: The Complete Sixth and Final Season on Blu-ray)
Lost: The Complete Collection [Blu-ray] on Amazon.com
Back to the Future 25th Anniversary Trilogy (Universal Studios)
Slick new audio/video remasters of the threesome are paired with handy Digital Copies for computer/portable use, so we need never go without a little comedic time travel. Many of the extras have been happily recycled here from previous releases, like leftovers feeding a DeLorean-powering Mr. Fusion reactor. But the Blu-ray Bonus View features really celebrate what a well-thought-out endeavor this extended production was, and the new six-part documentary not only gives us welcome perspective from heavyweights like Steven Spielberg and Robert Zemeckis but a glimpse of an alternate past, where Eric Stoltz stars as Marty McFly.
Back to the Future: 25th Anniversary Trilogy (+ Digital Copy) [Blu-ray] on Amazon.com
Alien Anthology Limited Edition, a.k.a. "The Guardian"/Comicon Egg Package (FoxConnect.com Exclusive)
It's a cool statue to display proudly in the home theater! It's one of the best Blu-rays of the year… to play proudly in the home theater! Sideshow Collectibles' meticulously sculpted/painted work of art lights up, too, and is battery-operated so it can find a home anywhere, although if your cat is anything like mine, he/she will probably steer clear. And tucked inside the base is the acclaimed six-disc Alien Anthology, celebrating the highs of the four-film series (the first two films) along with the lows (the subsequent two) with new HD masters for all. (The original Alien is the bravura standout.)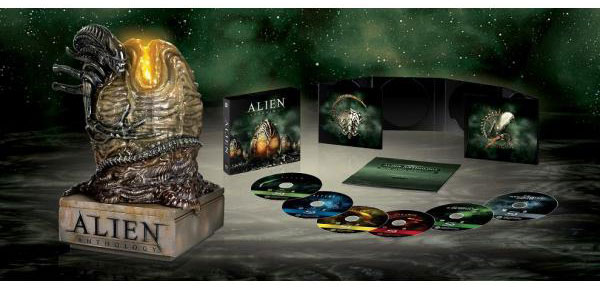 The ample supplements across the set include commentaries and alternate cuts for all movies, plus bonus discs and a sophisticated new way to access it all, provided we have a remote and a lot of time to invest. Even without big, glowing egg, Alien Anthology is a must-give.
The Sound of Music Limited Edition Collector's Set (Fox)
We need only sit through a few songs–in glorious new DTS-HD Master Audio 7.1–to understand why this enthralling, mostly-true story was once the highest-grossing movie in Hollywood history. With layers of Bonus View interactivity, 45 years' worth of featurettes, a DVD copy and a deluxe soundtrack CD, this would already be one of the best discs of the year. But this impressive, giftable box goes beyond the beyond by adding a hand-painted music box, a set of six picture postcards of the cast in the beautiful Austrian locations, a miniature replica of the original theatrical program, and the photo-packed, well-researched book A Few of Our Favorite Things: The Sound of Music Scrapbook by Lee Pfeiffer and Dave Worrall.
(Read our complete review of The Sound of Music: 45th Anniversary Edition on Blu-ray)
The Sound of Music (Limited Edition Collector's Set) [Blu-ray/DVD Combo] on Amzon.com
Toy Story Ultimate Toy Box Collection (Walt Disney)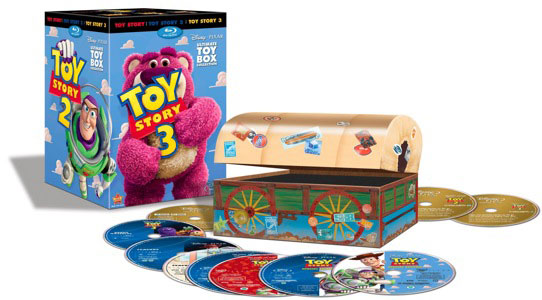 This is one of the easiest recommendations I've ever made. Here are three of the most entertaining family films we'll ever see, and Pixar animation looks fabulous in HD. This set adds a host of new and classic bonus materials, DVDs of the entire trilogy, as well as Digital Copies. (The previous, individual releases of Toy Story and Toy Story 2 did not include the Digital Copy!) The cardboard toy box package, lined with protective foam, only serves to further the ruse: Dads, tell your wives that this hundred-dollar bundle is for the kids, when really it's an Ultimate indulgence for the resident home theater buff.
(Read our review of Toy Story 3 on Blu-ray)
Toy Story Trilogy (10-Disc Blu-ray/DVD Combo + Digital Copy) on Amazon.com
Shrek: The Whole Story (Paramount/DreamWorks)
Ogres are doing their part both to push the Blu-ray format forward and to provide welcome economic relief, with a well-equipped four-disc set at a crazy-low price ($44.99), comparable to what some single-movie Blu-rays go for. PDI/DreamWorks' digital animation looks terrific in crystal-clear high-definition that allows us to observe the nine-year evolution of their craft, most evident in the lighting and the textures and the movement.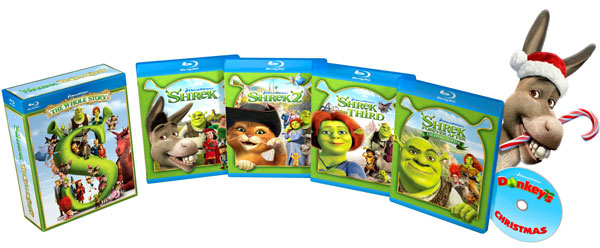 The Blu-ray-exclusive special features are neatly called out, with "The Animators' Corner" Bonus View picture-in-picture and the "Shrek's Interactive Journey" user-controlled art galleries provided across the entire series. With the fourth and final installment, Shrek Forever After, arriving on home video for the first time just a couple of weeks before Christmas, there are carols and a virtual Yule log and more holiday-themed fun riding along on this platter. Some of the better, older bonus content from the Shrek, Shrek 2 and Shrek the Third DVDs has even been remastered for HD, notably the fully-animated karaoke bits.
All in all, this handsome set (you know what I mean) makes an impressive yet affordable Blu-ray gift.
Shrek: The Whole Story Boxed Set (Shrek / Shrek 2 / Shrek the Third / Shrek Forever After) [Blu-ray] on Amazon.com
Deadwood The Complete Series (HBO)
A welcome arrival for folks who don't subscribe to HBO, or who were not HD-ready before the warts-and-all Western completed its three season run in August of 2006. Upon repeat viewing, the beauty beneath Deadwood's infamous harshness (you've probably never heard the F-word uttered this many times outside of a Kevin Smith movie) becomes apparent, revealing it as the small-screen quasi-masterpiece it truly is. In addition to the 36 hour-long episodes, this handsome set offers several hours of extras, including insightful featurettes looking back at the entire run plus the actual lawless burg of Deadwood from Old West legend. There are also quite a few commentaries by the creators, with a strong emphasis on the talented ensemble cast.
(Read our complete review of Deadwood: The Complete Series on Blu-ray)
Deadwood: The Complete Series [Blu-ray] on Amazon.com
The BBC High Definition Natural History Collection 2 featuring LIFE (BBC/2 entertain)
There have been nature documentaries as long as there have cameras, but in recent years the BBC has rightly earned a reputation for sharing with TV audiences a slew of natural wonders that we never even knew existed. Headlining this new compendium is Life (a sticker on the package assures us that it's the original version with narration by noted expert David Attenborough, widely considered superior to the Oprah Winfrey version), joined by Nature's Most Amazing Events, South Pacific and Yellowstone. The different titles provide unique perspectives on topics broad and broader, with an undeniably pro-environmental subtext.
These nine discs are a special treat for the Earth-curious because best-ever video cameras were utilized by the most dedicated, patient filmmakers in the world to capture some of the most elusive moments of life on our amazing planet, some never before seen. It's a staggering combination. As further proof, every episode in each series includes a brief behind-the-scenes study that finally gives the hardworking crew its due.
(Read our reviews of Life (Oprah version), Yellowstone: Battle for Life, and Nature's Most Amazing Events)
The BBC High-Definition Natural History Collection 2 (Life / Nature's Most Amazing Events / South Pacific / Yellowstone) [Blu-ray] on Amazon.com
Peanuts Deluxe Holiday Collection Ultimate Collector's Edition (Warner)
It's only right that we include a title that encompasses three of the biggest celebrations of the fourth quarter, here in a generous assemblage that includes companion DVDs for each of the trio of Blu-rays, always handy when titles span the generation gap. It's the Great Pumpkin, Charlie Brown and A Charlie Brown Thanksgiving are here, along with A Charlie Brown Christmas of course, where animated Peanuts all began, remastered in pleasing HD. And, since it's the holiday season, every disc features a bonus visit with Charlie Brown: It's Christmastime Again, It's Magic and The Mayflower Voyagers, plus a "making of" for all the classics. The ride-along goodies make this big blue box "Ultimate," starting with a set of festive window cling decorations made of a surprisingly thick gel. The "snowglobe" however isn't really snowglobe at all, rather a Lucite lenticular slab that alternates between three scenes of the gang frolicking in the winter whiteness.
(Read our complete review of the Peanuts Deluxe Holiday Collection on Blu-ray)
Peanuts Deluxe Holiday Collection (Ultimate Collector's Edition) [Blu-ray] on Amazon.com
"Jingle Bells, War Is Hell…"
While it might not be in keeping with the most joyful traditions of the season, a conspicuous number of the standout Blu-rays being proffered by the studios just in time for gift-giving center upon The Great War and the men who fought it:
The World at War (A&E)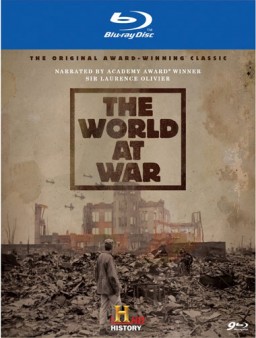 Thirty-seven years after it first aired on British television, The World at War still stands alone as the greatest documentary series about World War II for its depth, its thoroughness, and it doesn't hurt to have Laurence Olivier as your host, either. While I remain a bit stymied by the decision to reformat the series–built around a treasure trove of 1930s/'40s 4:3 film footage–to an HDTV-friendly 1.78:1, the quality is clearly better than ever on Blu-ray. The extras manage to impress as well, with even more mini-documentaries, a handy interactive index to key content, plus insight into the making of the show and the production of this new set.
(Read our complete review of The World at War on Blu-ray)
The World at War [Blu-ray]
on Amazon.com
WW II in HD (A&E)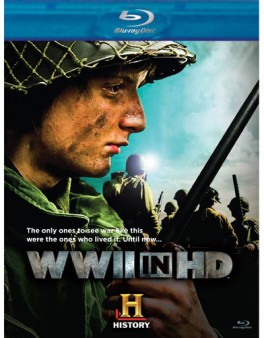 Motion picture film, any size, is fascinating in that proper restoration and transfer continues to yield new detail and nuance despite the assumed handicap of age. Witness the vintage clips assembled for WW II in HD, years in the discovery and reclamation. The original film elements are mostly 16mm, with no live audio, cropped here to 16:9,  and certainly not "showoff" quality, but something this significant demands nothing less than the finest presentation that current technology has to offer, and that means Blu-ray.
The stories of World War II have been dramatized countless times, but seeing the real people, places and events, in color, carries an impact that no Hollywood movie can match. Of course, these seven-and-a-half hours require context, and for this the producers have done tremendous research, culling information from historical documents as well as soliciting the reflections of surviving veterans. Like all documentaries, it plays a little fast and loose with the editing, but taken as a whole it serves as a powerful chronicle of a pivotal era in human history.
WWII in HD [Blu-ray] on Amazon.com
The Bridge on the River Kwai Collector's Edition (Sony)
David Lean's fictionalized World War II adventure comes inside hardbound "digi-book" containing the Blu-ray and a new DVD copy of the film with extras, housed in a slightly oversized slipcase. The Blu-ray is a stunning remaster that restores the original widescreen luster of the 1957 Best Picture Oscar-winner (although without the archival mono audio), with BD-Live connectivity as well. There's also a priceless old segment with stars William Holden and Alec Guinness on The Steve Allen Show, interactive on-screen text, and Holden's long-lost hosting duties from the Kwai premiere.
The Bridge on the River Kwai [Blu-ray] on Amazon.com
The Pacific

(HBO)
The Emmy-hogging ten-part mini-series has arrived in a six-disc megaset, locked and loaded in a full metal jacket, telling its story with a you-are-there immediacy in the 1080p video and DTS-HD Master Audio 5.1 sound that virtually puts us on the front lines of the Pacific theater. Exclusively on Blu-ray however, we're also given two flavors of Bonus View; unusual for TV on BD, and this is quite substantial content; one a fact-packed picture-in-picture across the ten hours, the other an interactive history lesson with maps, video, stills and more. The channel that gave us Band of Brothers (also available on Blu-ray) continues to show much respect to The Greatest Generation.
(Read our complete review of The Pacific on Blu-ray)
The Pacific (HBO Miniseries) [Blu-ray] on Amazon.com
3D
So you just unwrapped that nifty-new 3D-compatible LCD or plasma, and a companion Blu-ray player, and a high-speed HDMI cable, and a pair of glasses: Now what? Sports programming notwithstanding (I don't even like sports), nothing looks as good on a 3D TV as Blu-ray 3D. Until recently however, our options were extremely limited, with some of the most coveted 3D theatrical titles of the past couple of years being relegated to manufacturer-exclusive bundles. Standalone releases, with Sony's Cloudy with a Chance of Meatballs
leading the pack, were few and far between.
But just this month came signs that the floodgates are finally opening, with a smattering of big-screen documentaries and feature films.

Man, IMAX sure saw this whole Blu-ray 3D thing coming, didn't they? They have been producing roughly-40-minute nature and science programs for exhibition in their premium-format cinemas for years, giving them a ready supply of next-gen video content. Image Entertainment tenders for our enjoyment Grand Canyon Adventure: River at Risk
(IMAX), Wild Ocean
(IMAX), and Dinosaurs Alive!
(IMAX), all Amazon.com exclusives thru December 7th. The 8K video master at the heart of Grand Canyon Adventure, combined with the sweeping beauty of the scenery, make for a particularly jaw-dropping ride, even in 2D. (Per Blu-ray 3D specs, 3D content must be playable in 2D on older gear.) The colorful aquatic antics of Wild Ocean and the CGI dino battles in Alive! are no slouches either, with the dynamic three-dimensional effects benefiting from IMAX's relative experience in the brave new world of modern 3D.
Want more? Warner brings us a thrilling zero-gravity journey in IMAX Space Station 3D
and more marvels of the deep with IMAX Under the Sea 3D
. But most folks are partial to full-length feature films, and our choices are growing, from Robert Zemeckis' re-teaming with Tom Hanks, The Polar Express 3D
, to this year's remake Clash of the Titans 3D
, and the family-friendly (although it terrified one of my daughters) Cats & Dogs: The Revenge of Kitty Galore 3D
(all Warner). Most special features (where included) tend to be in 2D, with the digitally animated Looney Tunes theatrical short on Kitty Galore, "Coyote Falls" starring Road Runner, being an obvious exception.
New releases of full-length movies such as Clash and Kitty seem to be leaning toward separate discs for the 2D and 3D high-def versions. Warner also throws in a third disc, a hybrid DVD in standard-def which also piggybacks a Digital Copy for iTunes and Windows Media. Disney takes it a step (and a platter) further, with a separate Blu-ray, Blu-ray 3D, DVD and Digital Copy for their four-disc edition of Zemeckis' A Christmas Carol
, starring a performance-captured Jim Carrey, coincidentally the narrator of Under the Sea.
(Read our complete review of Disney's A Christmas Carol Blu-ray 3D)
…And For the Middle-Aged Curmudgeon on Your List
Some folks too old to make the Generation X cutoff might find themselves stuck in the past, clinging to the DVD format and eager to revel in their fondness for favorite old TV shows. It is with them in mind that I submit this guide's only DVD title, but it's a doozy:
The Six Million Dollar Man The Complete Collection (Time Life)
Sometimes it seems like every other show ever made has hit DVD already, so why was Six never before available in any home video format here in the U.S.? Time Life's magnificent 40-disc box is unquestionably worth the decades of waiting, although we might need a bionic arm to lift this five-season beast. It's even equipped with a sound chip spouting the familiar opening narration when we lift the lid, which bears a lenticular motion image of Running Steve Austin.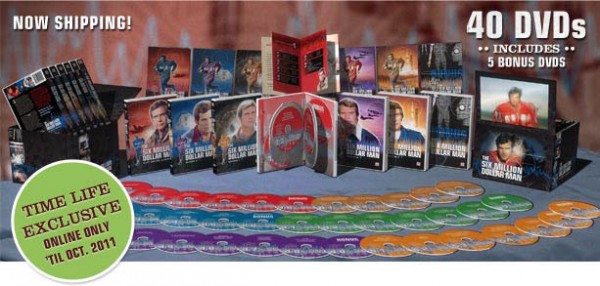 Steve might have been the TV hero of the Seventies, right down to his swanky leisure suits, and yet explaining the magnitude of his popularity to modern audiences is a challenge. His was a weekly action/adventure show like no other, wherein a scientifically enhanced flesh-and-blood tough-guy always managed to remain emotionally grounded throughout his many ass-kicking, death-defying undercover missions. And in real life, the leading man was married to guest star Farrah Fawcett fer cryin' out loud!
All 100 episodes are here, along with the Bionic Woman crossovers, the three pilot movies (who knew that America needed so much convincing?) and the three reunion movies, one featuring a young Sandra Bullock! There are also hours of featurettes exploring the show, the fans, the science of cybernetic organisms, but best of all might be the in-depth interviews with soft-spoken star Lee Majors.
And hey: With good 1080p upconversion, isn't everything–even 35-year-old TV on DVD–"Blu-ray Definition"?
(Thru October 2011, Six Million Dollar Man is available exclusively online, at www.6MDM.com.)
Join the Discussion on Our Forum
[facebook_ilike]