Universal Studios Home Entertainment will be bringing the hit comedy Bridesmaids, starring SNL's Kristin Wiig home to Blu-ray and DVD featuring an Unrated version of the already raunchy R-Rated wedding comedy.
The Blu-ray features a 2.35:1 widescreen high definition transfer with English DTS-HD Master Audio 5.1, DVS Dolby Digital 2.0, Spanish and French DTS Surround 5.1 and English SDH, Spanish and French subtitles.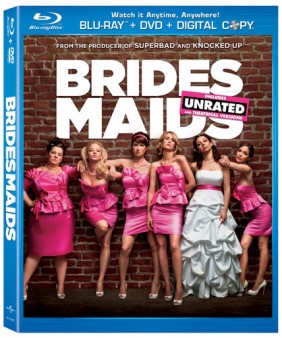 See press release below for special features and further details.
Press Release
September 20, 2011
"The Funniest Movie Ever!" – Shawn Edwards, Fox-TV
"If This is Only a Chick Flick, Then Call Me a Chick!" – Joe Morgenstern, The Wall Street Journal
Say "I Do" to the Blu-ray™ and DVD Combo Packs Featuring an Unrated Version of the Film Not Seen in Theaters Plus More than Three Hours of Laugh-Out-Loud Bonus Materials!
Also Available on DVD, Digital Copy and Digital Download
Join the wildest wedding party of the year when Bridesmaids marches down the aisle to Blu-ray™, DVD and digital download on September 20, 2011, from Universal Studios Home Entertainment.  Hailed as "brazenly hysterical" by People Magazine and "the best comedy of 2011" (Back Stage), Bridesmaids is the riotously funny and warmly outrageous comedy that has become the most talked about movie of the year.  Critically acclaimed by fans and media alike, the "certified fresh" film (Rotten Tomatoes.com) received "two thumbs up! ®" from Ebert Presents.  Surpassing Sex and the City as the number one R-rated female comedy of all time, Bridesmaids starring "Saturday Night Live" standouts Kristen Wiig and Maya Rudolph, is produced by comedy mastermind Judd Apatow (Knocked Up, The 40-Year Old Virgin) and marks his most successful film ever.
Wiig and Rudolph are joined by an all-star comedy cast including Rose Byrne (Get Him to the Greek, "Damages"), Melissa McCarthy ("Mike and Molly," "Samantha Who?"), Wendi McLendon-Covey ("Rules of Engagement," "Reno 911"), Ellie Kemper ("The Office," Somewhere), Jon Hamm ("Mad Men," SuckerPunch), and Chris O'Dowd ("The IT Crowd," Pirate Radio).  Directed by Paul Feig ("Nurse Jackie, "Arrested Development") and written by The Groundlings comedy veterans Annie Mumolo and Kristen Wiig, Bridesmaids is the must-own comedic phenomenon that fans will want to watch again and again!
The perfect gift or movie for a fun night in, consumers can own Bridesmaids in multiple formats, including Blu-ray™ Combo Pack, DVD Combo Pack, DVD and Digital Download.  Featuring spectacular high-definition picture and the purest digital sound, the Bridesmaids Blu-ray™ and DVD Combo-Packs include both a Blu-ray and DVD PLUS a digital copy of the movie that can be watched anywhere, anytime, on consumers' choice of devices including laptops, tablets, smartphones as well as Internet-connected TVs and Blu-ray™ set top boxes. The Blu-ray™, DVD and DVD Combo Packs each include an all-new, never-before-seen unrated version of the film as well as feature the original theatrical version. Additionally, the Blu-ray™ and DVD Combo Packs are loaded with nearly three hours of bonus features, deleted scenes, a gag reel, a Bridesmaids "Making Of," featurettes, and much, much more.  There's no better way to enjoy this instant classic!
EXCLUSIVE BLU-RAY BONUS FEATURES:
DIGITAL COPY:  Viewers can redeem a digital version of the full-length movie to watch on an array of electronic and portable devices.
GAG REEL (Blu-rayTM Version)
DELETED SCENES:  Tons of deleted scenes, plus a never-before-seen "commercial" for Brynn and Gil's
Oo-Laka Juice.
EXTENDED & ALTERNATE SCENES:  Tons of extended and alternate scenes featuring the bridesmaids, the boyfriends, the roommates, Cholodecki's employees and customers, and the hilarious "stolen" boot camp class.
MADE OF HONOR:  BEHIND THE SCENES OF BRIDESMAIDS:  A behind-the-scenes "Making Of" the film featuring Maya Rudolph, Kristen Wiig, Rose Byrne, Melissa McCarthy, Wendi McLendon-Covey, Ellie Kemper, writer Annie Mumolo, director Paul Feig and producer Judd Apatow, among others.
DRUNK-O-RAMA:  Featuring Kristen Wiig's greatest moments on the plane.
PEP TALK: Featuring Kristen Wiig on the tennis court
ANNIE VS. HELEN:  A montage of Bridesmaids frenemies' – Kristen Wiig's "Annie" and Rose Byrne's "Helen" – best and worst moments together.
"HOLD ON:" Full song performance of Wilson Phillips' hit "Hold On."
BD-LIVE™:  Access the BD-Live™ Center through your Internet-connected player to watch exclusive content, the latest trailers and more!
pocket BLU™:   The groundbreaking pocket BLU™ app uses iPad®, iPhone®, iPod®  touch,  Android™, PC and Mac®  to work seamlessly with a network-connected Blu-ray™ player.  Plus iPad® owners can enjoy a new, enhanced edition of pocket BLU™ made especially to take advantage of the tablet's larger screen and high resolution display.  Consumers will be able to browse through a library of Blu-ray™ content and watch entertaining extras on the go in a way that's bigger and better than ever before.  pocket BLU™ offers advanced features such as:

ADVANCED REMOTE CONTROL: A sleek, elegant new way to operate your Blu-ray™ player. Users can navigate through menus, playback and BD-Live™ functions with ease.
VIDEO TIMELINE:  Users can easily bring up the video timeline, allowing them to instantly access any point in the film.
MOBILE-TO-GO:  Users can unlock a selection of bonus content with their Blu-ray™ discs to save to their device or to stream from anywhere there is a Wi-Fi network, enabling them to enjoy content on the go, anytime, anywhere.
BROWSE TITLES:  Users will have access to a complete list of pocket BLU™-enabled titles available and coming to Blu-ray™ Hi-Def.  They can view free previews and see what additional content is available to unlock on their device.
KEYBOARD:  Entering data is fast and easy with your device's intuitive keyboard.
MY SCENES: Bookmark your favorite scenes from the film.
uHEAR™:  Never miss another line of dialogue with this innovative feature that instantly skips back a few seconds on your Blu-ray™ disc and turns on the subtitles to highlight what you missed.
BLU-RAY AND DVD BONUS FEATURES
FEATURE COMMENTARY: With director Paul Feig, co-writer Annie Mumolo and cast members Kristen Wiig, Maya Rudolph, Melissa McCarthy, Wendi McClendon-Covey and Ellie Kemper.
GAG REEL (DVD Version)
LINE-O-RAMA
ADDITIONAL DELETED SCENES
ADDITIONAL EXTENDED & ALTERNATE SCENES
CHOLODECKI'S COMMERCIAL:  Check out what's new with Cholodecki's when you watch the never-before-seen "commercial" from Annie's jewelry employer!
SYNOPSIS
"Gut-bustingly funny!"(Owen Gleiberman, Entertainment Weekly) From the producer of Superbad, Knocked Up and The 40-Year-Old Virgin comes the breakout comedy critics are calling "brazenly hysterical!" (Alynda Wheat, People). Thirty-something Annie (Kristen Wiig) has hit a rough patch but finds her life turned completely upside down when she takes on the Maid of Honor role in her best friend Lillian's (Maya Rudolph) wedding. In way over her head but determined to succeed, Annie leads a hilarious hodgepodge of bridesmaids (Rose Byrne, Melissa McCarthy, Wendi McLendon-Covey and Ellie Kemper) on a wild ride down the road to the big event.
CAST AND FILMMAKERS
Directed By: Paul Feig
Screenplay By: Kristen Wiig, Annie Mumolo
Produced By: Judd Apatow, Barry Mendel, Annie Mumolo, Clayton Townsend, and Kristen Wiig
Executive Producers: Paul Feig
Director of Photography: Robert D. Yeoman
Production Designer: Jefferson Sage
Editors: William Kerr, Michael L. Sale
Music By: Michael Andrew
Costume Designer: Leesa Evans, Christine Wada
Cast: Kristen Wiig, Maya Rudolph, Rose Byrne, Melissa McCarthy, Wendi McLendon-Covey, Ellie Kemper and Jon Hamm
TECHNICAL INFORMATION:  BLU-RAY™/DVD COMBO PACK:
BLU-RAY™ COMBO SPECIFIC INFORMATION:
Street Date: September 20, 2011
Copyright: Universal Studios 2011
Selection Number: 61119645
Running Time: 2 Hours 5 Minutes / 2 Hours 11 minutes
Layers:  BD-50/DVD-9
Aspect Ratio: 2.35:1 – Widescreen 2.40:1
Rating: R for some strong sexuality and language throughout/ Unrated
Sound: English DTS-HD Master Audio 5.1/DVS Dolby Digital 2.0, Spanish and French DTS Surround 5.1
Language/Subtitles: English SDH, Spanish, French
DVD COMBO SPECIFIC INFORMATION:
Street Date: September 20, 2011
Copyright: Universal Studios 2011
Selection Number: 61119956
Running Time: 2 Hours 5 Minutes / 2 Hours 11 minutes
Layers:  BD-50/DVD-9
Aspect Ratio: 2.35:1 – Widescreen 2.40:1
TECHNICAL INFORMATION:  BLU-RAY™/DVD COMBO PACK CONTINUED:
DVD COMBO SPECIFIC INFORMATION:
Rating: R for some strong sexuality and language throughout/ Unrated
Sound: English DTS-HD Master Audio 5.1/DVS Dolby Digital 2.0, Spanish and French DTS Surround 5.1
Language/Subtitles: English SDH, Spanish and French
TECHNICAL INFORMATION: SD DVD
Street Date: September 20, 2011
Copyright: Universal Studios 2011.  All Rights Reserved.
Selection Number:  61115600
Running Time: 2 Hours 5 Minutes / 2 Hours 11 minutes
Layers: Dual Layer
Aspect Ratio: Theatrical 2.35:1 – Anamorphic Widescreen 2.40:1
Rating: R for some strong sexuality and language throughout/ Unrated
Languages/Subtitles: English SDH, Spanish and French Subtitles
Sound: English Dolby Digital 5.1/DVS Dolby Digital 2.0, Spanish and French Audio Dolby Digital 5.1
###
[amazon-product]B00466HN7W[/amazon-product]