Warner has announced the forthcoming Blu-ray Book release of the classic Clint Eastwood western The Outlaw Josey Wales on June 7th, 2011, at a suggested retail price of $34.99. The release will feature a 32-page Blu-ray book, a new documentary featuring Eastwood, Morgan Freeman, Oliver Stone, and James Mangold,  a new commentary  by Richard Schickel, and two vintage featurettes: Eastwood in Action and Hell Hath No Fury. The Blu-ray's tech specs feature a 2.40:1 high definition encoding.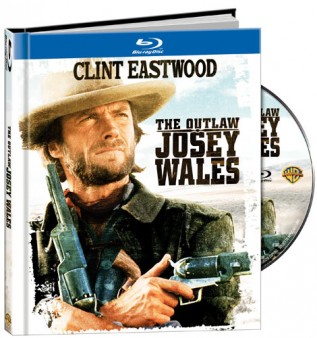 Film synopsis:
As The Outlaw Josey Wales, four-time Academy Award winner* Clint Eastwood is ideally cast as a hard-hitting, fast-drawing loner, recalling his "Man with No Name" from his European Westerns. But unlike that other mythic outlaw, Josey Wales has a name – and a heart.
After avenging his family's brutal murder, Wales is on the lam, pursued by a pack of killers. He travels alone, but a ragtag group of outcasts (including Sondra Locke and Chief Dan George) is drawn to him – and Wales can't leave his motley surrogate family unprotected. Eastwood's skills behind and in front of the camera connected with audiences for its humor and tenderness as well as its hair-trigger action.
Additionally, Warner will be releasing two new Clint Eastwood Blu-ray double features, each priced at a suggested retail price of $19.98,  featuring the Blu-ray debuts of Any Which Way You Can, which will be doubled with Every Which Way But Loose and the Blu-ray debut of Firefox, doubled with Heartbreak Ridge.