Dark Sky Films has announced the home video release of director Adam Green's controversial slasher flick, Hatchet II, on Blu-ray and DVD February 2, 2011 at a suggested retail price of $34.98 (Blu-ray) and $27.98 (DVD) respectively. Full details in the press release below: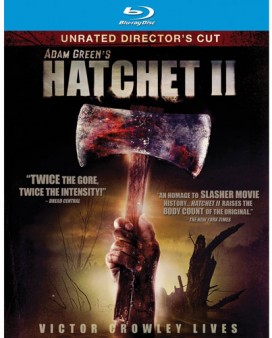 FOLLOWING THE HIGHLY CONTROVERSIAL THEATRICAL RUN, THE HOTLY ANTICIPATED FILM IS AVAILABLE ON
DVD AND BLU-RAY
HATCHET II

Sequel to the Indie Sensation, Featuring the Return of Victor Crowley and Starring Horror Icons Danielle Harris, Tony Todd and Kane Hodder Arrives on DVD and Blu-ray February 2, 2011
"An homage to slasher-movie history – HATCHET II raises the body count of the original while retaining Mr. Green's signature wit. … Fans of the original will thrill to the increased creativity of Crowley's power-tool repertory," wrote Jeannette Catsoulis in The New York Times
"Twice the gore, twice the intensity!" – Dread Central
The first unrated independent horror film to be exhibited by a major theater chain in more than 25 years, only to be yanked from screens almost immediately, HATCHET II debuts on Blu-ray and DVD in its original unrated and uncensored cut – loaded with bonus features. Adam Green's headline grabbing HATCHET II will be available on Blu-ray and DVD on February 2, 2011, with SRPs, respectively, of $34.98 and $27.98.
HATCHET II picks up right where the original Hatchet ended. The quiet but hot-tempered Marybeth (Danielle Harris, Halloween) barely escapes the clutches of the mysterious Crowley (Kane Hodder, Friday the 13th), who has already murdered all of Marybeth's friends and other vacationers in New Orleans swamp country.
Marybeth recruits a team of hired guns and returns to the bayou to exact her revenge, but quickly discovers that even with an army of hunters at her side the murderous fury of Crowley cannot be contained. Ultimately, it will be up to Marybeth alone to defeat the seemingly indestructible Crowley, but not before learning the truth about a twisted secret he shares with her own family.
The film stars some of the most iconic names in horror including Kane Hodder (aka Jason Voorhees), Tony Todd (Candyman), Tom Holland (Director of Child's Play), R.A. Mihailoff (aka Leatherface) and scream queen Danielle Harris (Rob Zombie's Halloween, Stake Land).
Filled with "buckets of giddily over-the-top blood 'n' guts" (The Hollywood Reporter), HATCHET II serves up a ferocious and furious dose of splatterific entertainment – just like in the old days. "Victor Crowley is the next icon of horror," praised Ain't It Cool News.
Variety's Joe Leydon added to the chorus of approval: "Writer/director Adam Green offers another super-sized dose of bone-shattering, blood-spattering mayhem." "Green's craft cuts deep – he's a smart, brutal puppet master who knows the power in his strings," raved Box Office Magazine's Amy Nicholson. And The Onion AV Club gave this fear fest the highest honor when it said it "is distinguished both by a funky, frisky sense of humor, and gore of great quality and quantity."
Bonus features on the DVD and Blu-ray include:
"Hatchet II: Behind the Screams"
Trailers, Teaser, TV Spot, Radio Spot
Production Audio commentary track featuring writer/director Adam Green, Cinematographer Will Barratt, and Make-up Effects Supervisor Robert Pendergraft
Cast Audio commentary track featuring writer/director Adam Green and actors
Kane Hodder and Tony Todd
First Look: Hatchet II (Blu-ray exclusive)
Meet the FX Team (Blu-ray exclusive)
About Dark Sky Films
Dark Sky Films is dedicated to the discovery, preservation and production of classic and contemporary horror, sci-fi and cult films from around the world. Based in Chicago, Dark Sky Films is a wholly owned subsidiary of The MPI Media Group—one of the largest independent entertainment companies producing and distributing a compelling slate of the world's most respected cinema, documentaries, performances and television programs.