The first wave of Blu–ray Discs with managed copy have arrived and they are from independent label Scenic Labs, LLC. The titles are what the company bills "ambient discs" and include The Classic Fireplace
, Coral Reef Aquarium
, and, Journey Through Space
. They are the first three Blu-ray releases to utilize the Blu-ray Managed Copy feature, which allows users to make one full-resolution copy of the program material directly from the disc. Each disc is also labeled as supporting managed copy in accordance with the AACS specification calling for acknowledgment of the feature on the packaging.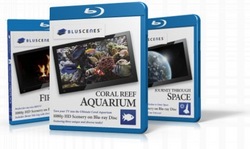 "We strongly support managed copy because we believe that, in some cases, our products will work even better when played off of a hard drive, a solid-state drive, a portable device, or a home theater hub. The delay in the live date of managed copy by AACS-LA does not impact our customers because there are currently no Blu-ray players that support the feature. We just wanted to be ready when they do. In fact, we had to take a leap of faith that when managed copy players are finally released, the final published spec will not have changed," said Jason Rosenfeld, the founder and managing partner of Scenic Labs, LLC.
Managed copy was originally set to go live on December 4, 2009, but has since been moved to March 31, 2010 by AACS-LA.
More information: