Lionsgate has announced they will be bringing the romantic comedy Killers starring Ashton Kutcher (Valentine's Day) and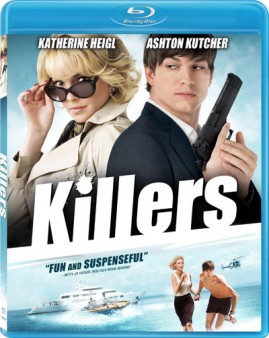 Katherine Heigl (Knocked Up) to Blu-ray and DVD on September 7th, 2010. The Blu-ray will sell at a suggested retail price of $39.99.
Jen Kornfeldt (Heigl) thinks she has found the man of her dreams.  He's smart, charming and funny.  So what if he's also…an international spy?  Fresh off of a sudden break-up, Kornfeldt reluctantly accompanies her parents on a vacation to the French Riviera.  Unexpectedly, she stumbles upon the perfect guy, the too-good-to-be-true and incredibly handsome Spencer Aimes (Kutcher). After three wonderful years of romance, the newlyweds prepare to celebrate Aimes' 30th birthday.  However, events are cut short when bullets start flying, and his little secret is revealed.  Confronting the news head-on, Kornfeldt is determined to discover what else he might be hiding – all the while trying to dodge bullets, keep up neighborly appearances, manage the in-laws, and work out some major trust issues…And you thought suburban life was easy!
[amazon-product]B002ZG985A[/amazon-product]