Onkyo has introduced its first 3D Blu-ray Player, the BD-SP309. The BD-SP309 follows the trend of connected devices granting consumers access to the cloud by including support for internet radio and video on demand via Pandora, Netflix and VUDU. The BD-SP309 will also help your standard DVD catalogue look a bit more up-to-date by supporting playback at various resolutions—480p, 720p, or 1080i and 1080p — for those standard DVDs. Its HDMI interface supports lossless studio sound quality of Dolby TrueHD and DTS-HD Master Audio Essential for Blu-ray Disc. Connectivity on the BD-SP309 is rounded out by two USB ports that let you play media from a variety of storage devices. The Onkyo BD-SP309 will be available in May with a suggested retail price of $249.
Additionally, Onkyo has introduced the TX-NR709 AV Receiver (SRP $899), which the company estimates will be available in late April and four new Home Theatre systems the HT-S6400 (SRP $699), HT-S7400 (SRP $799), HT-S8400 (SRP $899), and HT-S9400THX (SRP $1099). The Onkyo HT-S7400, HT-S8400, and HT-S9400THX will be available in May while the The HT-S6400 and the speaker system, which will also be sold separately as the SKS-HT690 (SRP $449) will follow in June.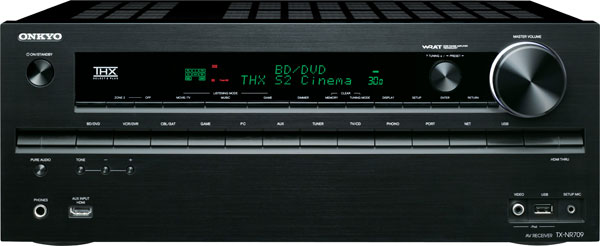 The TX-NR709 Network home theater receiver sports all the bells and whistles of a modern home theatre device. It has streaming PC audio, access to the cloud, adding Last.fm to its roster of Pandora, Rhapsody, Napster, SiriusXM Internet Radio, Slacker, Mediafly, and vTuner. The TX-NR709 is also has compatible with Windows® 7 and DLNA, front panel USB, powerful WRAT amplifiers, and a broad suite of audio processing from Dolby, DTS, and Audyssey.
Its innards have been upgraded over its predecessor, the TX-NR708 with the new Marvell Qdeo 4k video upscaling processor, Audyssey MultEQ XT advanced room correction technology, dual subwoofer outputs, dual HDMI outputs and one additional HDMI input for a total of eight front and rear. And, as it has come to be expected from any self-respecting piece of consumer electronics equipment these days, the TX-NR709 is iPod, iPhone and iPad friendly taking advantage of Onkyo's free Remote App to control the A/V receiver and it is compatible with the recently announced UWF-1 Wireless USB Adapter.
–
[amazon-product]B004VEL9XS[/amazon-product]
[amazon-product]B004V8KWQO[/amazon-product]