Confirming their announcement earlier in the year, Walt Disney Studios Home Entertainment announced this week they will be releasing their animated hit Tangled on Blu-ray 3D in a 4-Disc Blu-ray Combo Pack (3D Blu-ray + Blu-ray + DVD + Digital Copy in a single package) on March 29, 2011 day-and-date with the 2-Disc Blu-ray Combo Pack (Blu-ray + DVD) and 1-Disc DVD releases. The suggested retail price of the Blu-ray 3D 4-Disc Combo pack will be $49.99 US/$56.99 Canada. The 2-Disc Blu-ray Combo Pack and 1-Disc DVD will sell for $39.99 US/$44.99 Canada and $29.99 US/$35.99 Canada respectively.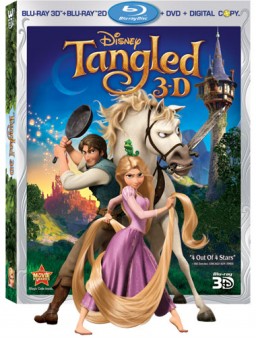 The Blu-ray 3D and Blu-ray discs will feature a 1.78:1 high definition 1080p encoding with a 7.1 DTS-HD Master Audio lossless soundtrack, Dolby 2.0 Descriptive Video Services and English SDH, French, and Spanish subtitles.
BONUS FEATURES:
Blu-ray
Untangled: The Making of a Fairy Tale – Exactly how long is Rapunzel's hair? How many lanterns were used? Where did Pascal's name come from? Which Disney animated feature first utilized CG animation? These and more will be answered when Mandy Moore and Zach Levi take viewers on a kooky behind-the-scenes tour to learn how the filmmakers styled this film's ―Golden Tresses.‖
Deleted Scenes – Co-directors Byron Howard and Nathan Greno introduce three scenes and illuminate why they were ultimately cut.

The Jaunty Moose
Chemistry Develops
Vigor The Visionary

Extended Songs – The complete versions of two great songs are shared in a unique feature that explains the co-directors decision to scale them down.

When Will My Life Begin
Mother Knows Best

Two Original Storybook Openings – Two alternate versions of the film's opening sequence described by co-directors Nathan Greno and Byron Howard.
50th Animated Feature Countdown – A video montage celebrating Tangled as the 50th film to join The Walt Disney Studios' prestigious lineup of classic animated features.
9 Tangled Teasers – A collection of the most unique and quirky commercials made for the theatrical release of ―Tangled.‖ Some are spoofs based off of infomercials and/or breaking news, some are teasers and others are simply just funny filmstrips.
DVD & Movie Download
Two Original Storybook Openings – Versions 1 & 2
50th Animated Feature Countdown
FILM SYNOPSIS:
When the kingdom's most wanted—and most charming—bandit Flynn Rider (voice of ZACHARY LEVI) hides out in a mysterious tower, he's taken hostage by Rapunzel (voice of MANDY MOORE), a beautiful and feisty tower-bound teen with 70 feet of magical, golden hair. Flynn's curious captor, who's looking for her ticket out of the tower she's been locked away in for years, strikes a deal with the handsome thief, and the unlikely duo sets off on an action- packed escapade, complete with a super-cop horse, an overprotective chameleon and a gruff gang of pub thugs. Tangled is a story of adventure, heart, humor and hair—lots of hair.
[amazon-product]B004G6009K[/amazon-product]
[amazon-product]B004G6009U[/amazon-product]