Lionsgate and Miramax are finally bringing two of filmmaker Quentin Tarantino's most sought after releases to Blu-ray with the releases of Pulp Fiction alongside Jackie Brown on October 4, 2011. at a SRP of $19.99 each. Many fans may know that Pulp Fiction and Jackie Brown have long been available on Blu-ray in multiple editions around the world, including a French Steelbook release of Pulp Fiction reviewed right here, but finally U.S. cinephiles will be able to purchase these 90s classics without having to hurt their budgets with import prices or worry about forced subtitles.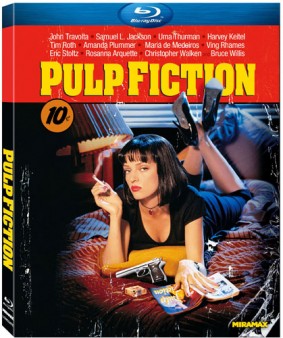 Press Release
Quentin Tarantino, hailed as "the most inventive filmmaker alive" (Newsday), will debut his ground-breaking films Pulp Fiction and Jackie Brown on Blu-ray Disc this October from Lionsgate and Miramax. Two of Tarantino's most celebrated films, both titles were remastered under the filmmaker's direct supervision with new high definition lossless audio and 1080P video. Containing new bonus materials that delve into each film's iconic status, both discs are also packed with hours of archival content that includes numerous behind the scenes featurettes, interviews and marketing galleries.
Pulp Fiction
Called "one of the most wanted Blu-ray titles of all time" (IGN) and ranked as such on numerous critics' lists, Pulp Fiction is "nothing less than a cultural phenomenon" (Moviemaker Magazine). The film was honored with an Academy Award® for Best Original Screenplay (1994) and earned seven total nominations, including Best Picture and Best Director for Quentin Tarantino. It has also been listed as one of the best films of all-time by TIME and Entertainment Weekly.
A pair of low-rent hit men, Vincent Vega (John Travolta) and Jules Winnfield (Samuel L. Jackson), are sent out to collect a stolen briefcase for their mob boss employer, Marsellus Wallace (Ving Rhames). Having proven himself worthy, Wallace then entrusts Vincent to entertain his wife, Mia (Uma Thurman), while he is out of town. Meanwhile, Wallace has paid off aging boxer Butch Coolidge (Bruce Willis) to throw his next fight. The lives of these wildly entertaining characters intertwine with unexpected and violent consequences.
BLU-RAY DISC SPECIAL FEATURES*
Retrospective Cast Interviews – NEW
Critics Corner: Then and Now – NEW
"Pulp Fiction: The Facts" featurette
Deleted Scenes
Behind the Scenes Montages
Production Design featurette
Siskel and Ebert "At the Movies" – The Tarantino Generation
Independent Spirit Awards
Cannes Film Festival – Palm d'Or Acceptance Speech
Charlie Rose Show – Interview with Quentin Tarantino
Theatrical Trailers and TV Spots
Stills Gallery
*subject to change
Jackie Brown
Praised with "4 stars," (Roger Ebert, Chicago Sun-Times), Tarantino's feature film follow-up Jackie Brown earned a 1997 Oscar® nomination for supporting actor Robert Forster (Mulholland Drive), three Golden Globe nominations (including Best Musical/Comedy) and an NAACP Image Award nomination for Pam Grier's performance. An all-star cast joins Grier and Forster, including Samuel L. Jackson, Robert DeNiro, Michael Keaton and Bridget Fonda in Tarantino's adaptation of the novel by Elmore Leonard (3:10 to Yuma, Out of Sight).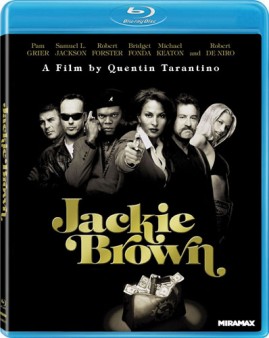 A sexy flight attendant (Grier) is caught in a plot between the police and an arms dealer, and everyone's looking for the payoff. There are six unlikely players on the trail for a big score – a half million dollars in cash. But alliances are shaky when its unclear who is playing and who is getting played.
BLU-RAY DISC SPECIAL FEATURES*
Critic's Corner: Then and Now – NEW
"Jackie Brown: How It Went Down" featurette
"A Look Back at Jackie Brown" – Interview with Quentin Tarantino
Chicks With Guns Video
Siskel & Ebert "At the Movies" – Jackie Brown Review
Jackie Brown on MTV
Theatrical Trailer and TV Spots
Stills Gallery
*subject to change
Pricing: Blu-ray Disc – $19.99 each
###