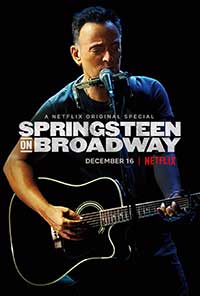 In a bold move, Netflix signed up rock superstar Bruce Springsteen for a filmed account of his one-man Broadway show, Springsteen on Broadway, for which I paid big bucks to attend in person with my wife who is a devoted fan of The Boss. If you have read Bruce's autobiography Born To Run, then nearly every word of the onstage script will be totally familiar to you, as he liberally quotes himself at nearly every opportunity.
What was intended to be a limited run beginning October 3, 2017 and concluding November 26, 2017 became so successful that the show was extended numerous times until its final performance on December 15, 2018. The Walter Kerr Theater provided the venue but since it only seats about one thousand patrons, the demand for tickets far outstripped their availability. To add to the cachet surrounding these concerts was the fact that tickets were only sold through an online lottery to stifle the efforts of secondary market sellers, but enterprising scalpers managed to buy their share and resell them for thousands of dollars.
Springsteen on Broadway blends The Boss's reminiscences about his life, growing up in a blue-collar New Jersey town, and traces the course of his hugely successful career in popular music culminating in his 1999 induction into the Rock and Roll Hall of Fame and, more recently, an honorary Tony Award for this performance. The somewhat eclectic playlist that wends its ways through Springsteen's spoken account is as follows:
Growin' Up
My Hometown
My Father's House
The Wish
Thunder Road
The Promised Land
Born in the U.S.A.
Tenth Avenue Freeze-Out
Tougher Than the Rest
Brilliant Disguise
Long Time Comin'
The Ghost of Tom Joad
The Rising
Dancing in the Dark
Land of Hope and Dreams
Born to Run
Midway through the show, Bruce's wife and backup singer for three decades, Patti Scialfa, joins him on stage to perform "Tougher Than the Rest" and "Brilliant Disguise" but, outside of that brief diversion, this is an all-Springsteen evening.  During the two-hour-plus concert, Springsteen shares his music, accompanying himself variously on guitar, piano, and harmonica. Perhaps his voice has become raspy and perhaps some of his signature songs have become a bit generationally dated but none of this will ever matter to The Boss's true believers. Providing a veritable catalog of Springsteen moments throughout the years, this show is one of those rare occasions when a pop music icon opens up and lets the audience in on very, very personal stories, adding that third dimension to someone who is already larger than life.
When we were in the audience of Springsteen on Broadway last June, it was like returning to a long-ago place in a time when the world was kinder and gentler than it is today. A TV-MA rating due to the torrent of F-bombs with which Springsteen punctuates his stories should not deter folks from taking in an unrivaled opportunity to spend an evening with one of the all-time greats in popular music, at a mere fraction of the price paid by those in attendance. Highest recommendation.
Springsteen on Broadway is now streaming in its entirety on Netflix
---
Netflix
Studios & Distributors
Summary
A once-in-a-lifetime opportunity to watch a rock-and-roll legend open up about his life and career in front of a Broadway audience.
What people say... Login to rate
Be the first to leave a review.
Show more